well back in september i picked up another xj this one is my third one its a 2000 sport 180k all stock 8.25 rear axle 3:55 gears 231 tcase picked it up for 1500 bucks future plans include a rough country 4.5 x series lift and 33x12.5x15 bfg km2's on soft 8s
here it is when i brought it home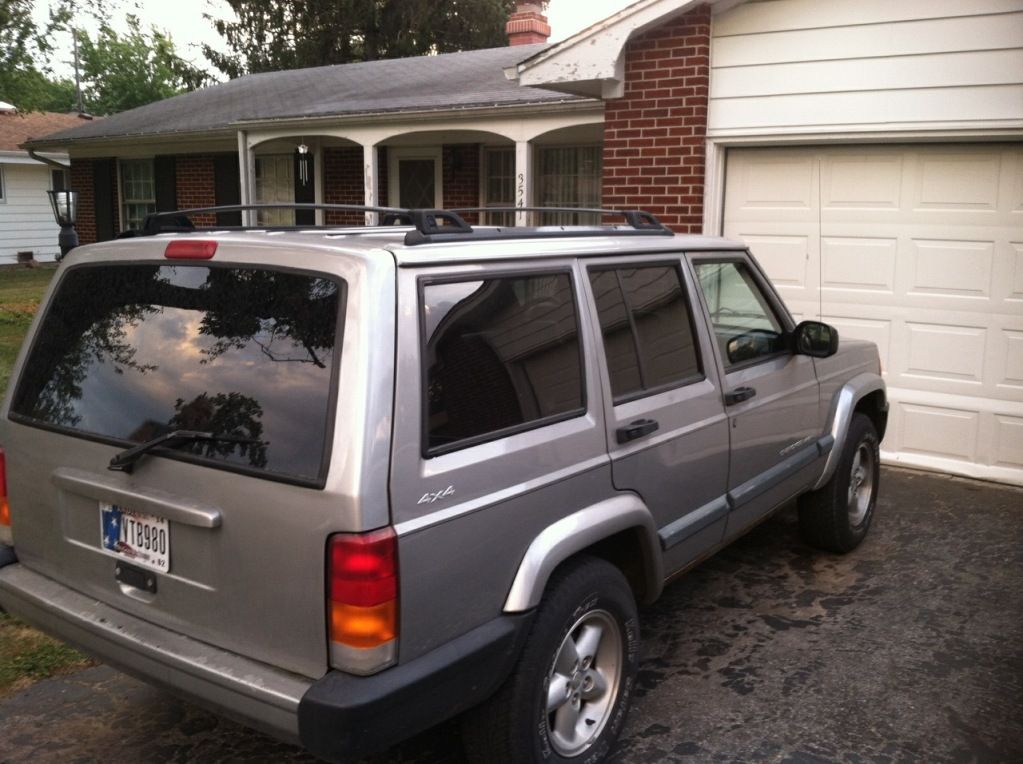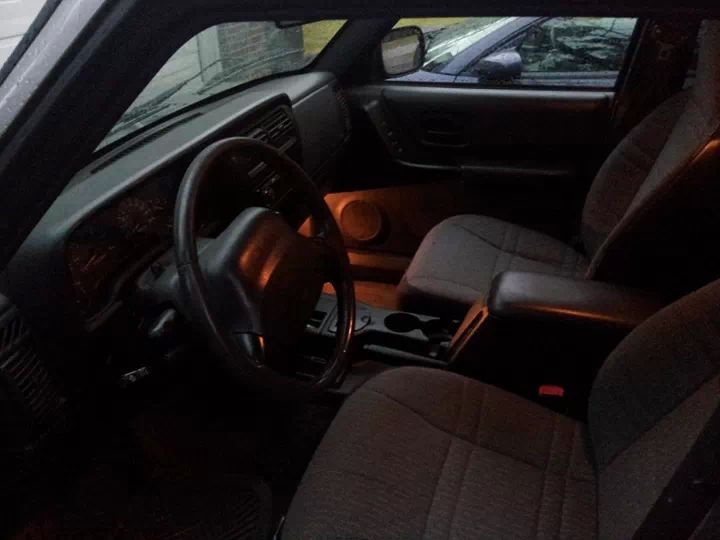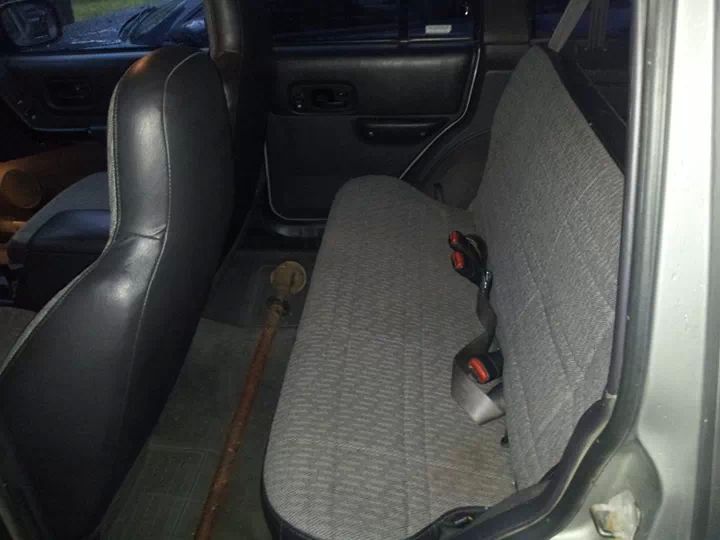 then my side molding was falling off so i went ahead and ripped them off then used duplicolor bed armor on my rockers turned out pretty good imo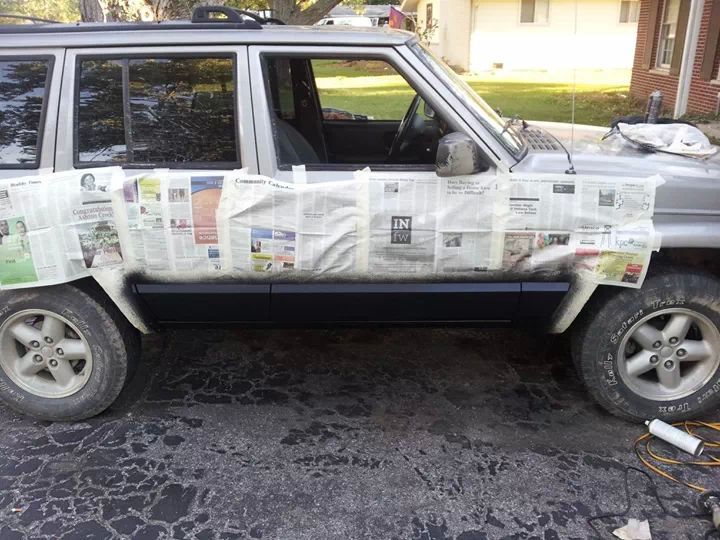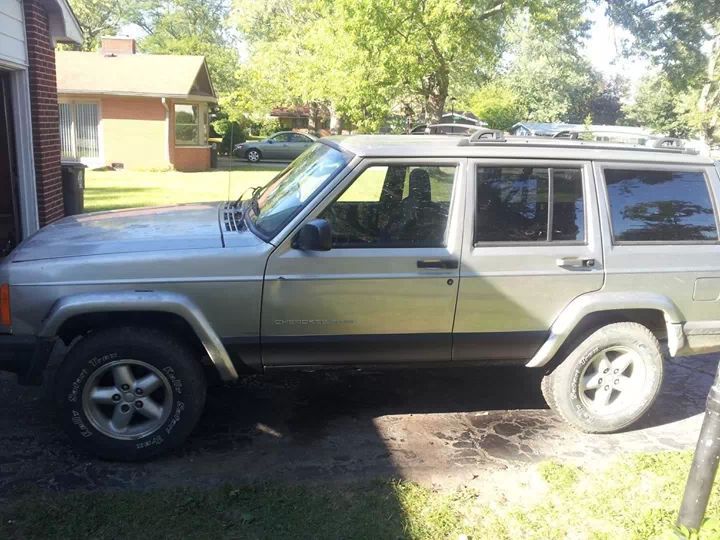 then i tried testing out the stock flex on my back porch lol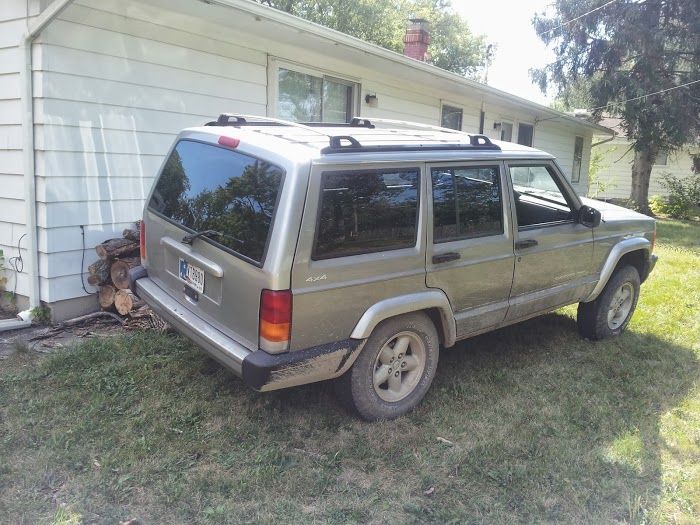 here is a few more in my front yard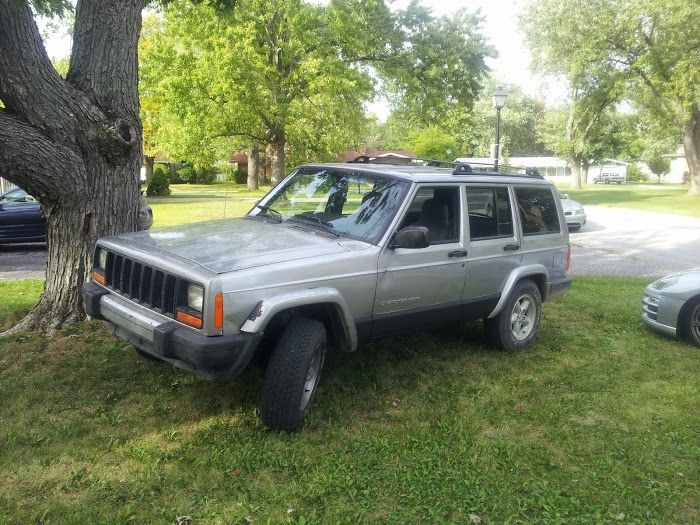 then took a pic with my buddies lowered eclipse which is also silver
then i installed a couple off road lights on the bumper and used a kc wiring kit that i had from when i bought lights for my old TJ i installed everything and it came out good i really like the way the rocker switch turned out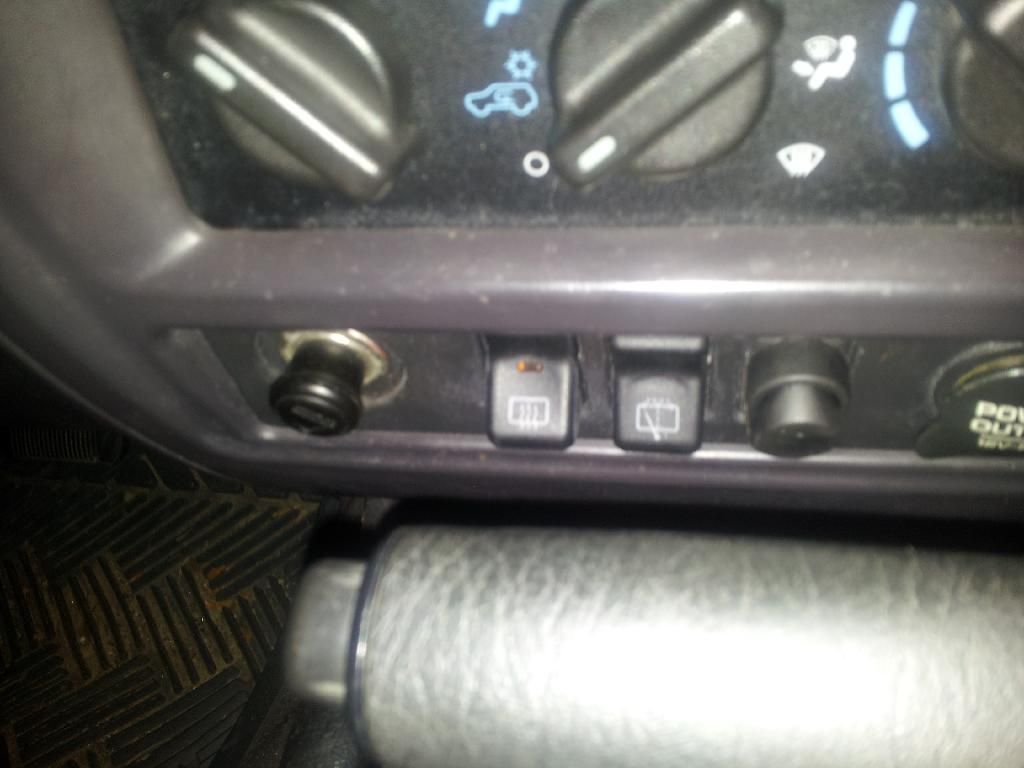 then unfortunately the xj started leaking coolant really bad and it was odd becuase it was leaking off the back of the head and down on to the tranny and such so it was time to pull the head here are some picks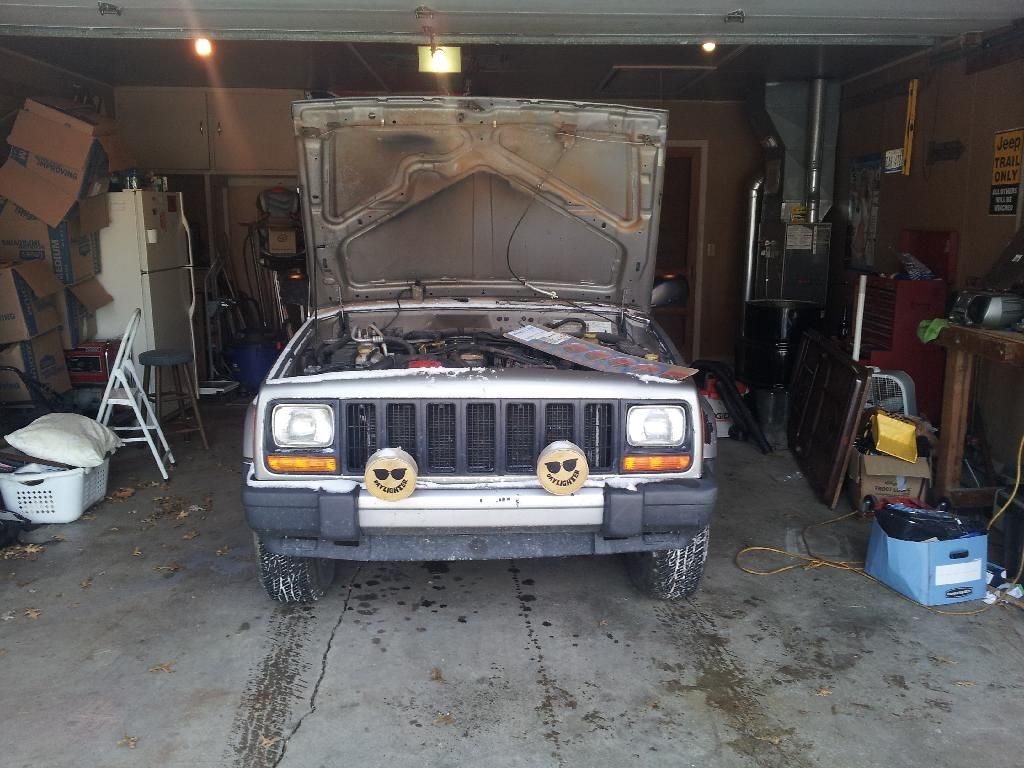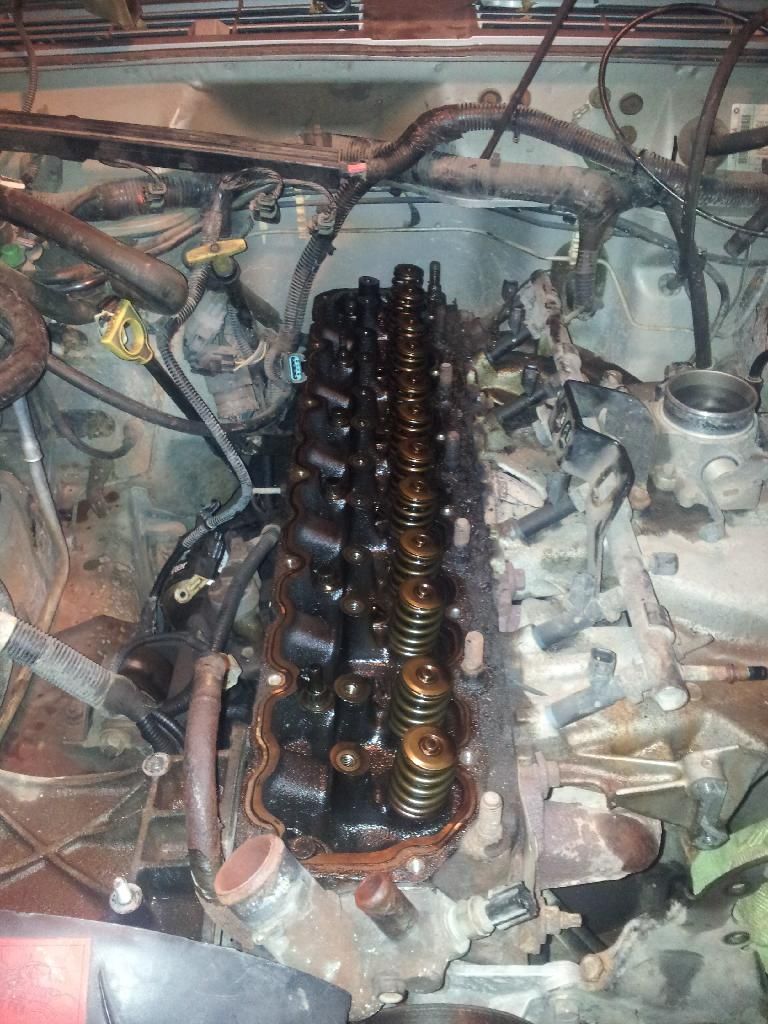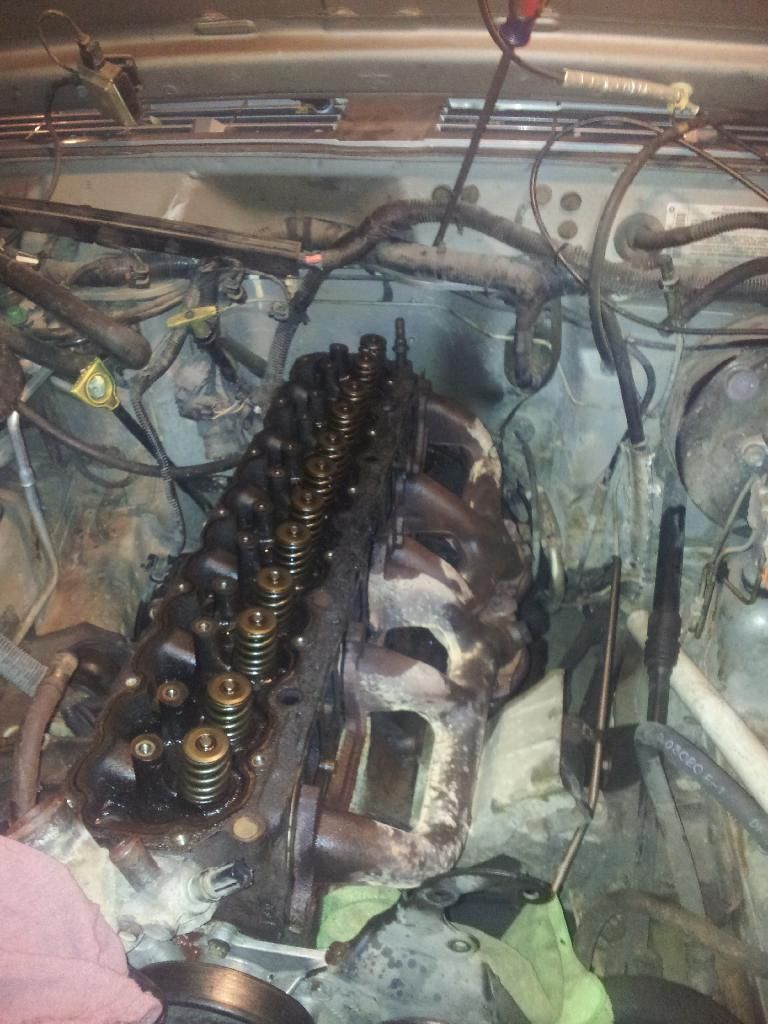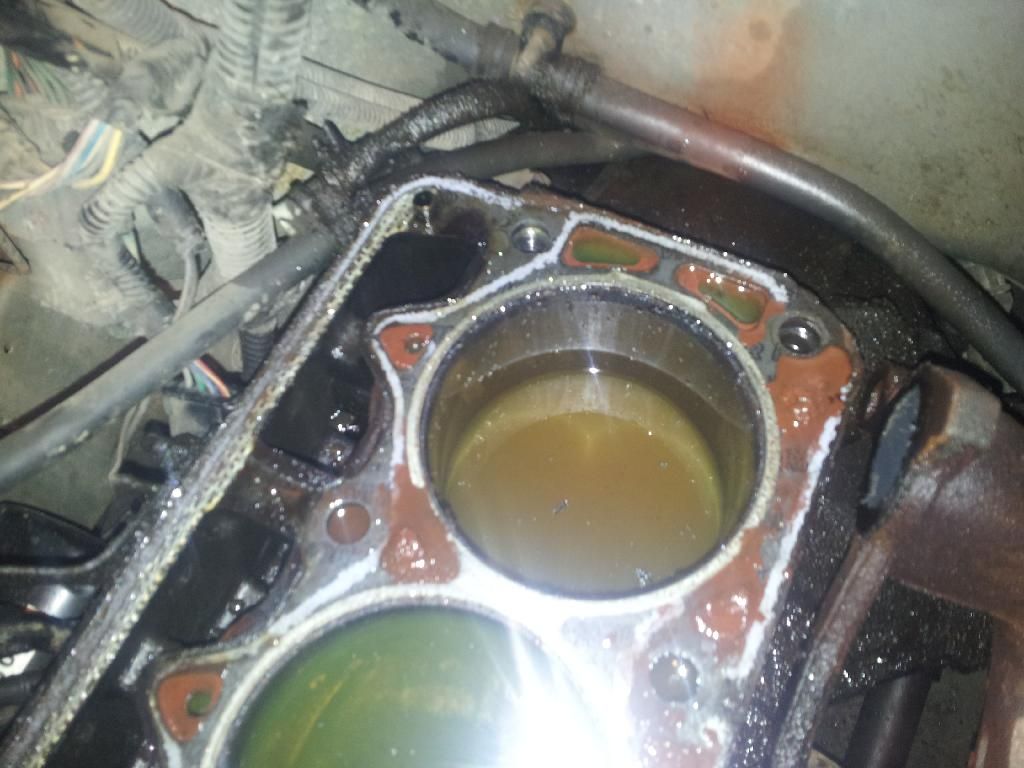 [URL=http://s841.photobucket.com/user/Schwab777/media/Mobile%20Uploads/20131211_104010_zpsbdsek0an.jpg.html]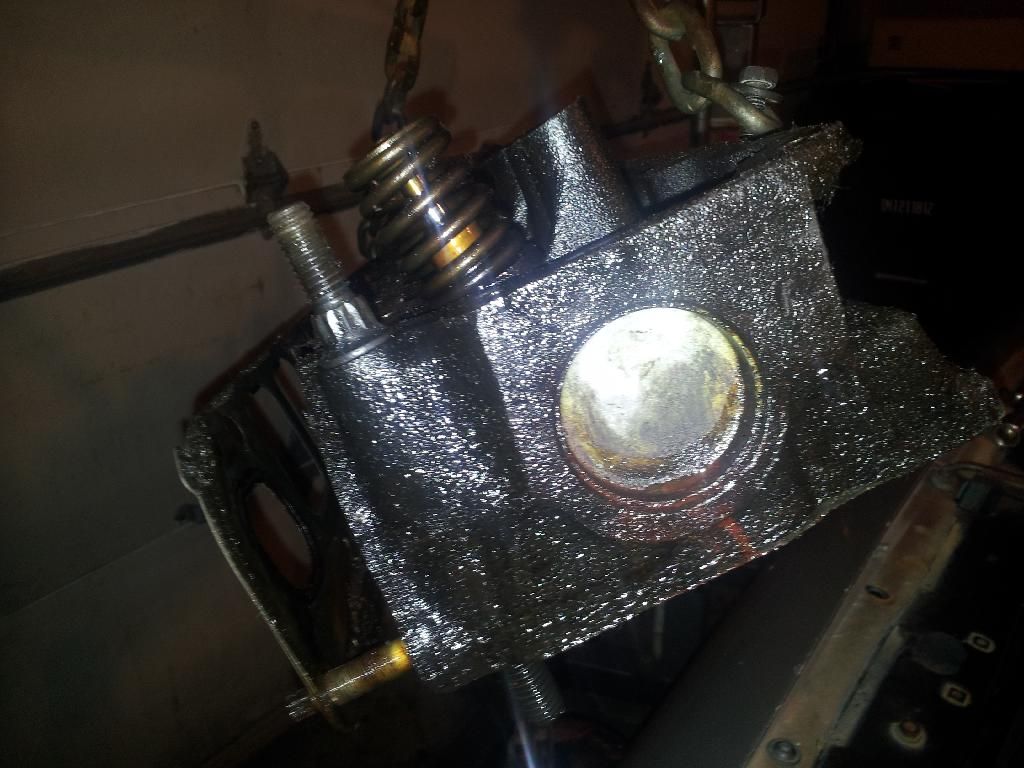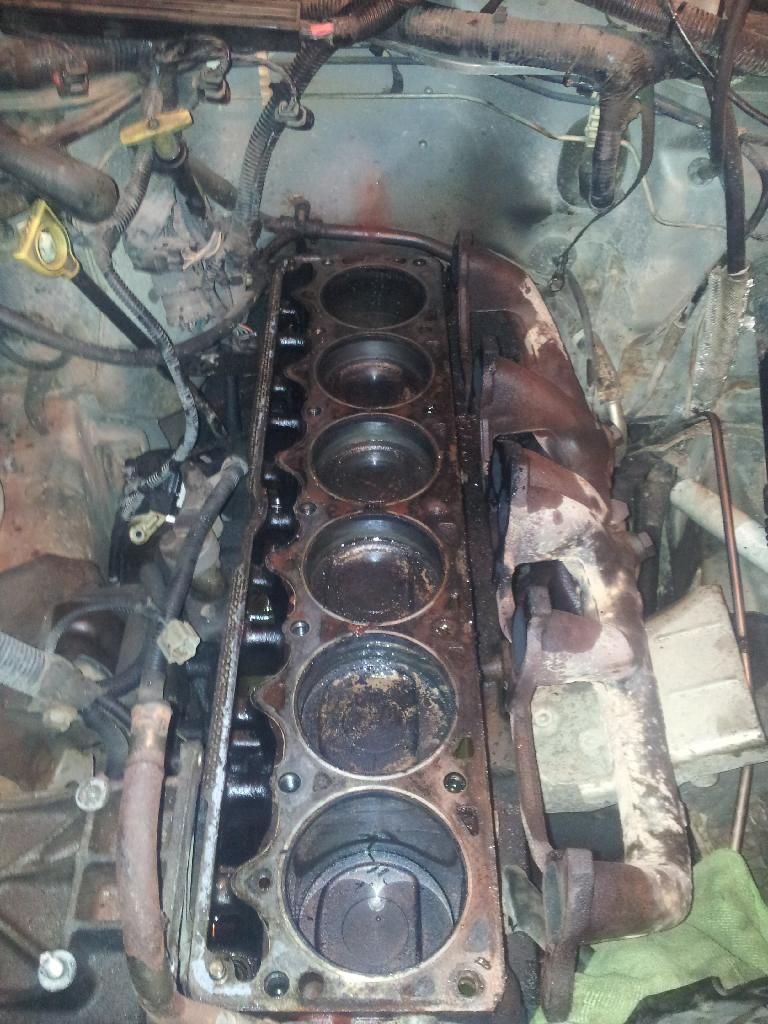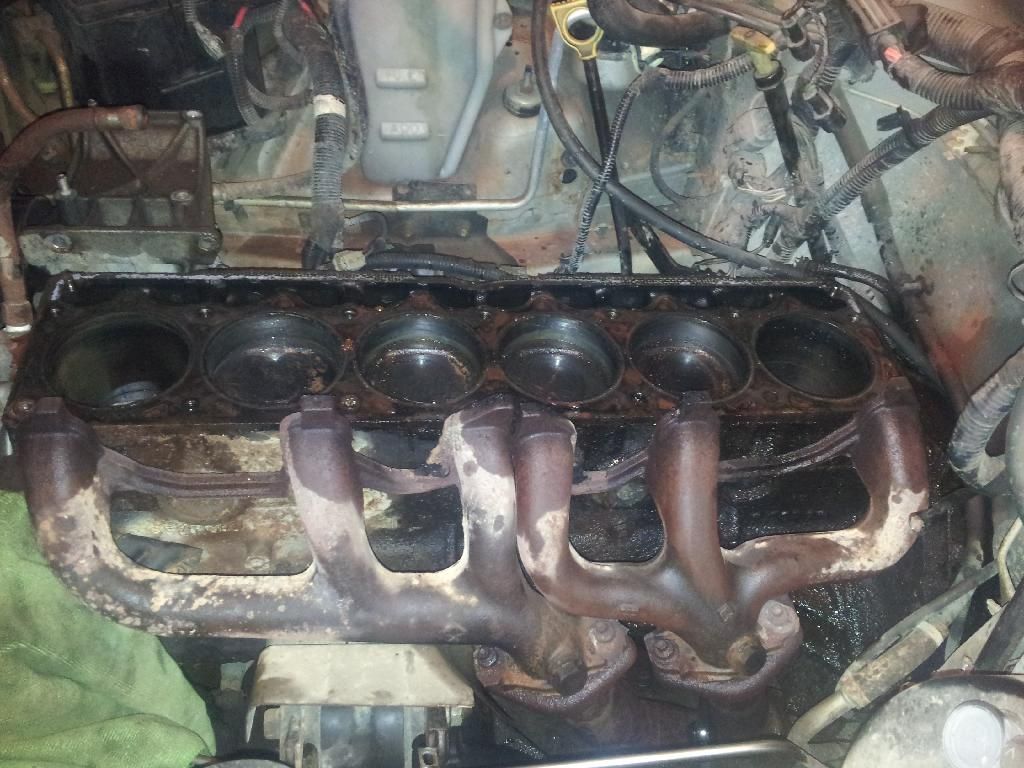 took the head to the machine shop to have it checked out he said it wasnt in that bad of shape but there was a hole in the freeze plug in the back of the head so replaced that and took .008 off the surface and pressure tested it and vacuum checked it i ordered the head gasket kit and head bolts and lifters hopefully in the next week or so i can start putting it back together its killing me having it torn apart right now i wanna drive her so bad!!! lmk what you guys think
and just for kicks here is a few pics of my old TJ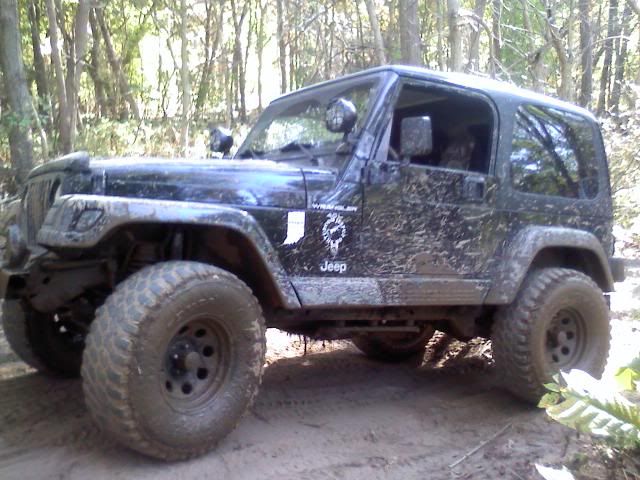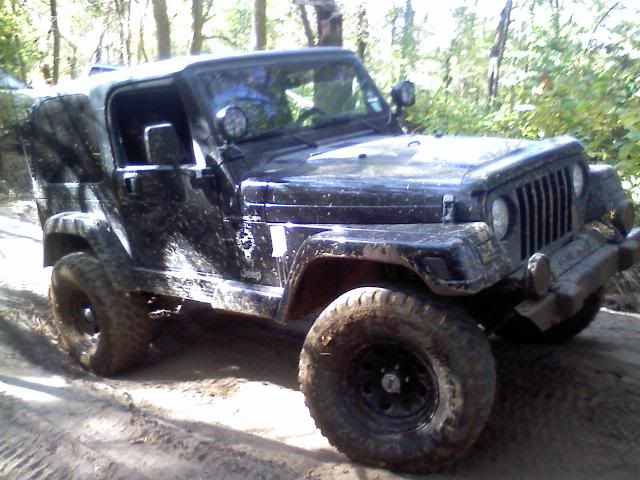 [URL=http://s841.photobucket.com/user/Schwab777/media/Mobile%20Uploads/IMG951491.jpg.html]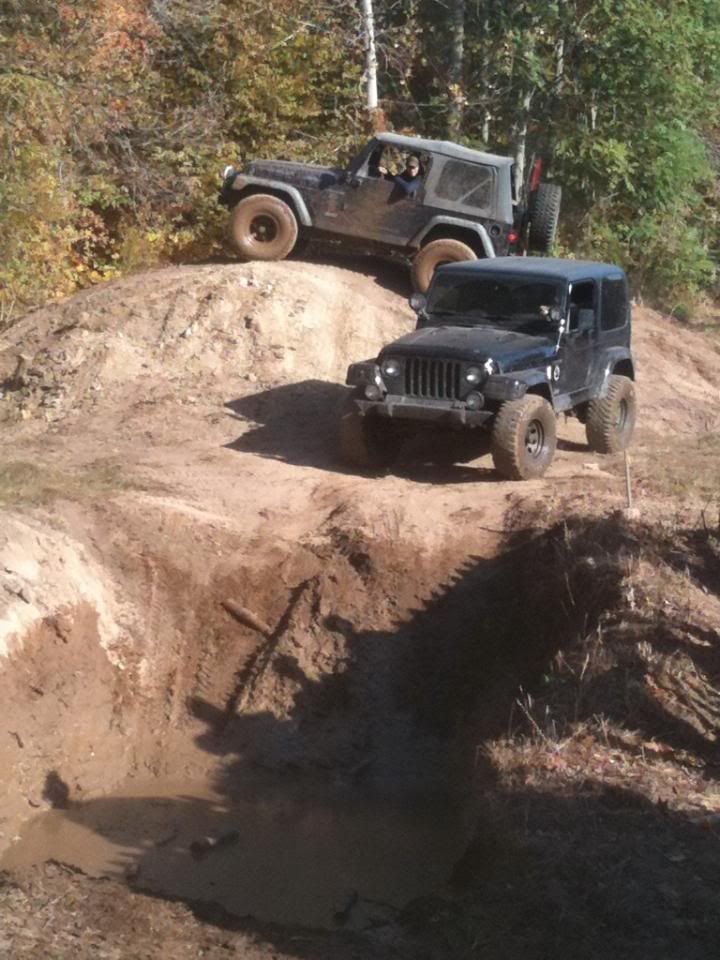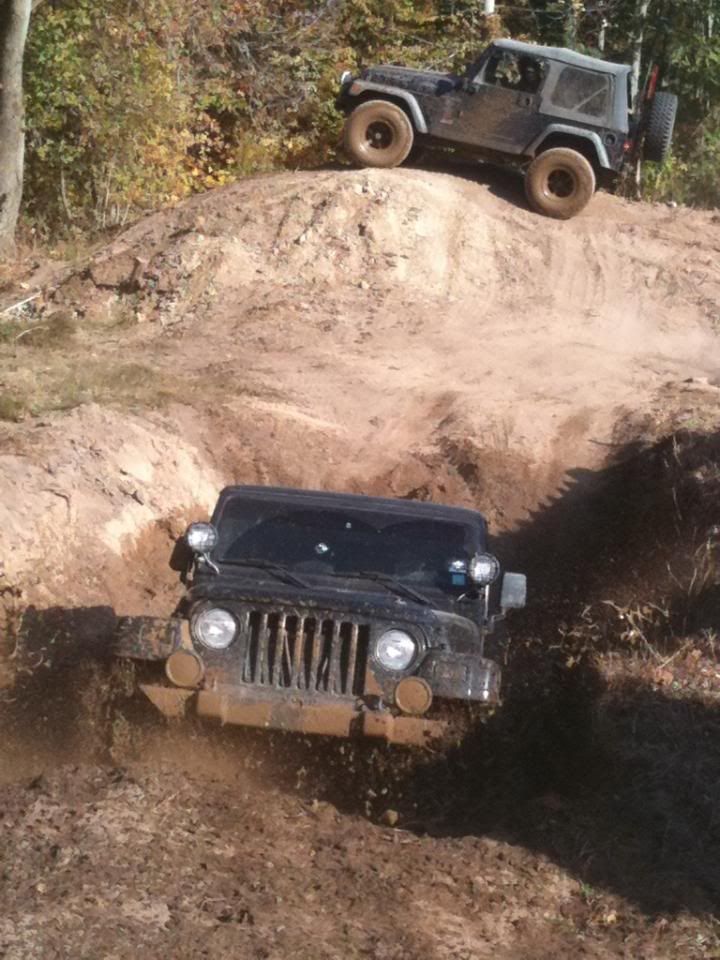 [/URL]
much much more to come stay tuned!!!!!!!
here is a few more pics!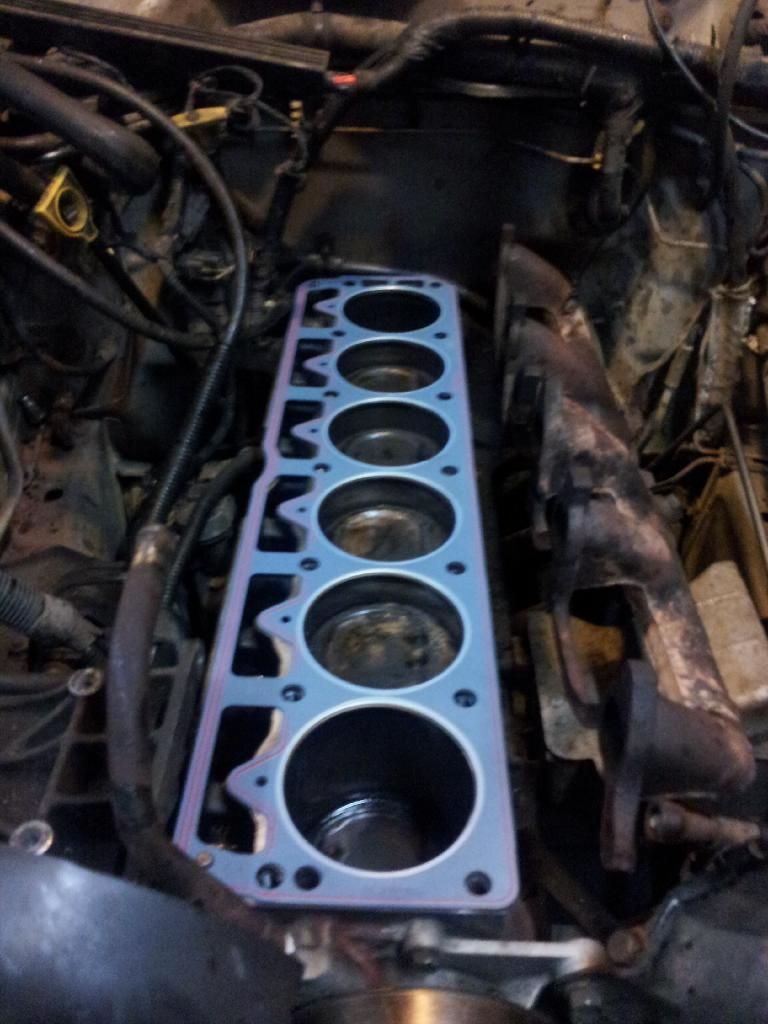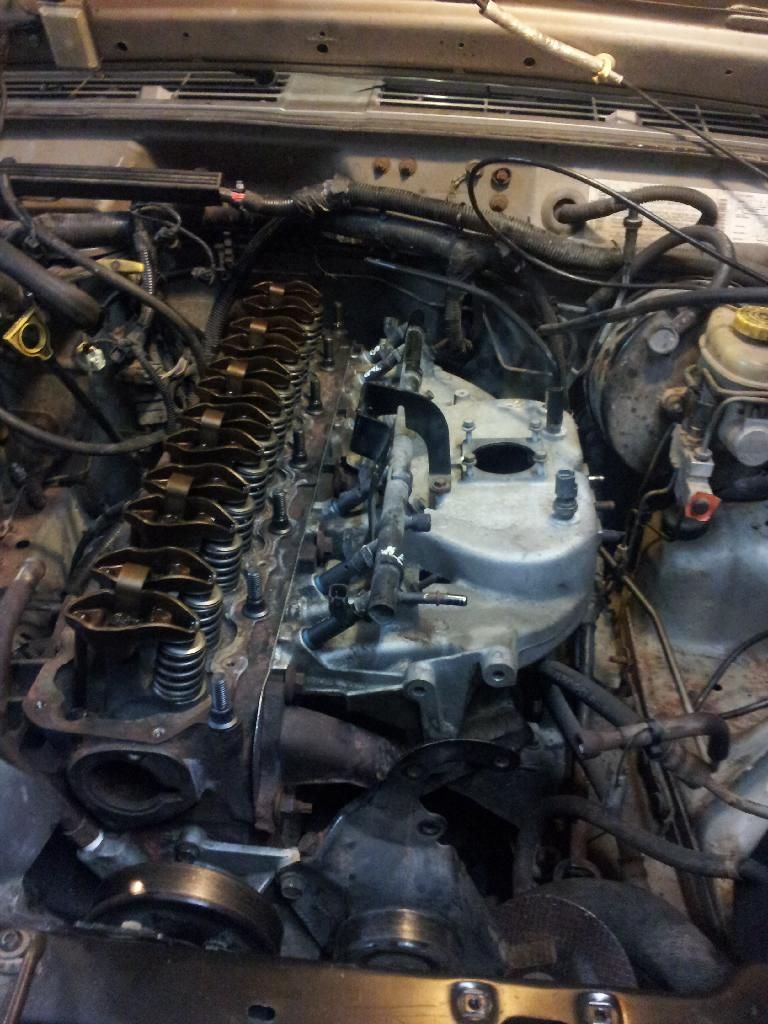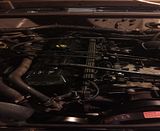 started snowing the other day and there was a snow mound calling my name didnt get far but hey not bad for stock! lol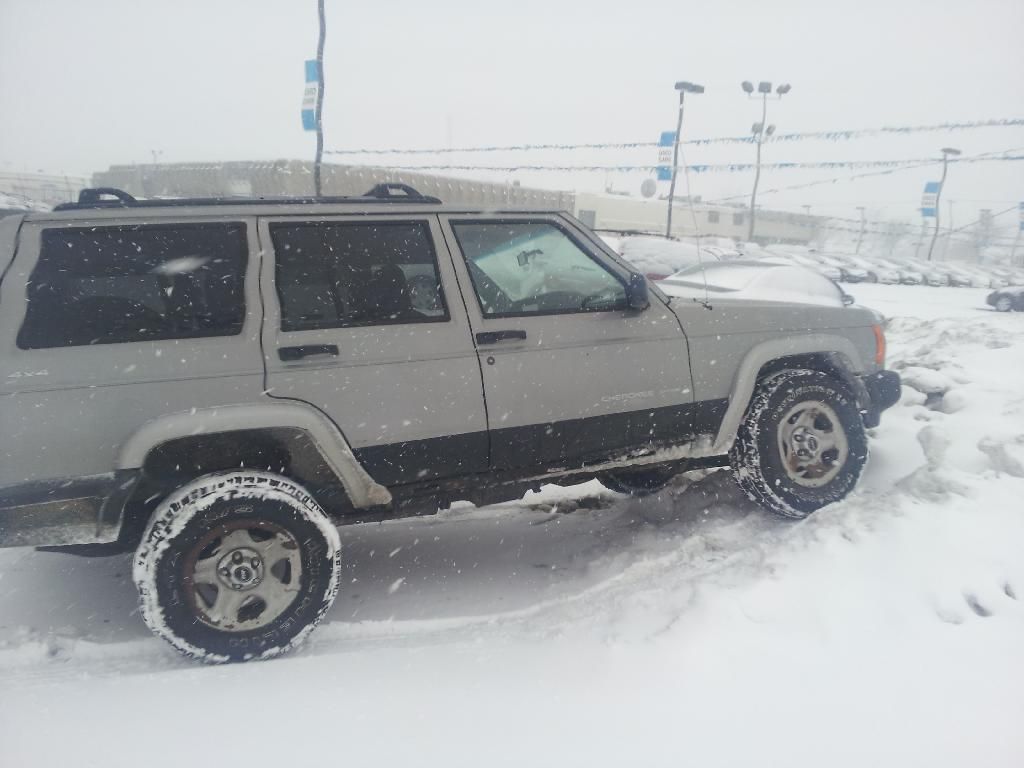 look what brown santa brought me i wasnt even expecting the wheels till tomorrow!!! cant wait for my lift to get here tomorrow!!! still no
on when the track bar will arrive tho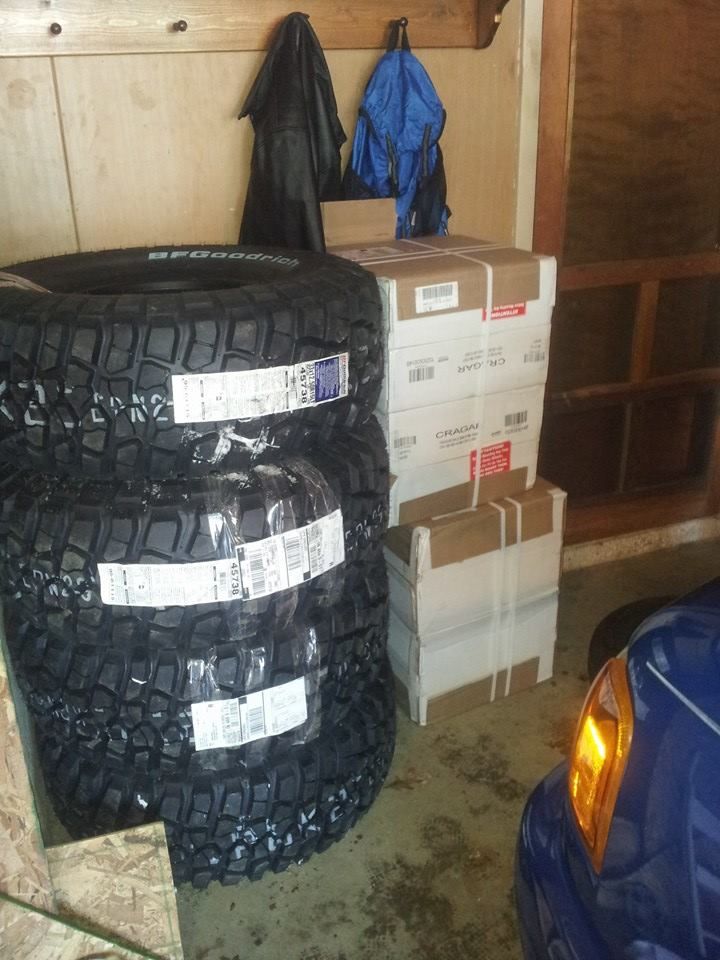 my lift showed up today! just waiting on the track bar so i can get started installing stuff taking the tires and wheels to work tomorrow to mount them up!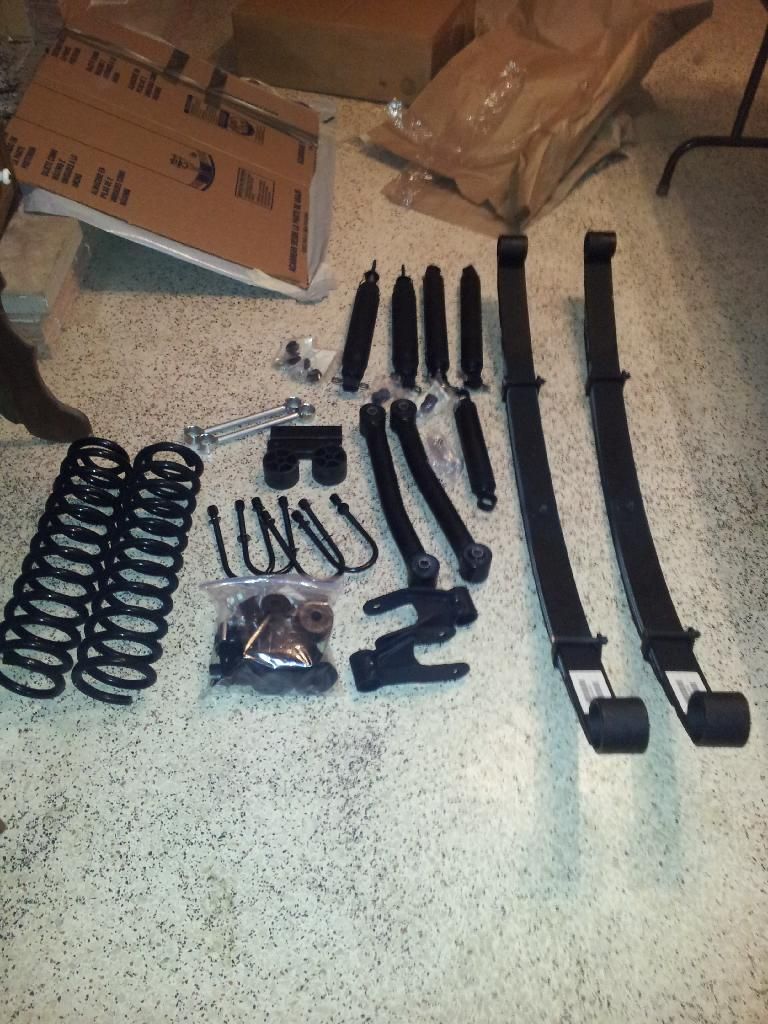 got the tires mounted and balanced today and started installing the lift the biggest pain was that the PO welded the track bar bolt to the bracket so i had to grind the weld down then used a socket to break the weld the rest of the way luckily it came right out!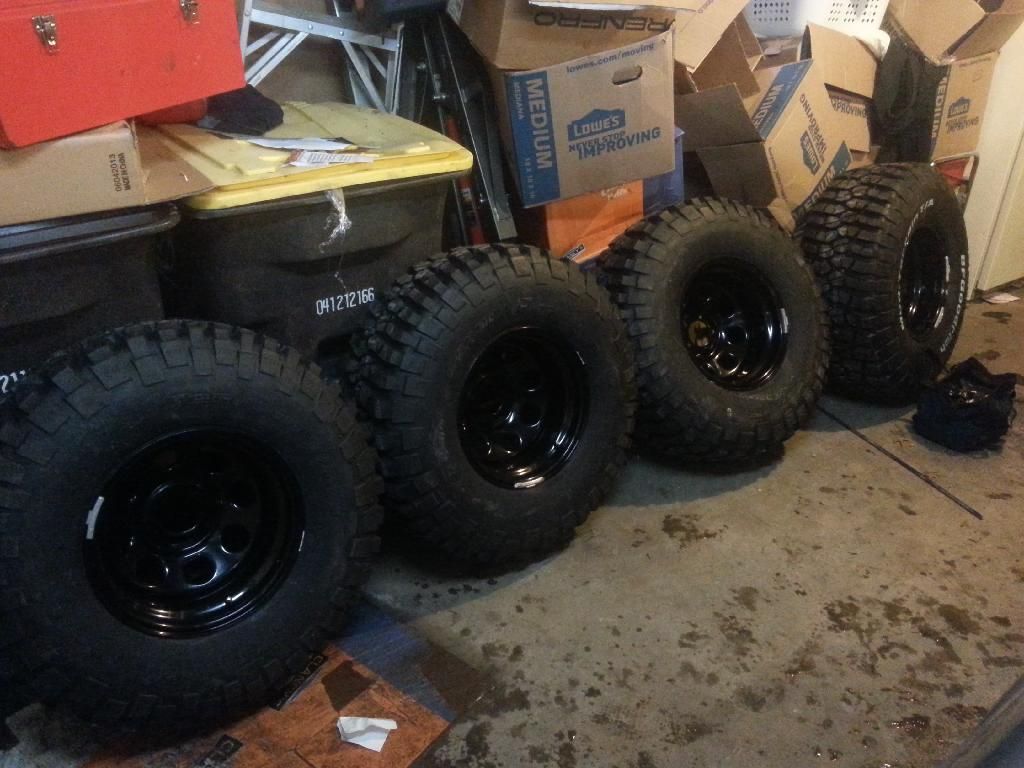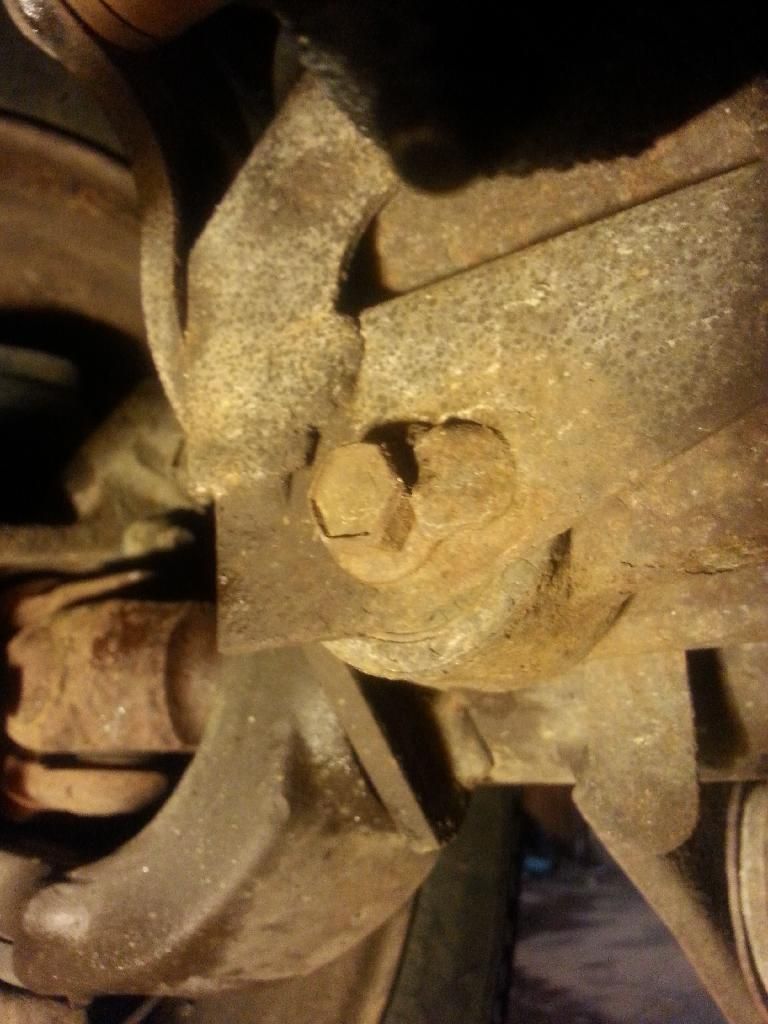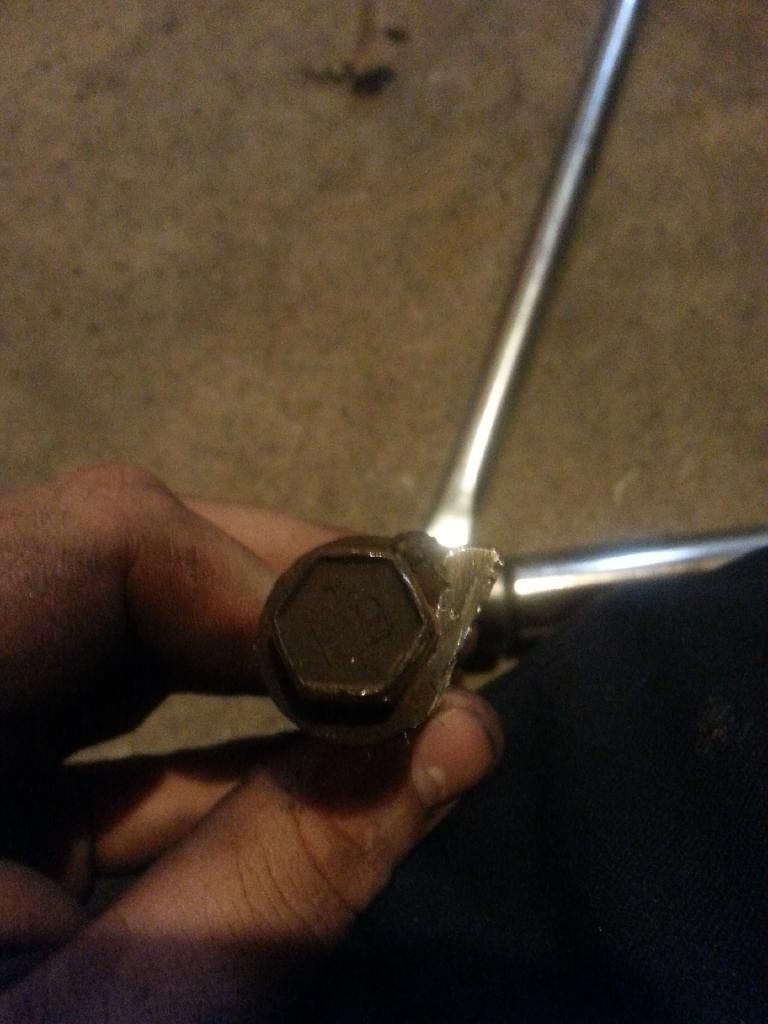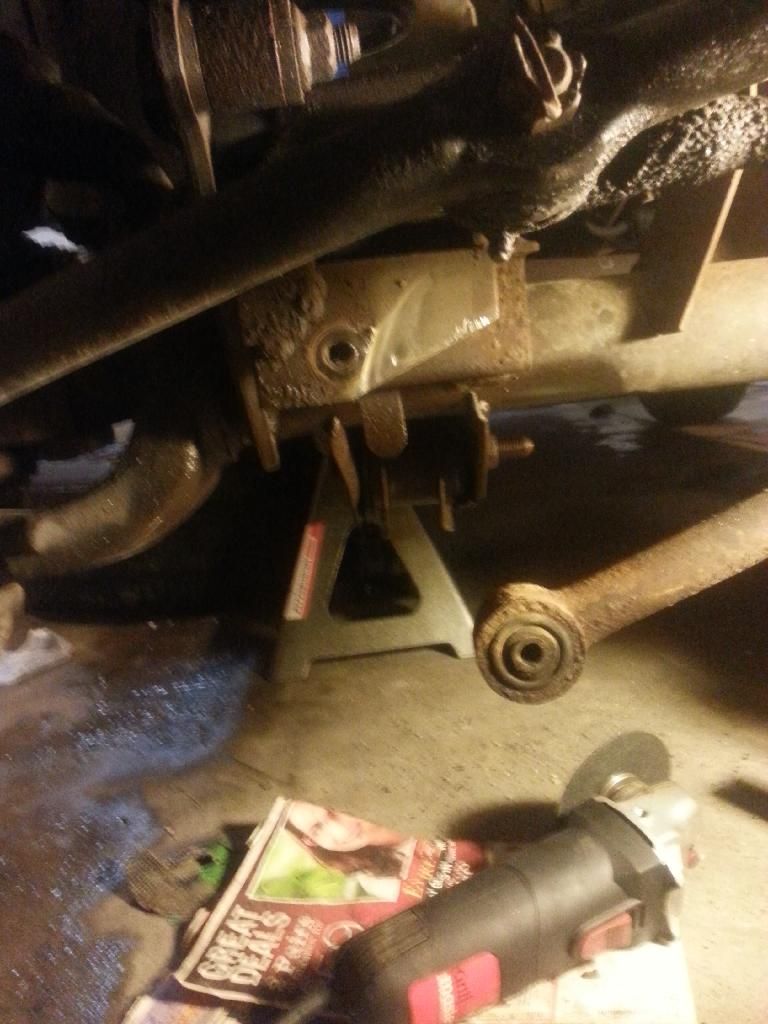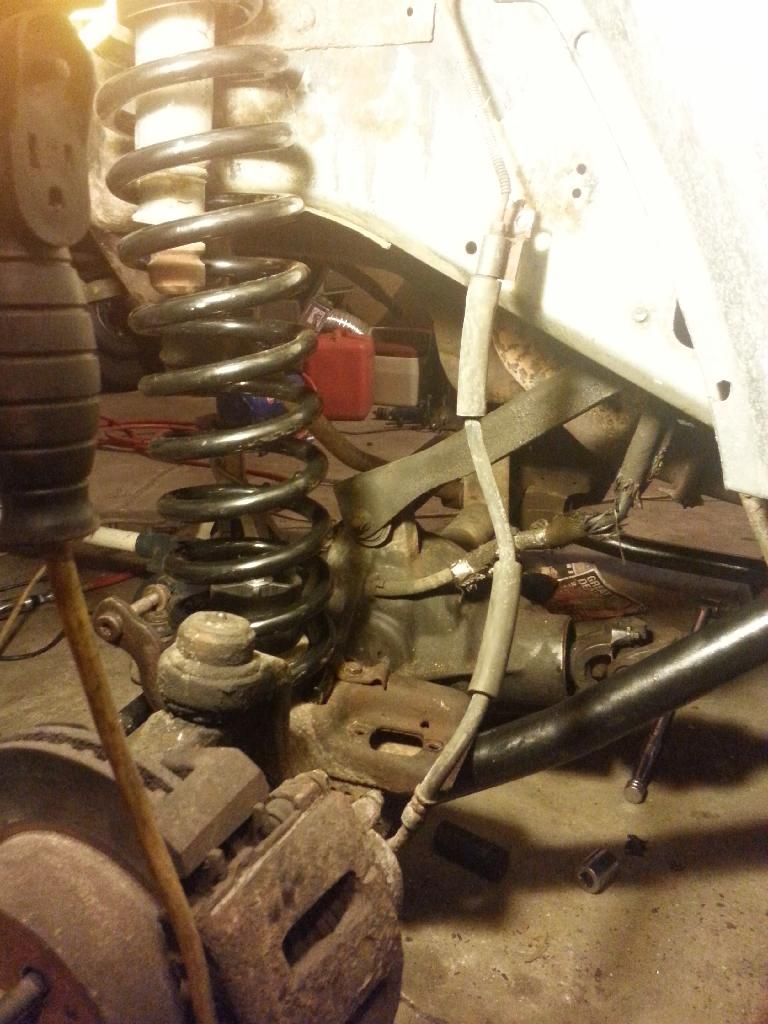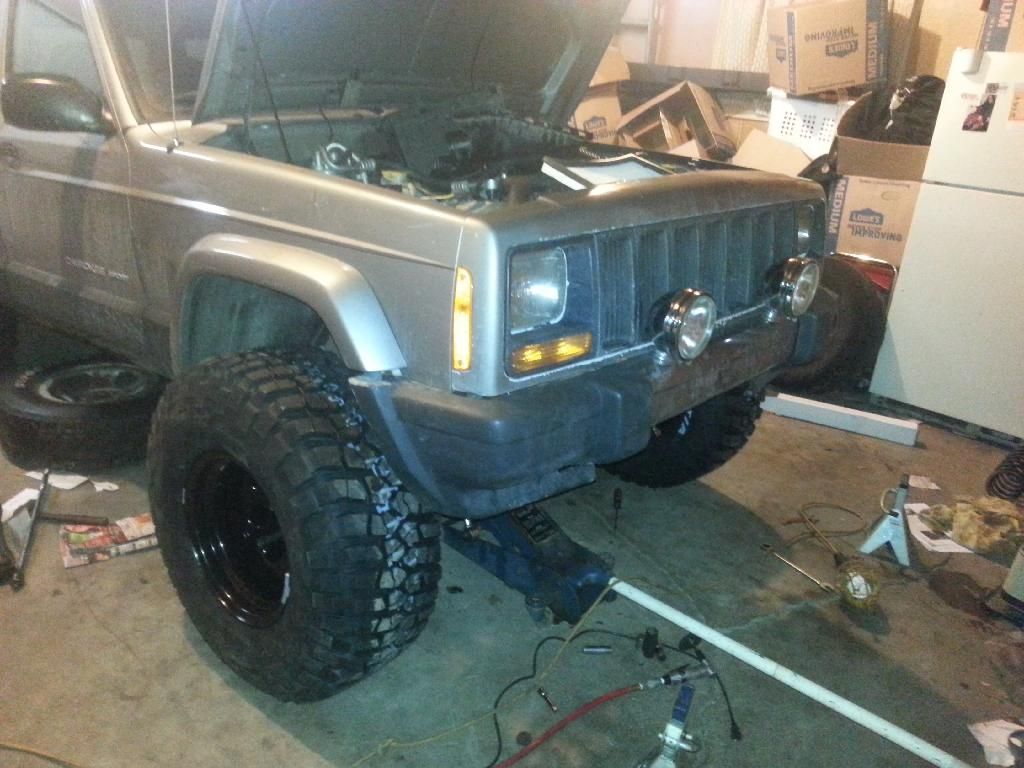 hopefully ill get the back finished up tomorrow then my adjustable track bar should be here monday so i should be able to get it all buttoned up really soon!
got the drivers side rear all taken apart had to cut 3 of the leaf spring bolts out they were seized in the bushing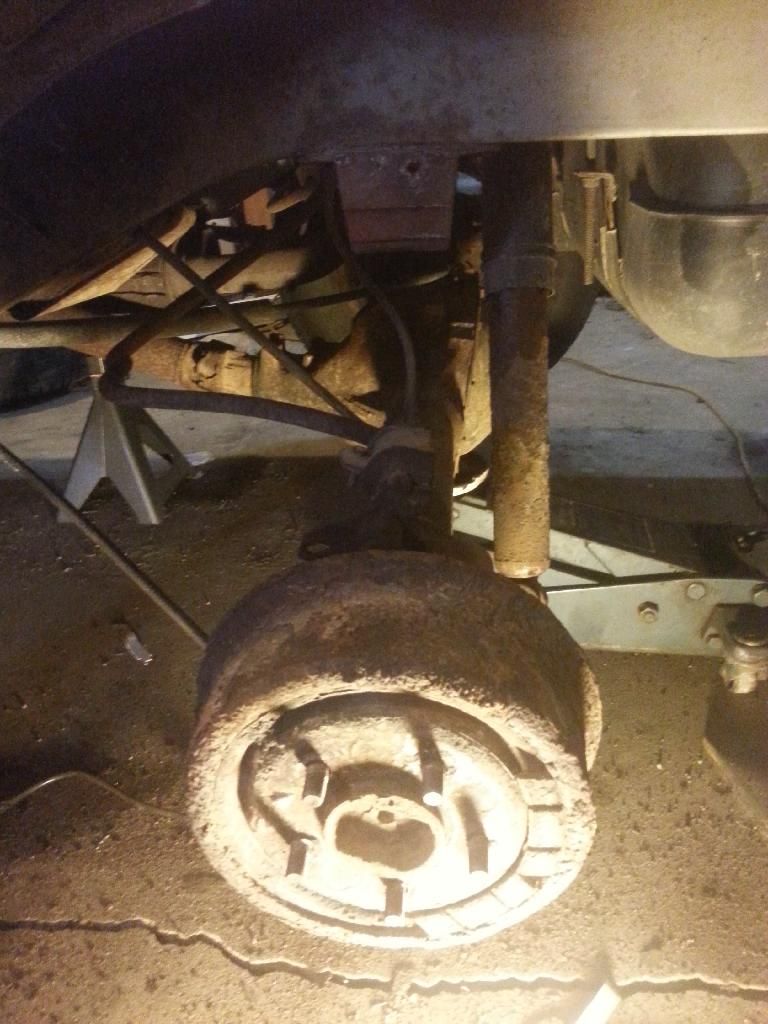 the passanger side i got the back shackle bolt out far enough where i can cut it out but the front bolt the head twisted off so now i gotta figure out how im gonna get it out since the other end is still threaded in the hole..... stay tuned!
ok so ended up cutting a pocket under the front bracket and took a air chisel to the nut to break the welds got it out then the back shackle bolt nut welds broke so i ended up having to cut my rear bumper off to get to the area where the broken nut was got that all taken care of got the new springs on and went to do my tcase drop and both the bolts broke off and the studs wont turn out....other than that just gotta get my IRO adjustable track bar on and get the bolts in for the rear shocks! here is a pic of it on all four wheels
well everything is done except the tcase drop! took her out on her maiden voyage tonight! let me know what you guys think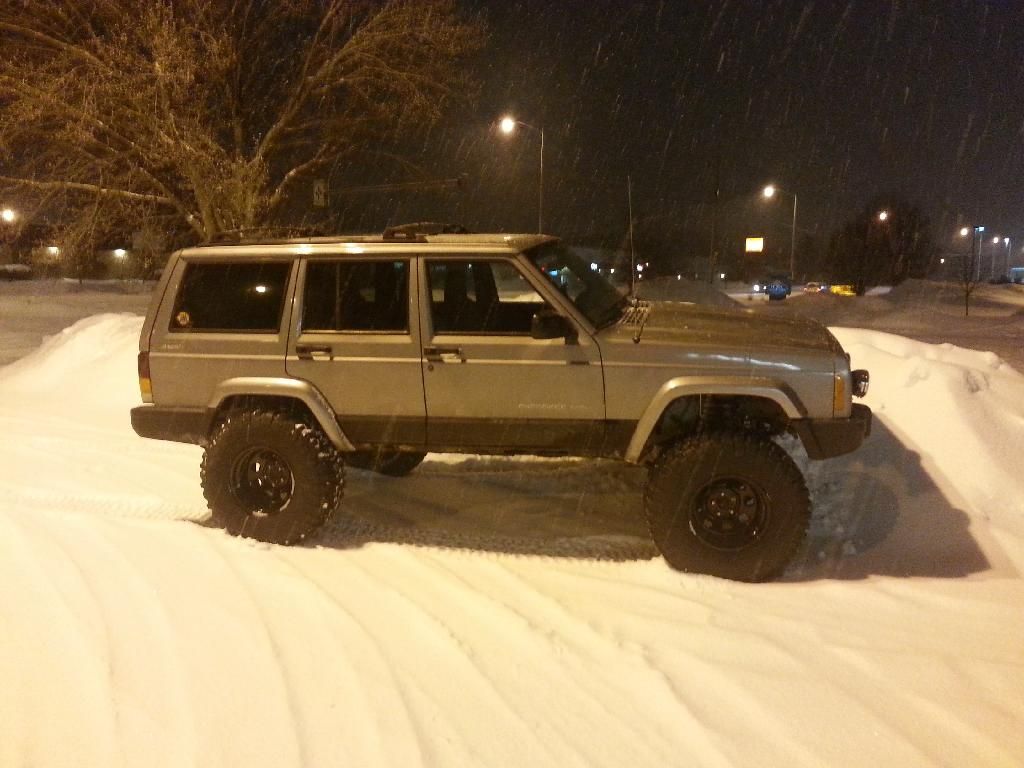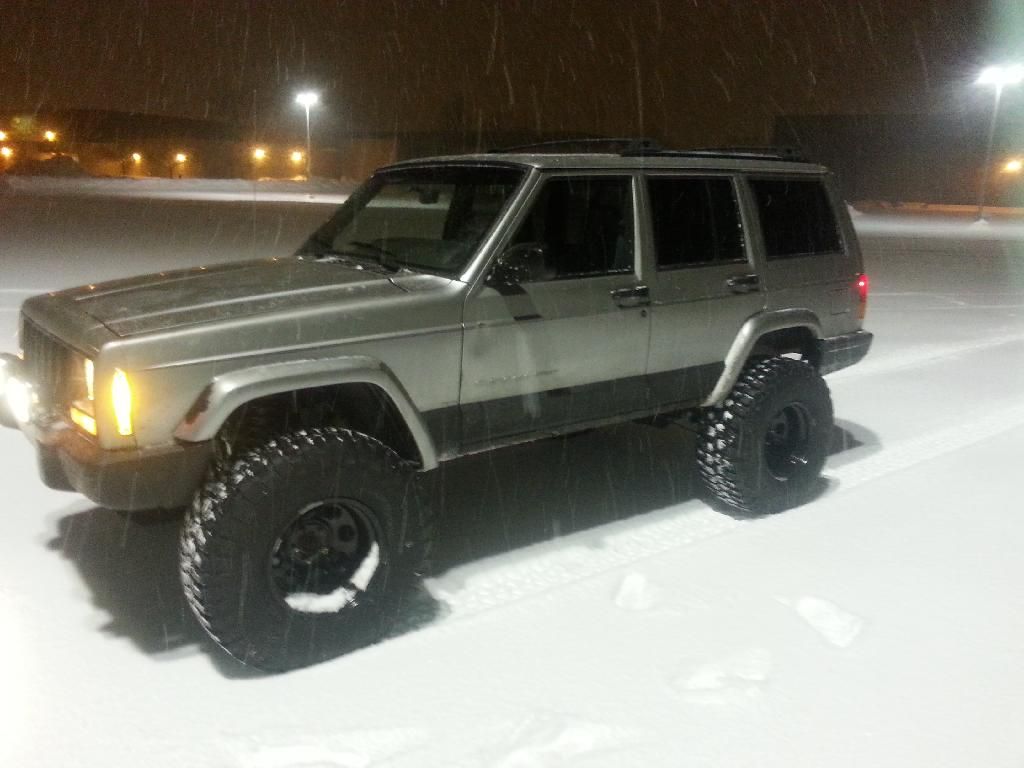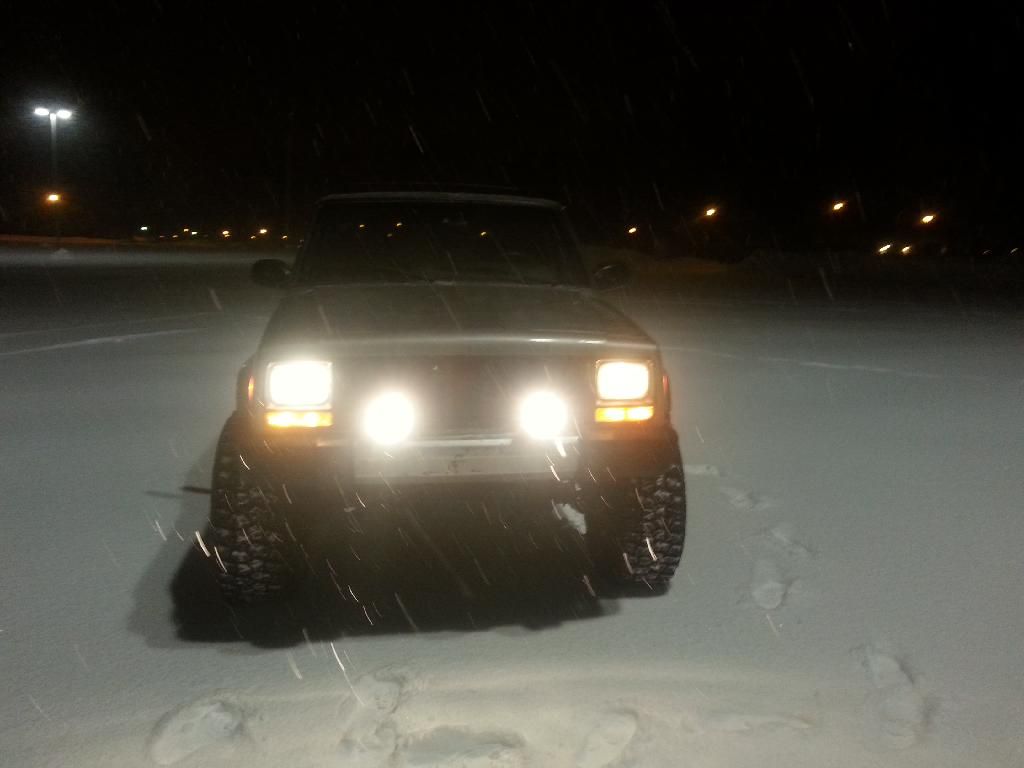 i trimmed my front fenders yesterday after ripping the one fender flare off turning into my drive way so i only had a short time so the cut job is kinda haggered ill go back through and trim it again but for now no rub and i got a front row parking
at home lol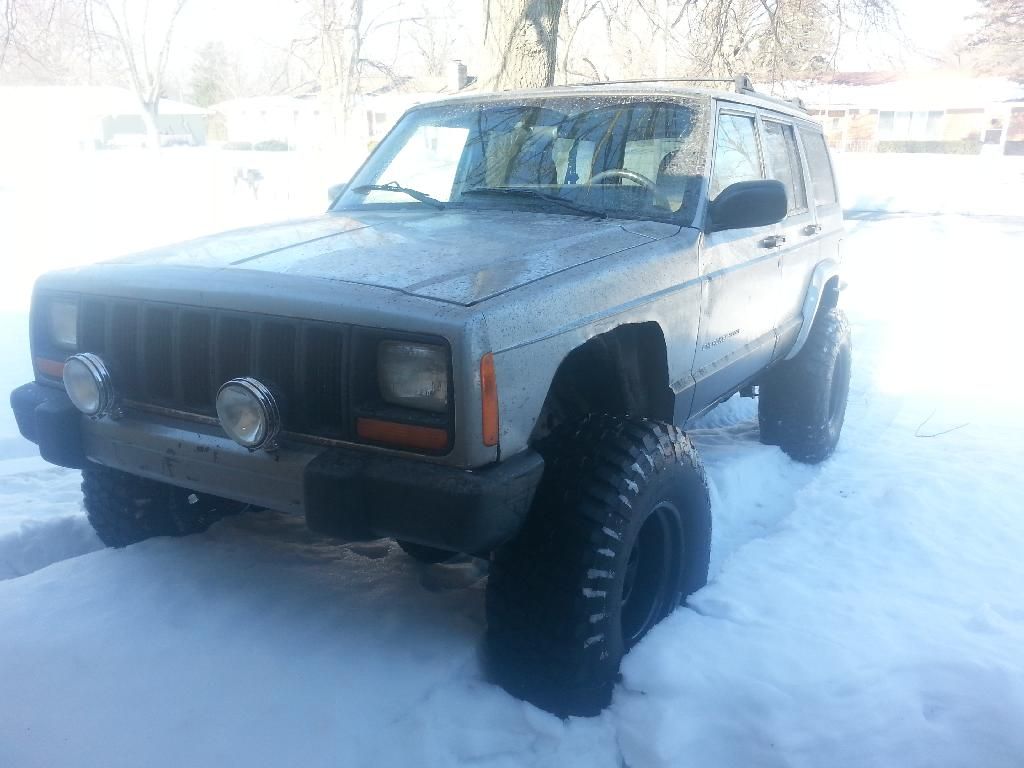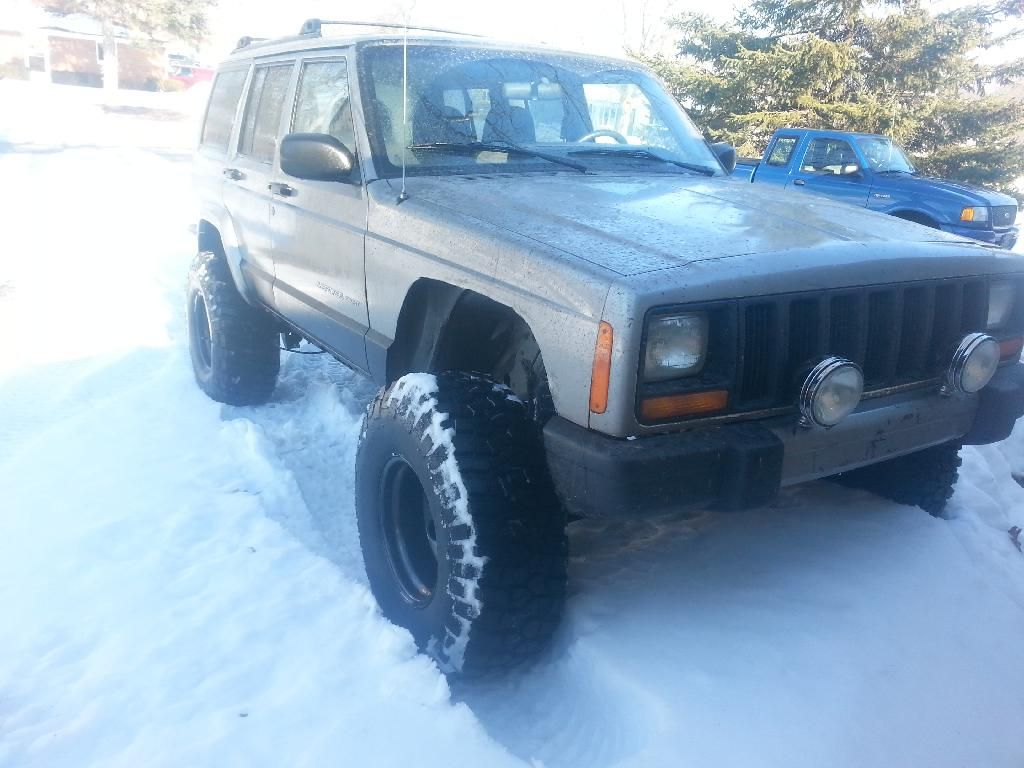 mounted my gun rack today!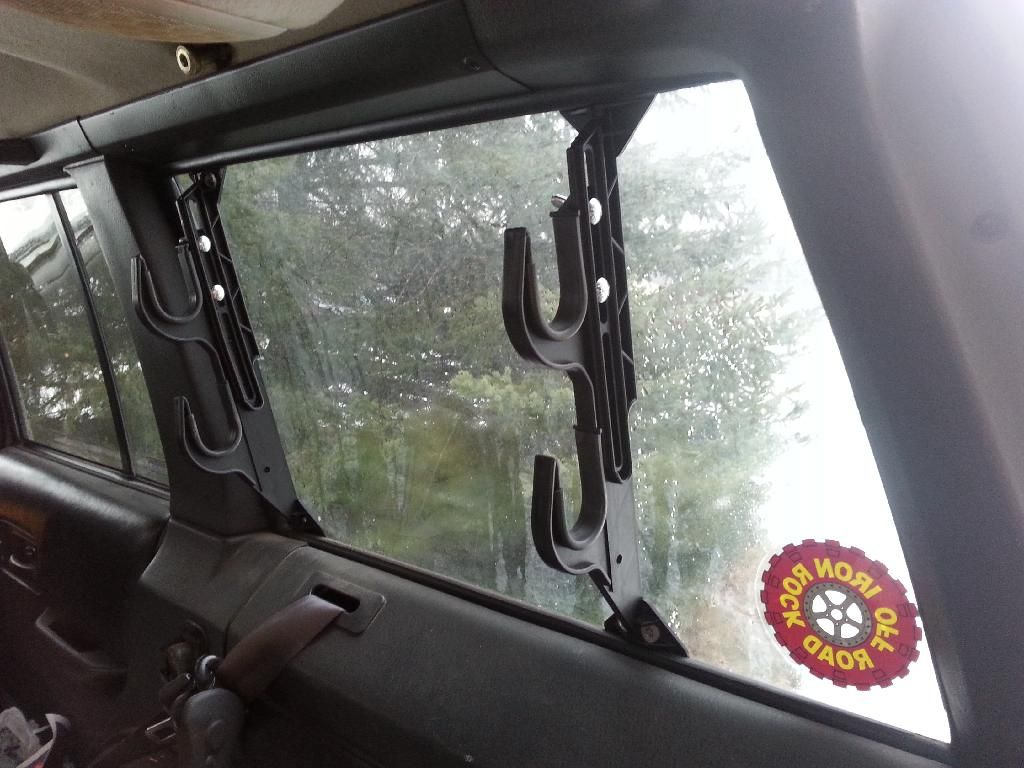 here are some more recent pics gonna hopefully take her out wheeling for the first time today!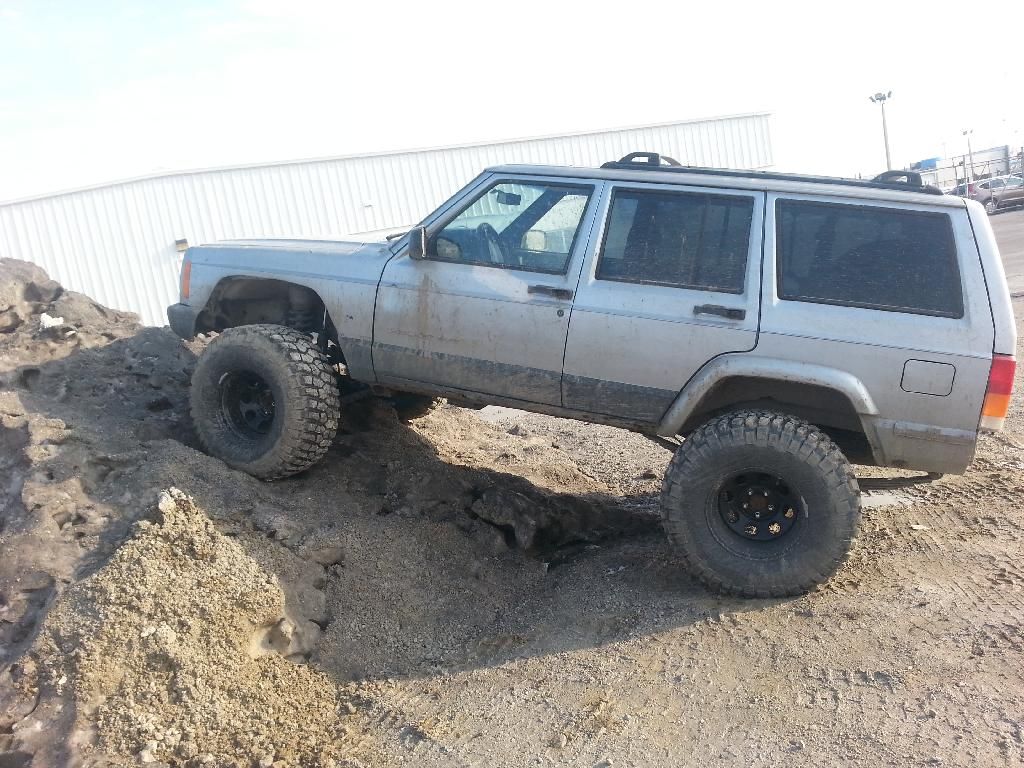 o i took my front sway bar off the other day best decision i made she flexes pretty good now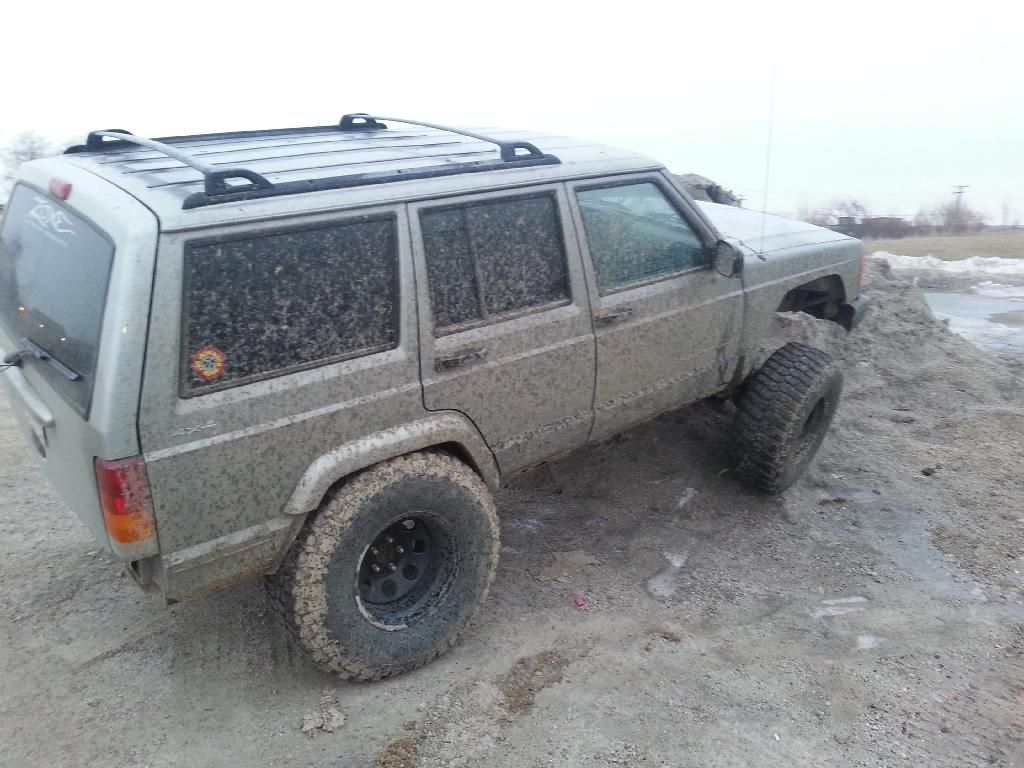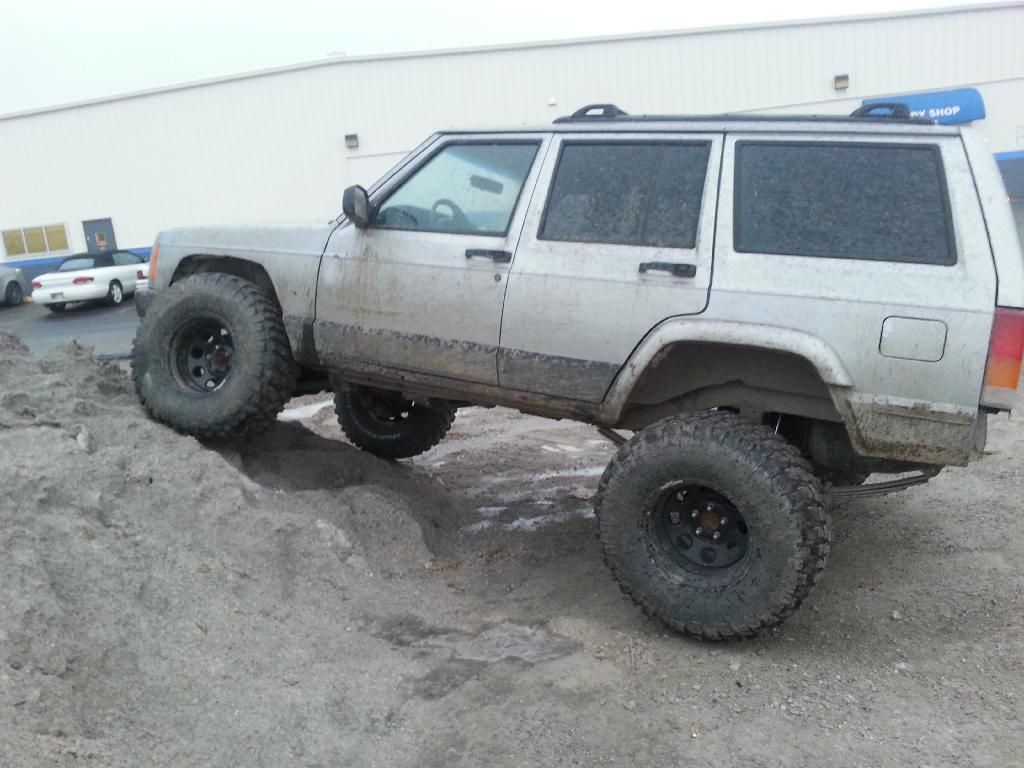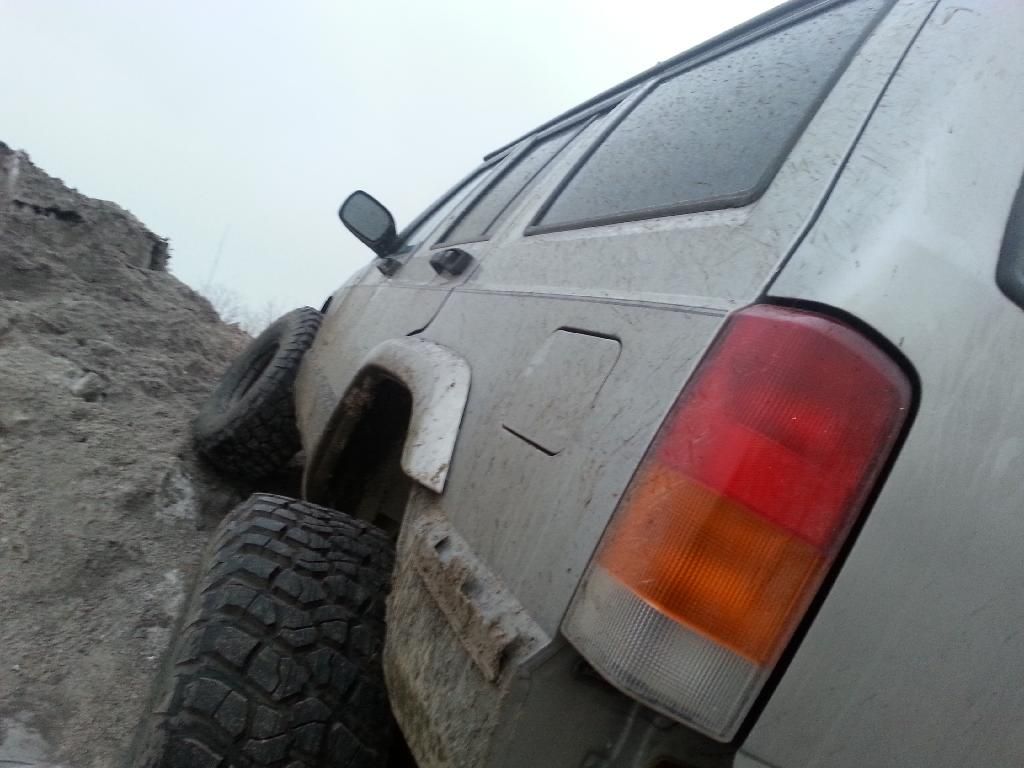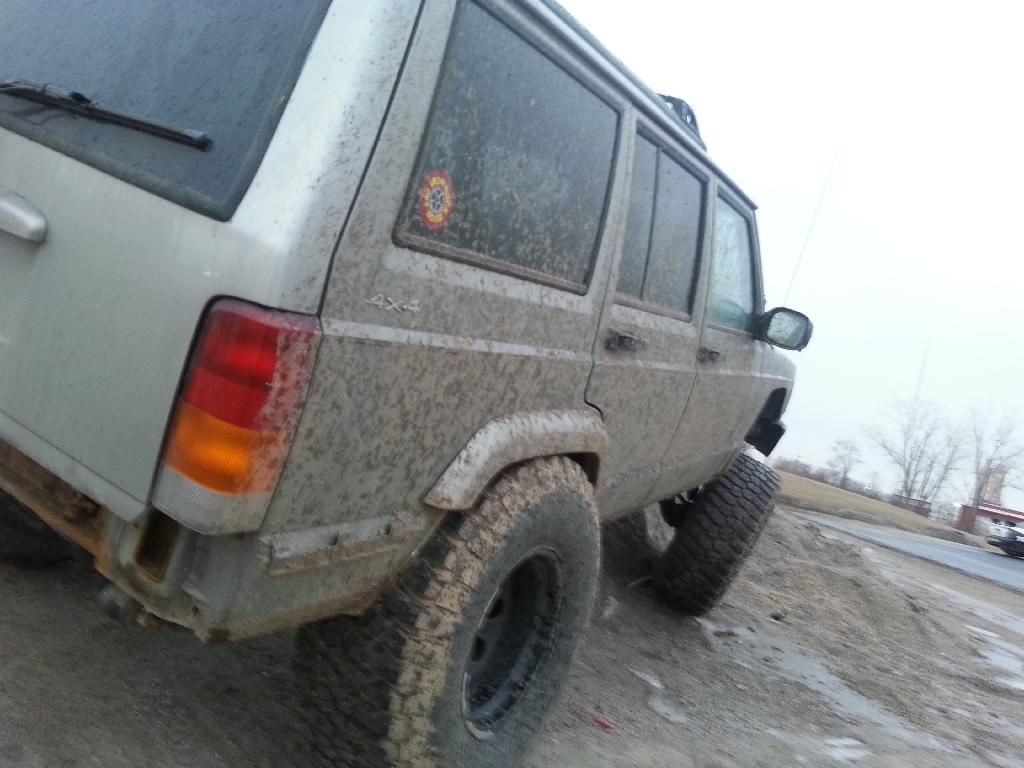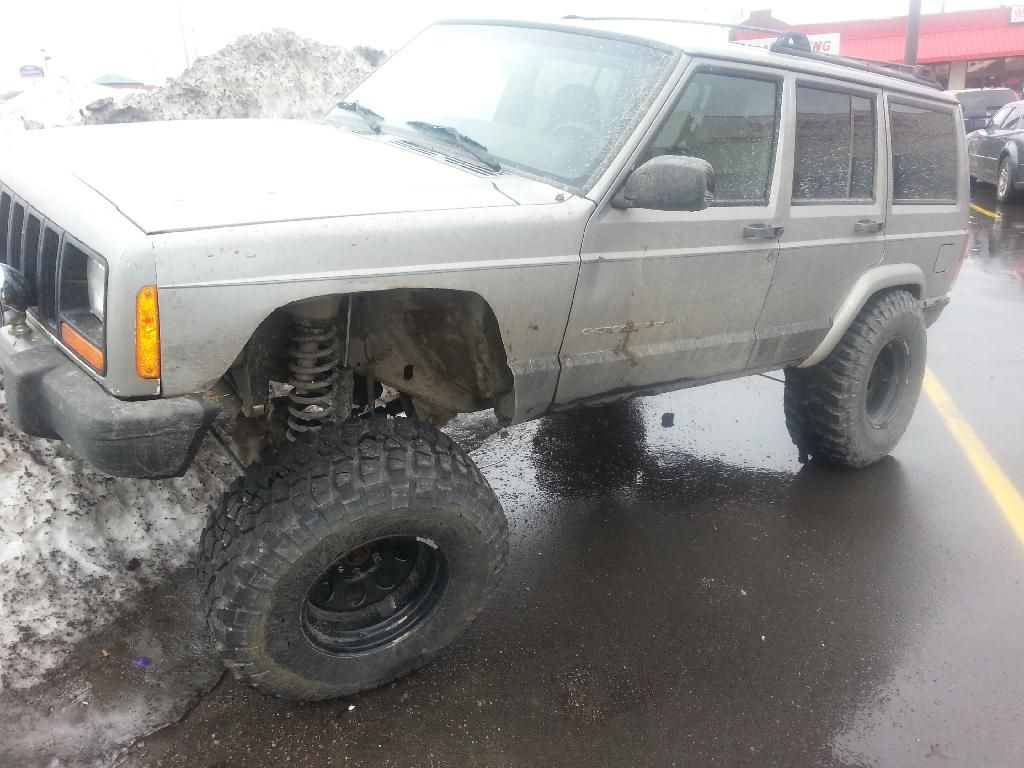 how we park at work lol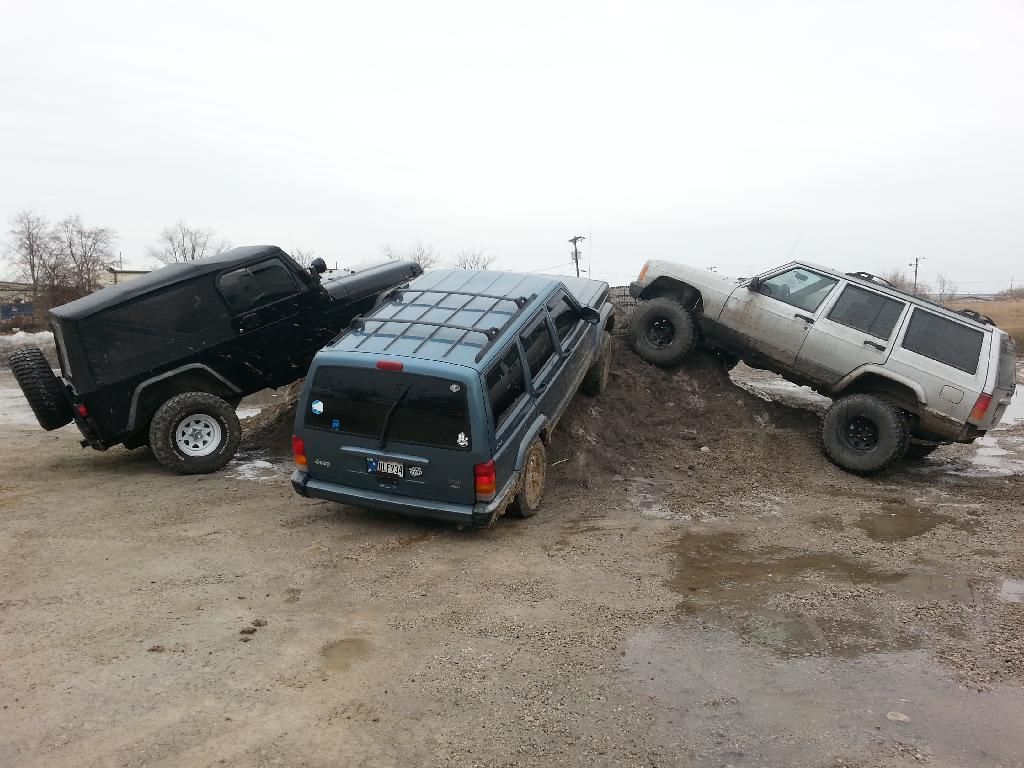 here are some pics from last sunday playing around this was the deciding factor in me taking my sway bar off in the front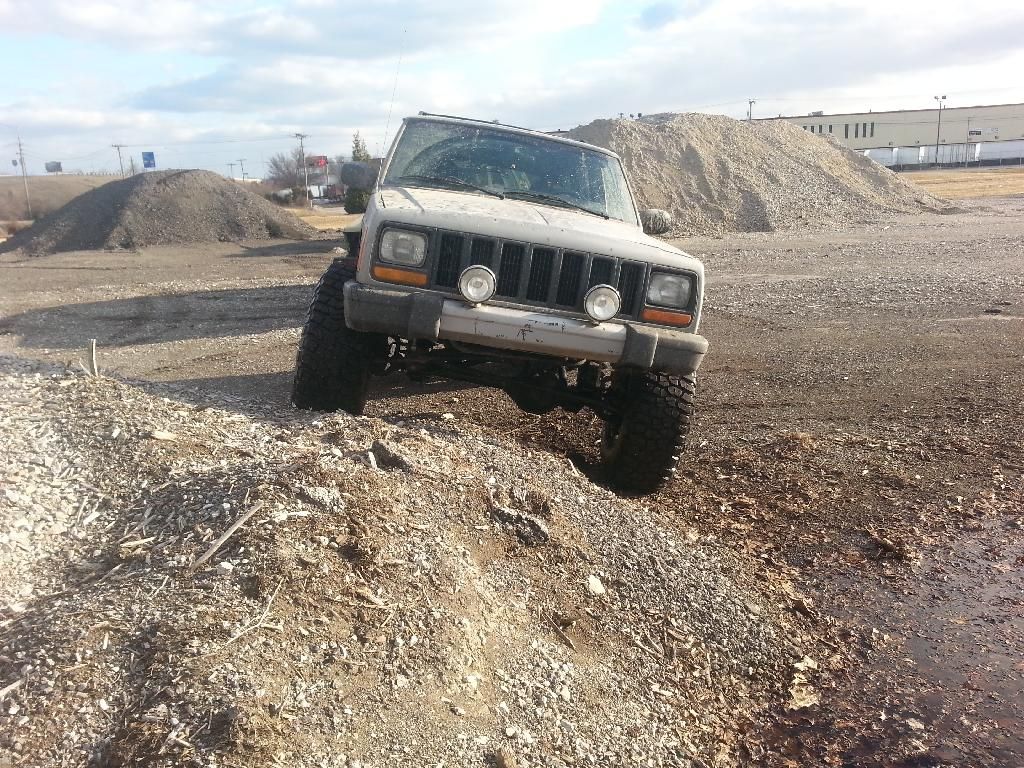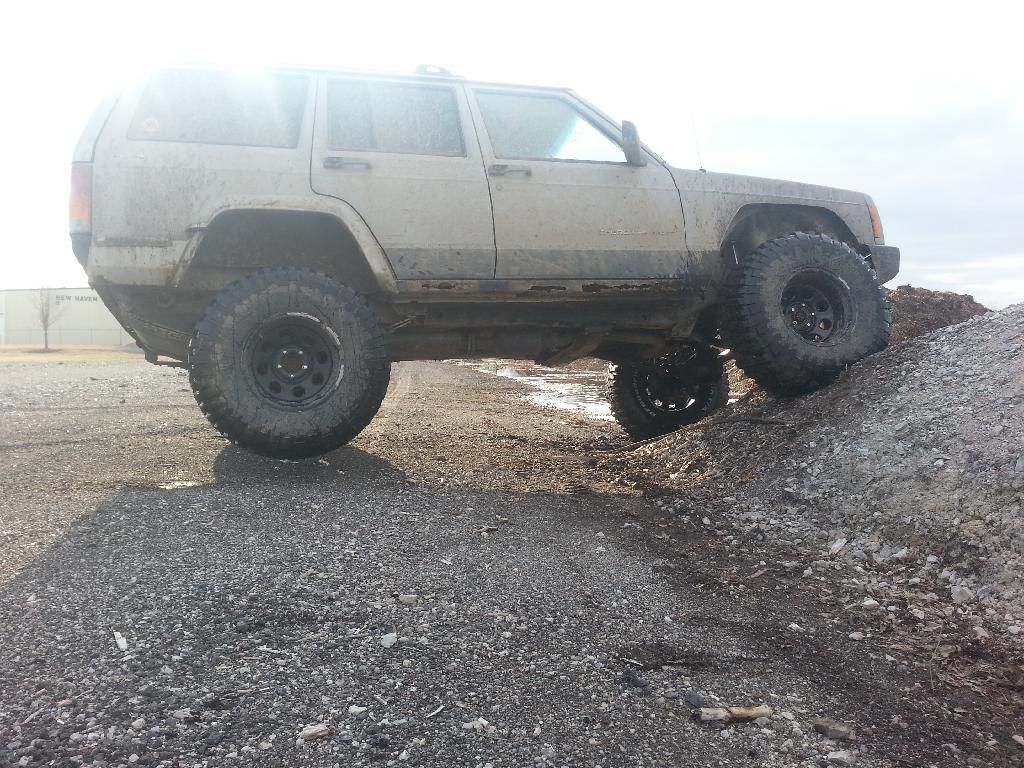 [URL=http://s841.photobucket.com/user/Schwab777/media/jeep/20140323_183431_zpsm1pxdibp.jpg.html]
took her out and had some fun not too long ago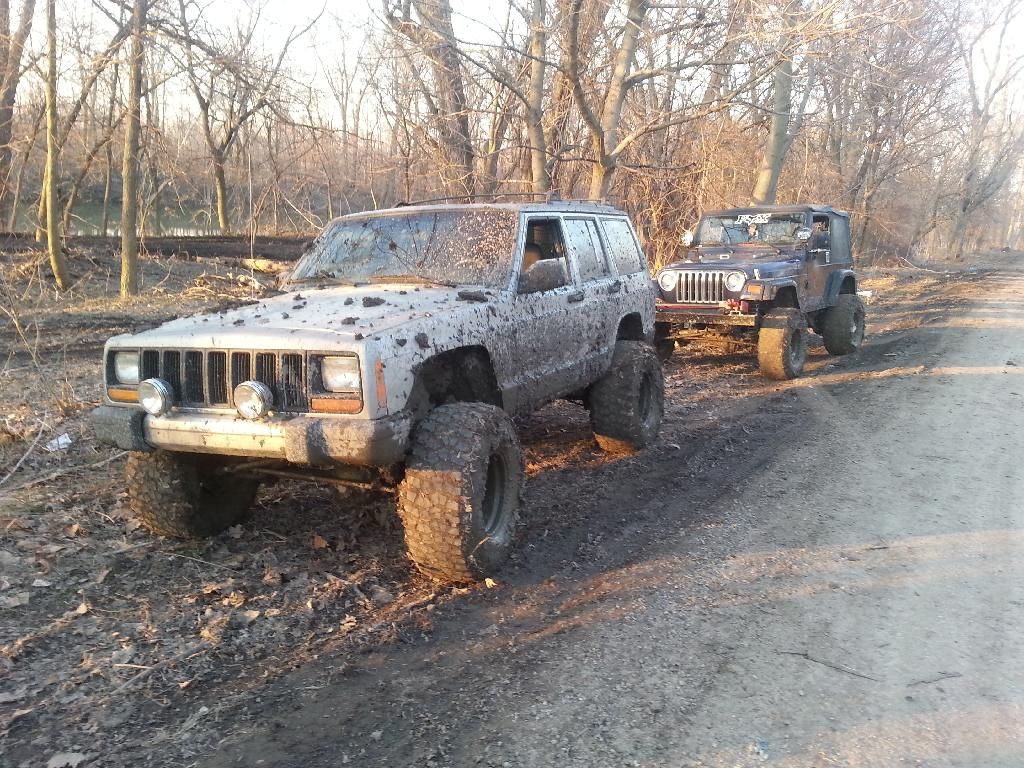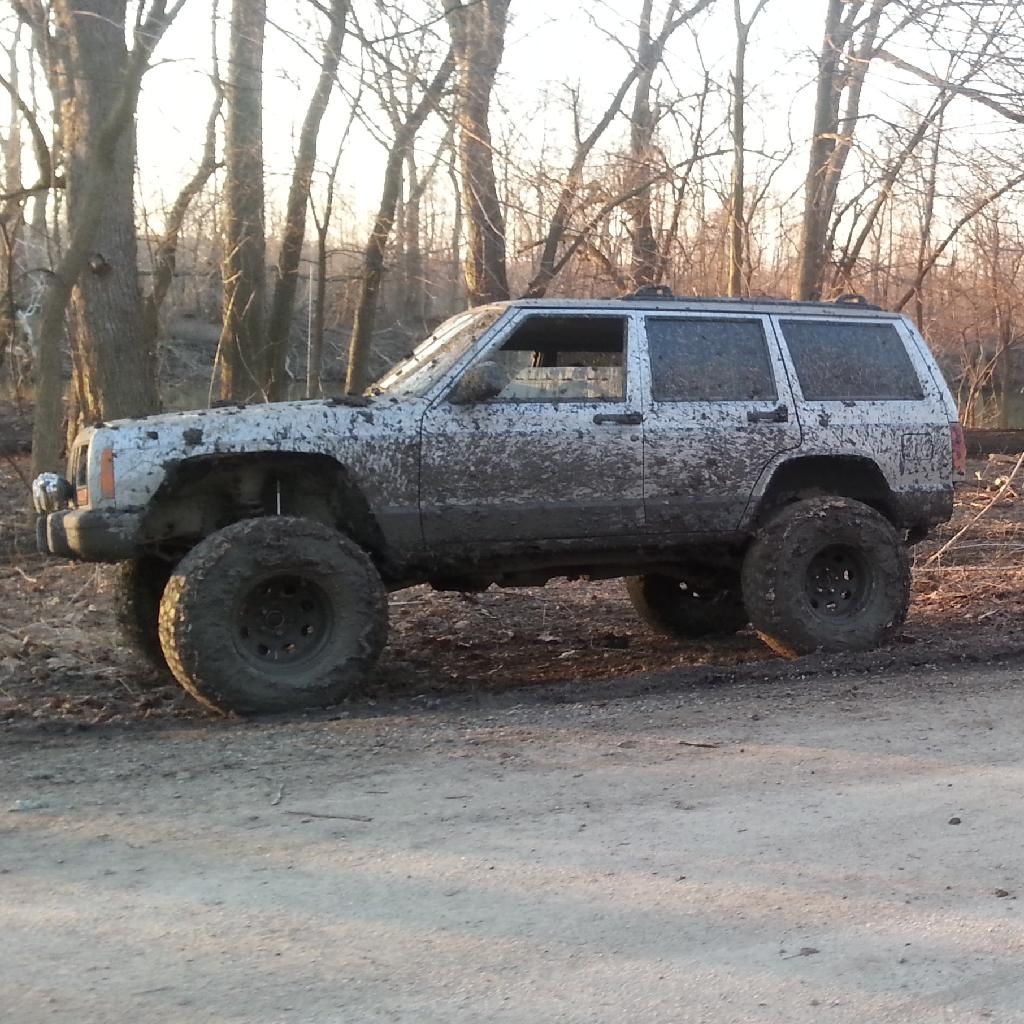 cut and folded my rear fenders and then sprayed duplicolor bed armor over them turned out pretty good imo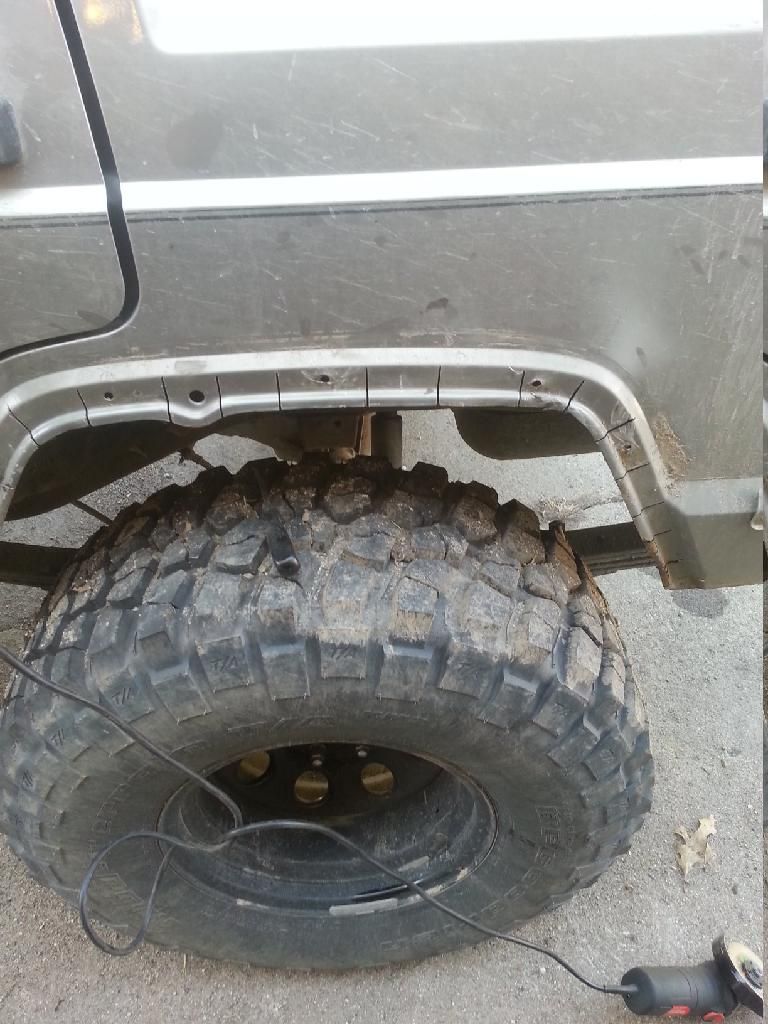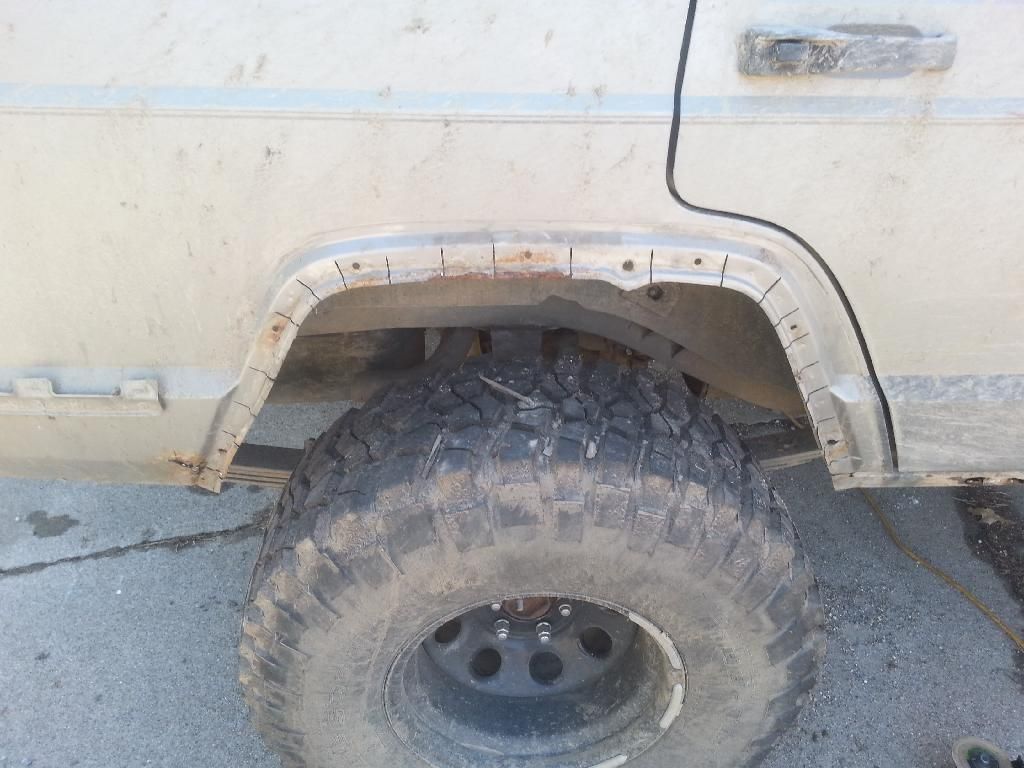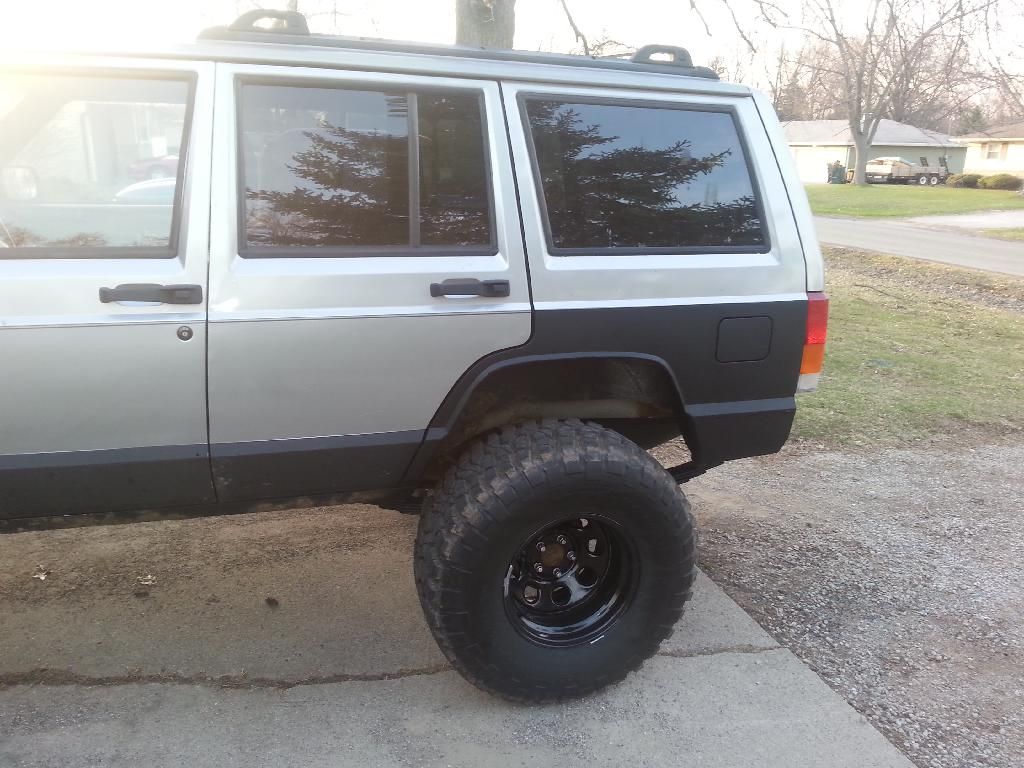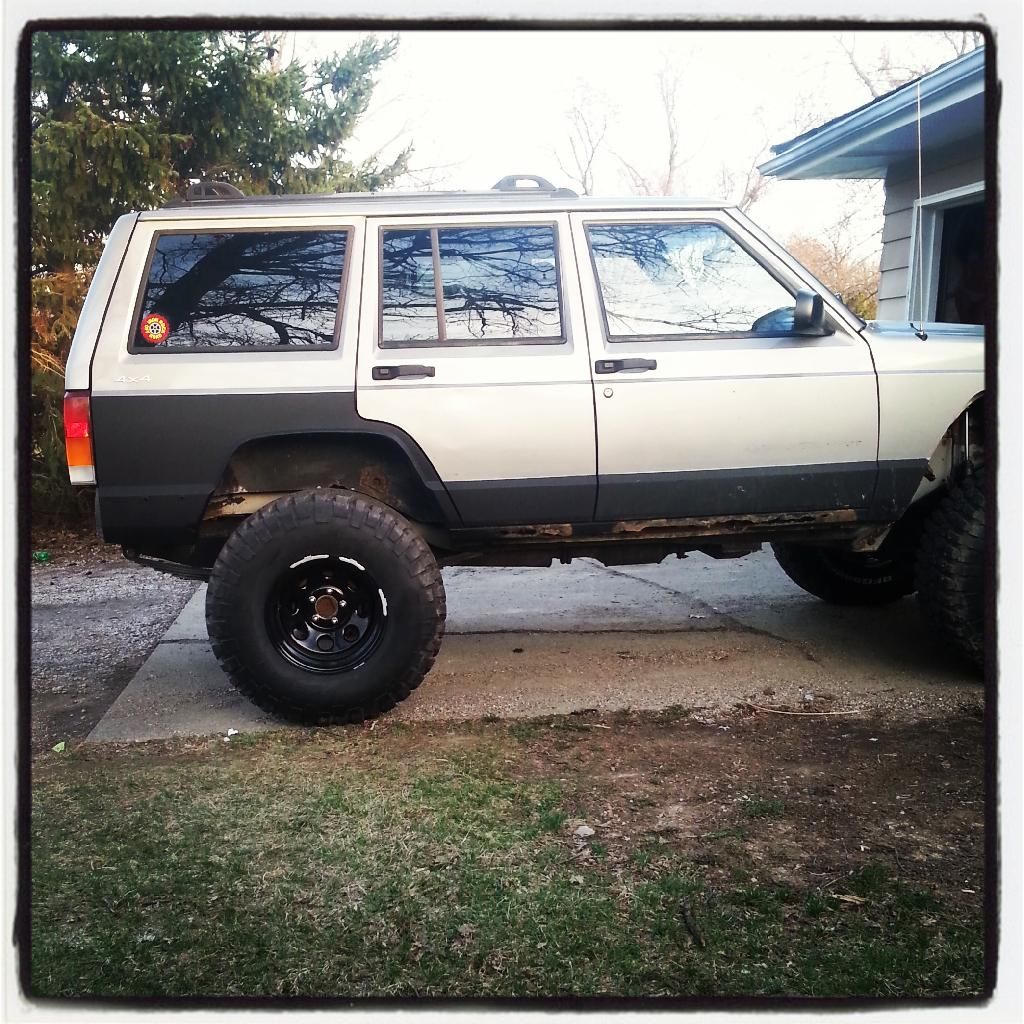 then some poser flex shots lol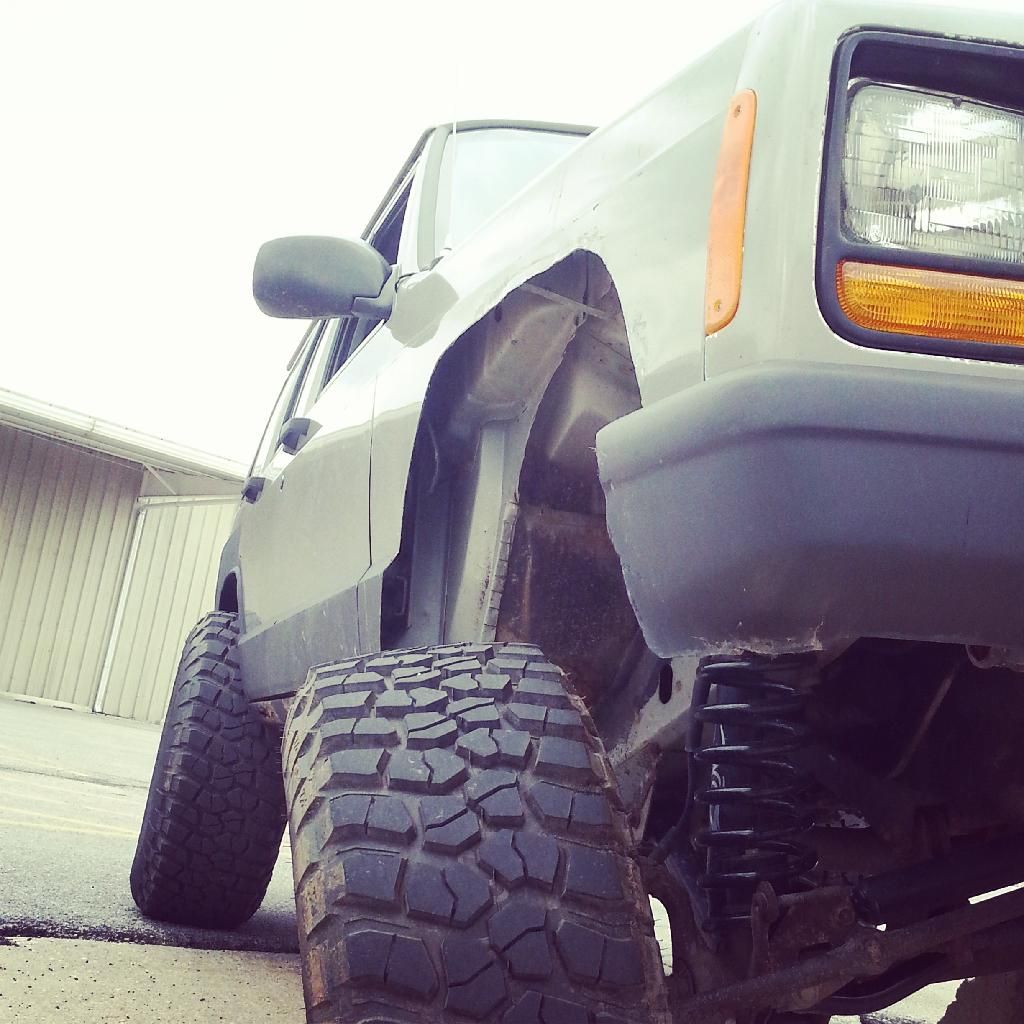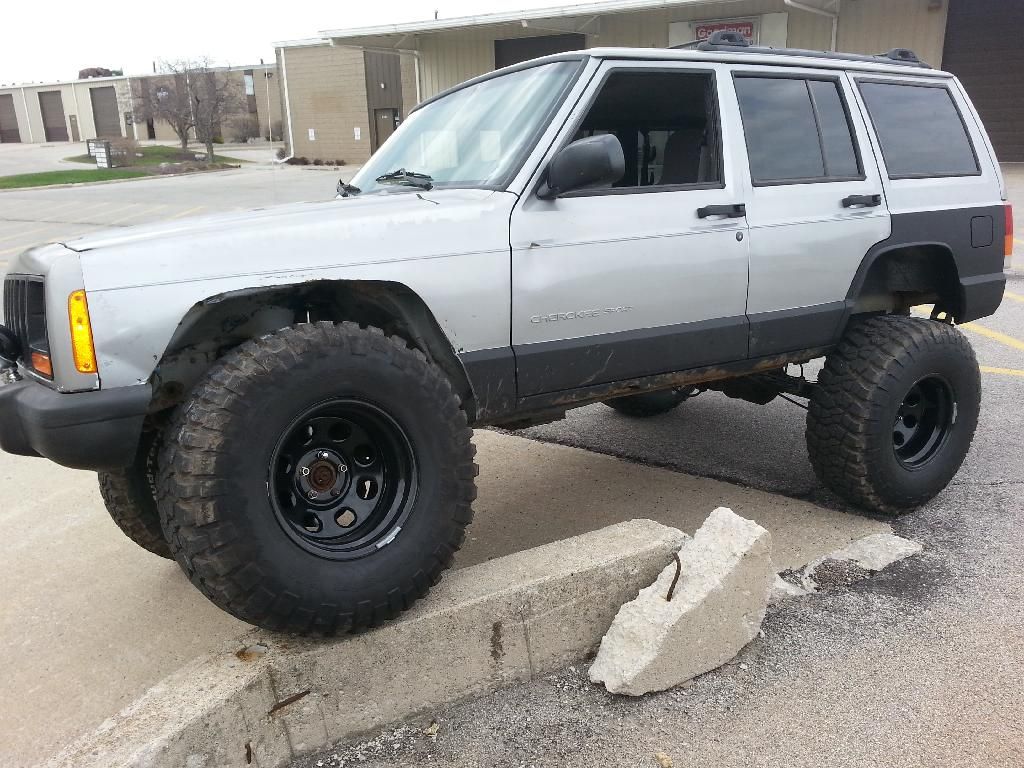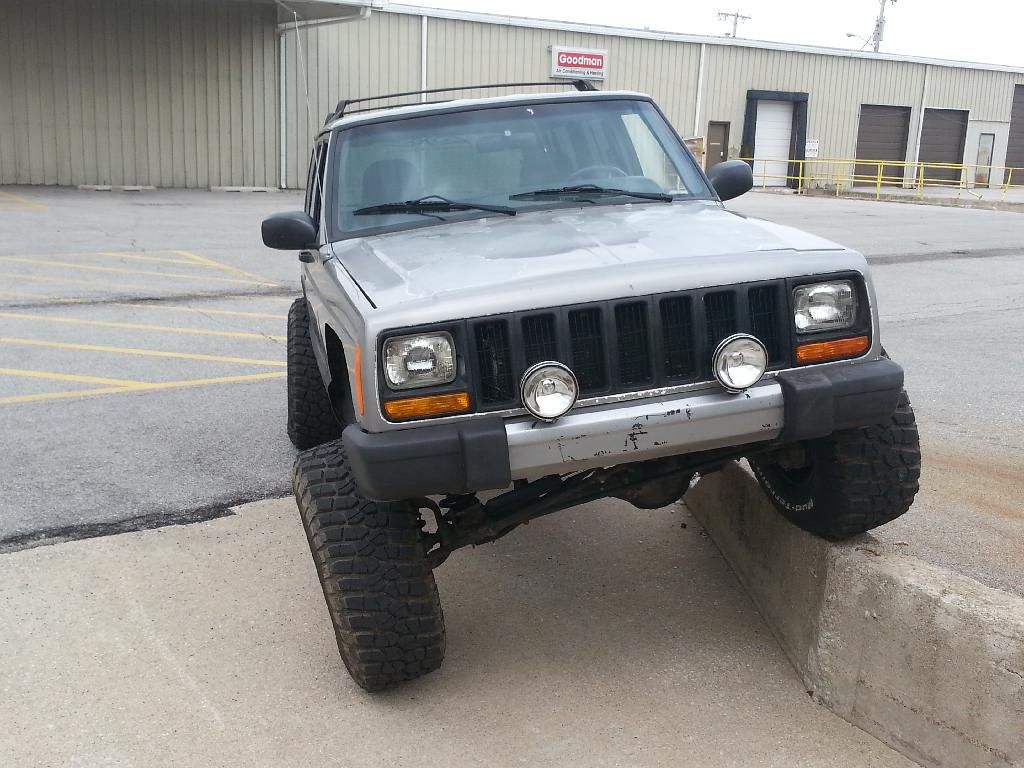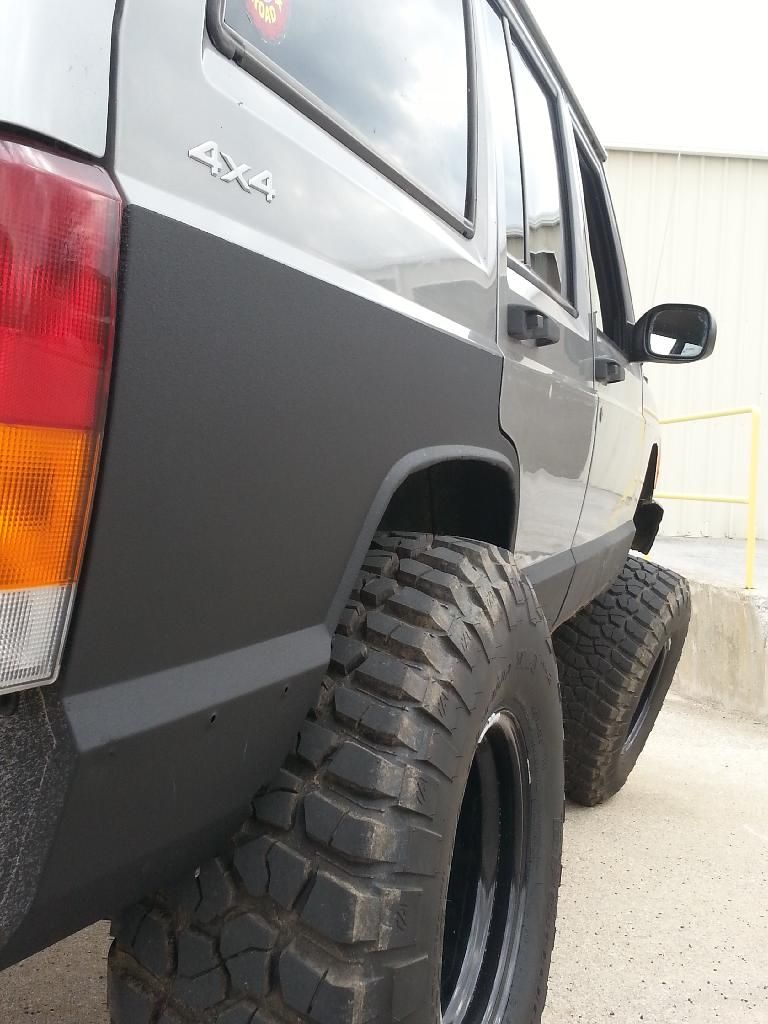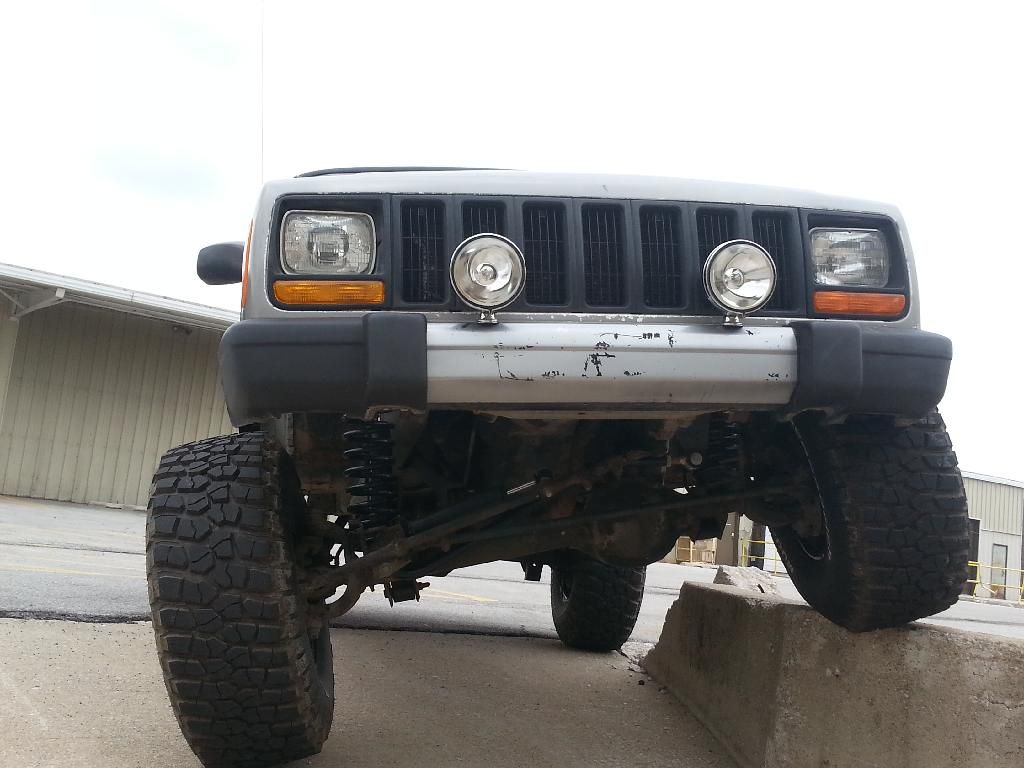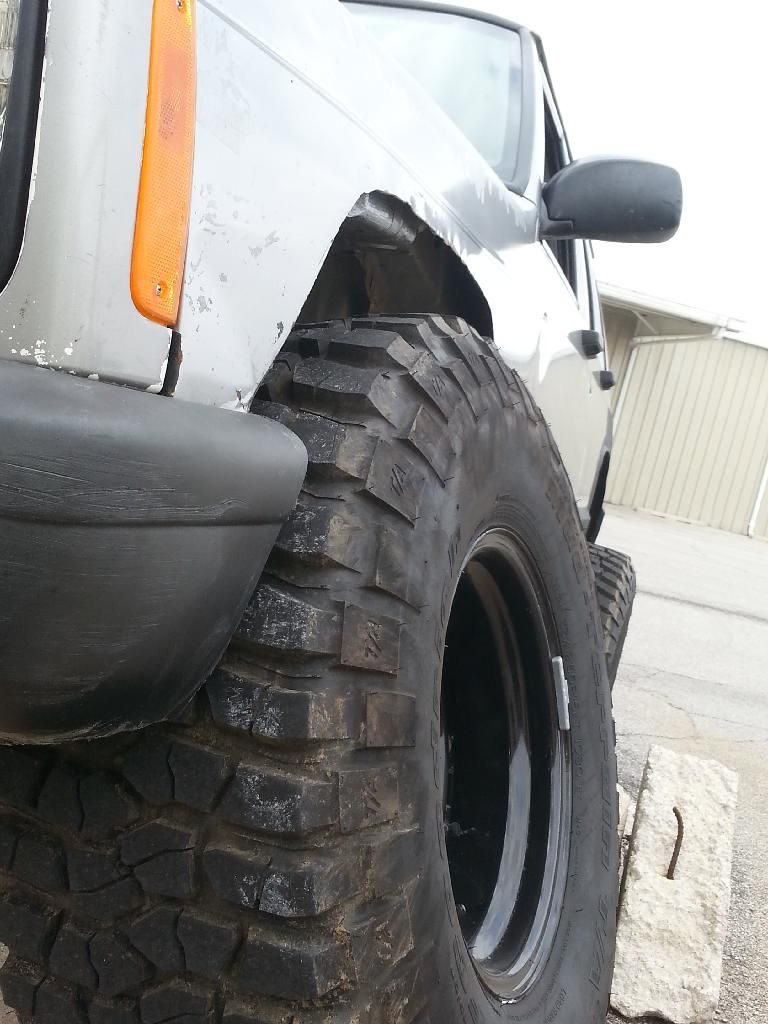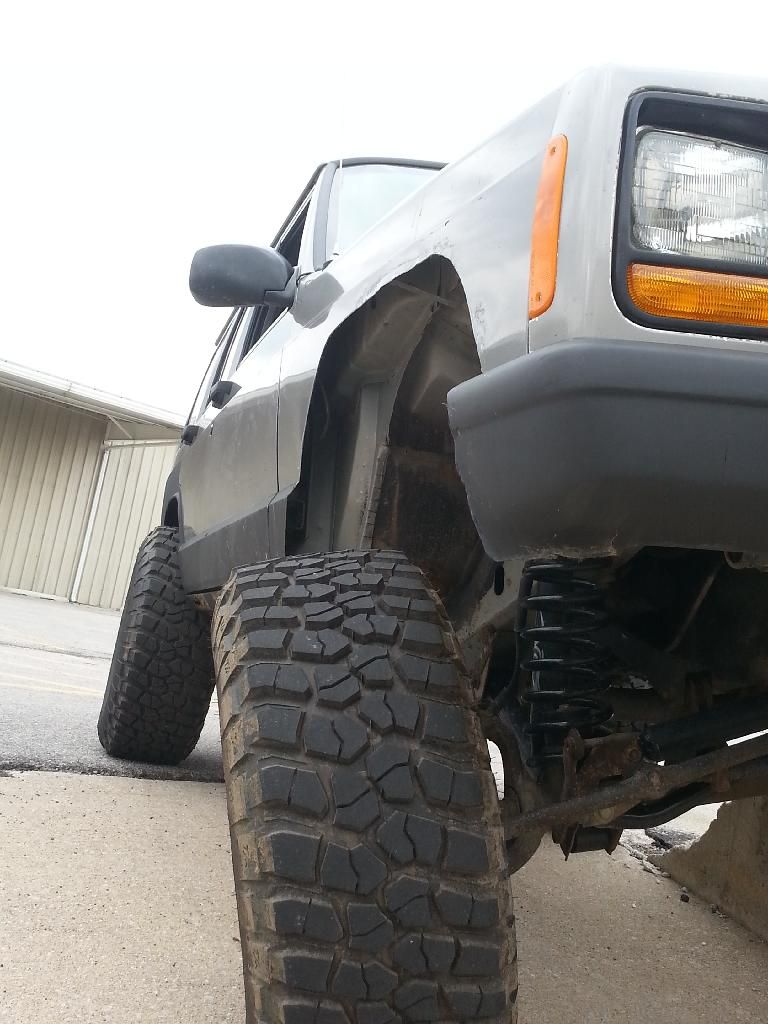 parked next to a stocker today lol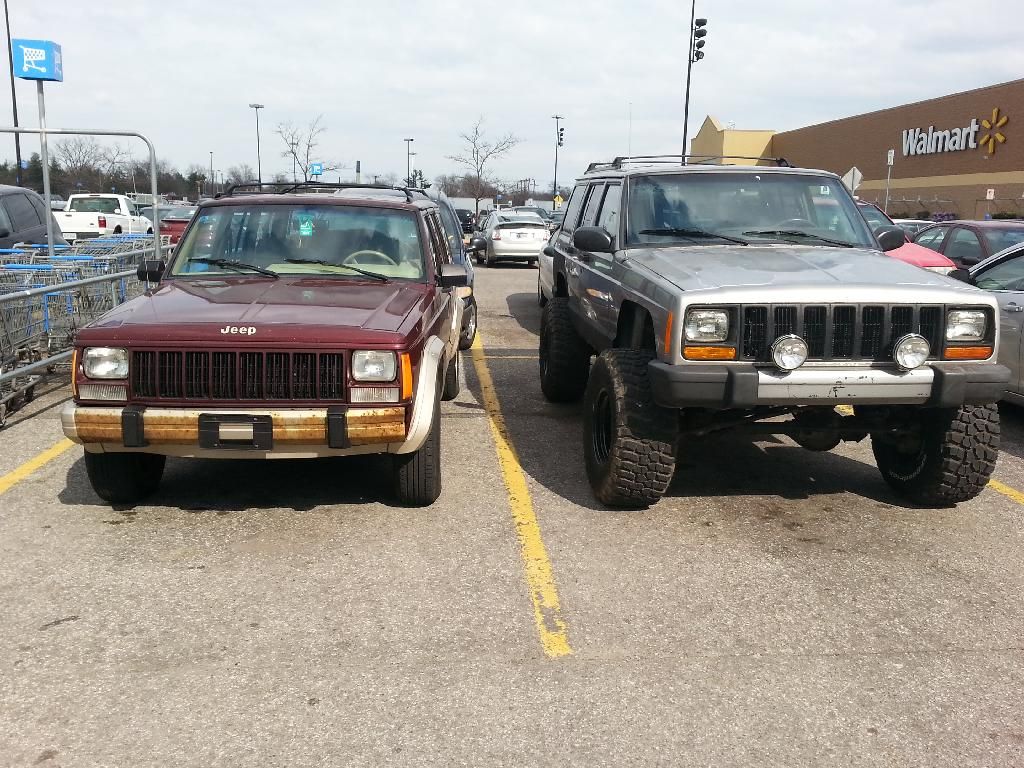 was bored waiting for class to start so this is what we did lol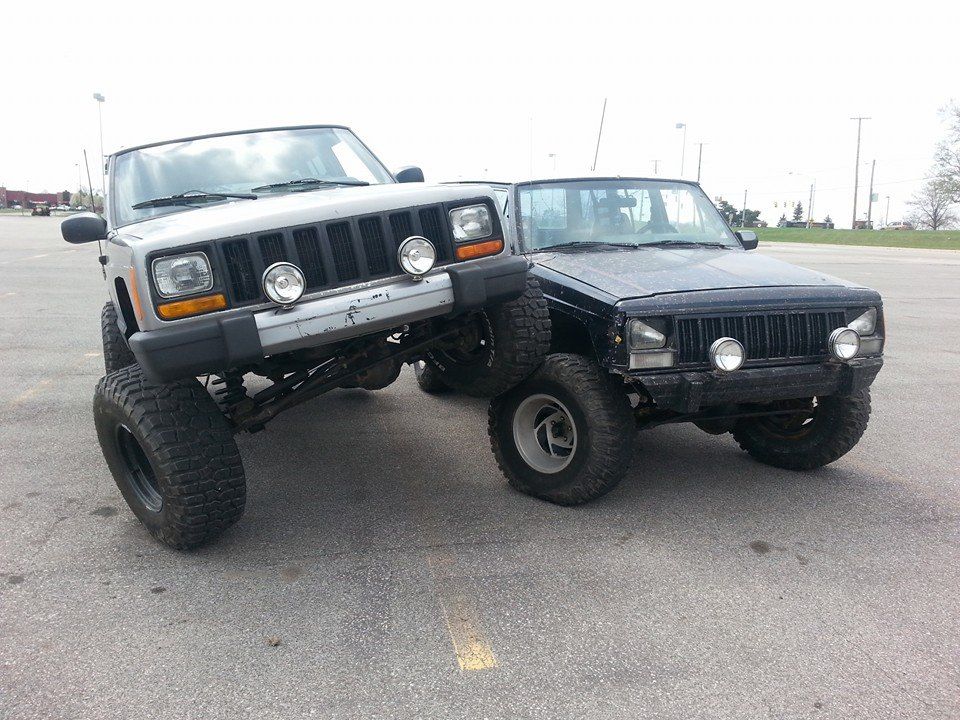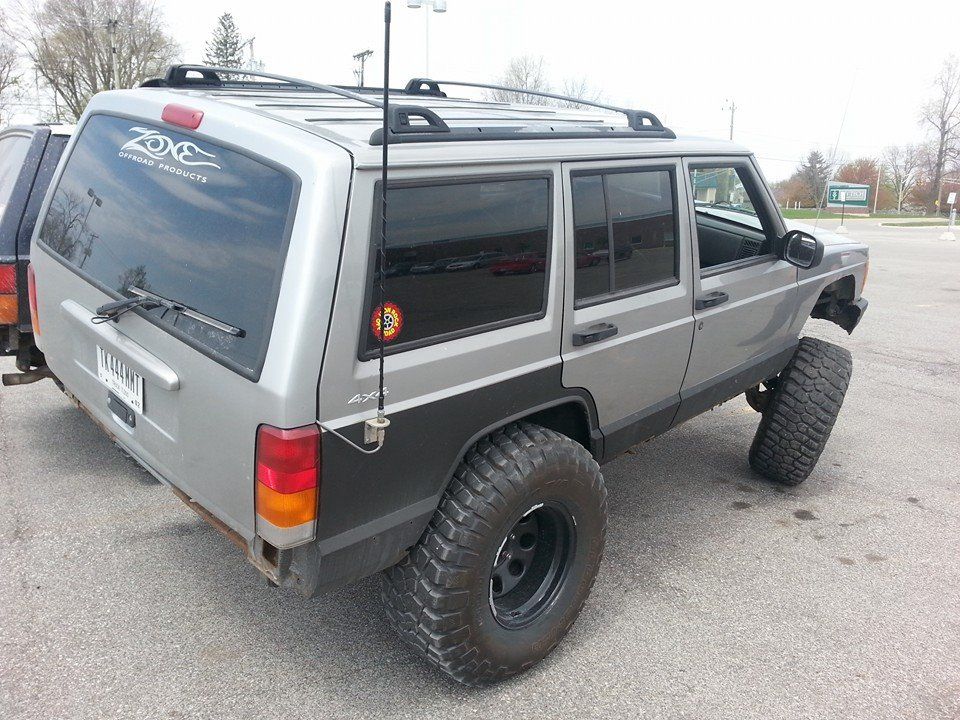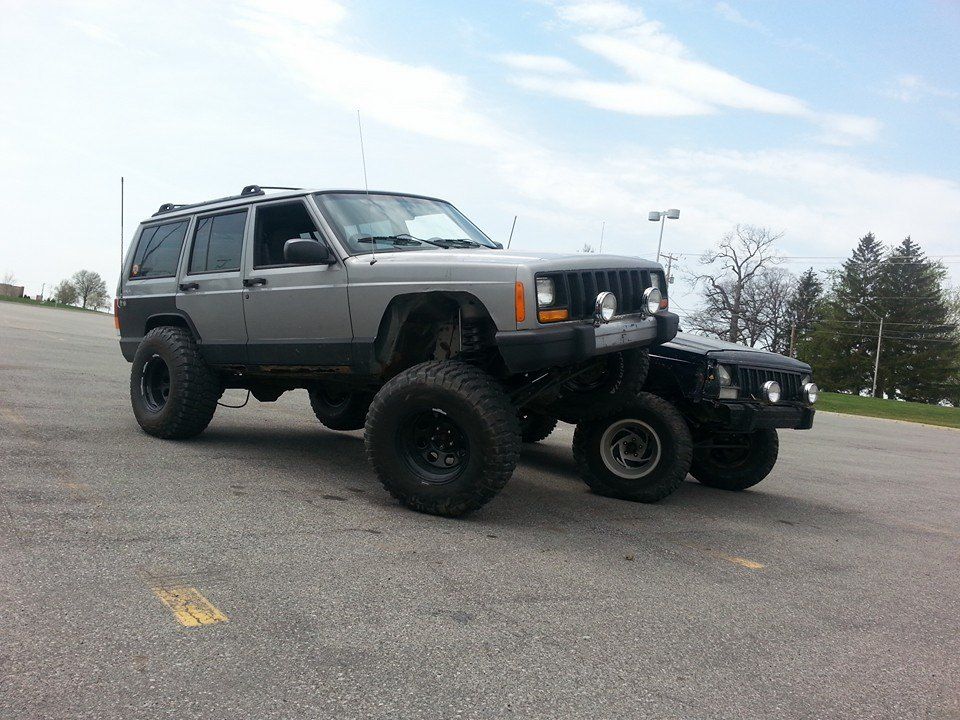 been a while since i updated so here we go took the jeep to the four wheel drive jamboree in lima ohio was going to trailer it over there but had some things happen with the trailer here is a pic of it on stock tire and wheels it looks weird i dont like it lol
got my new sticker on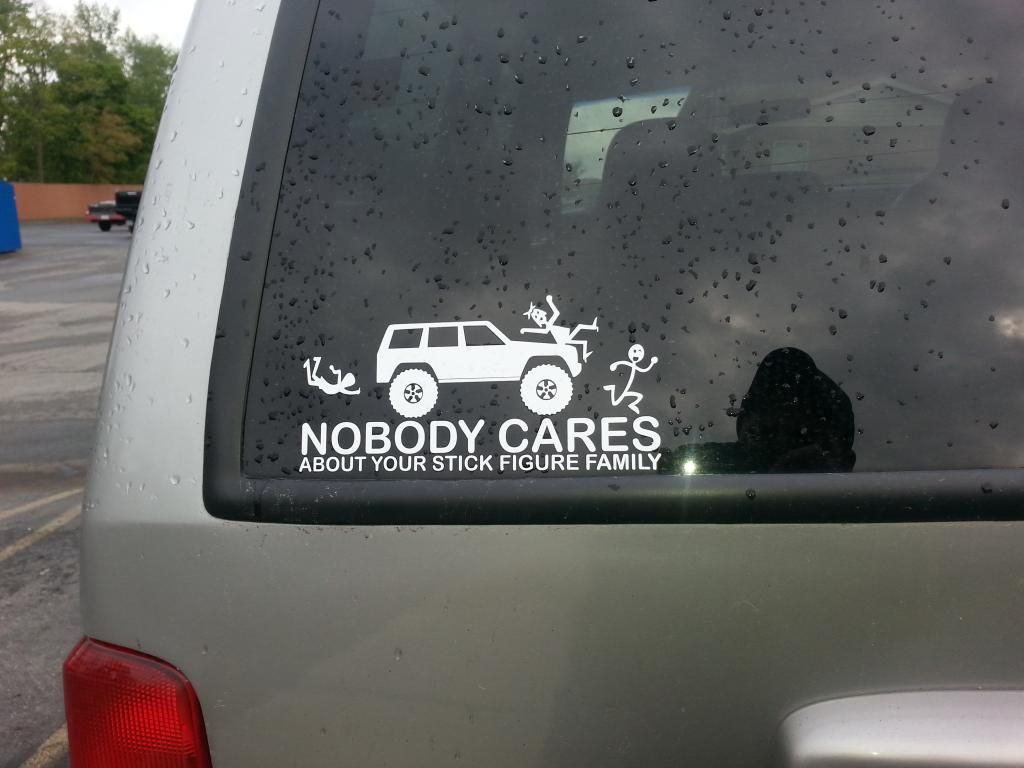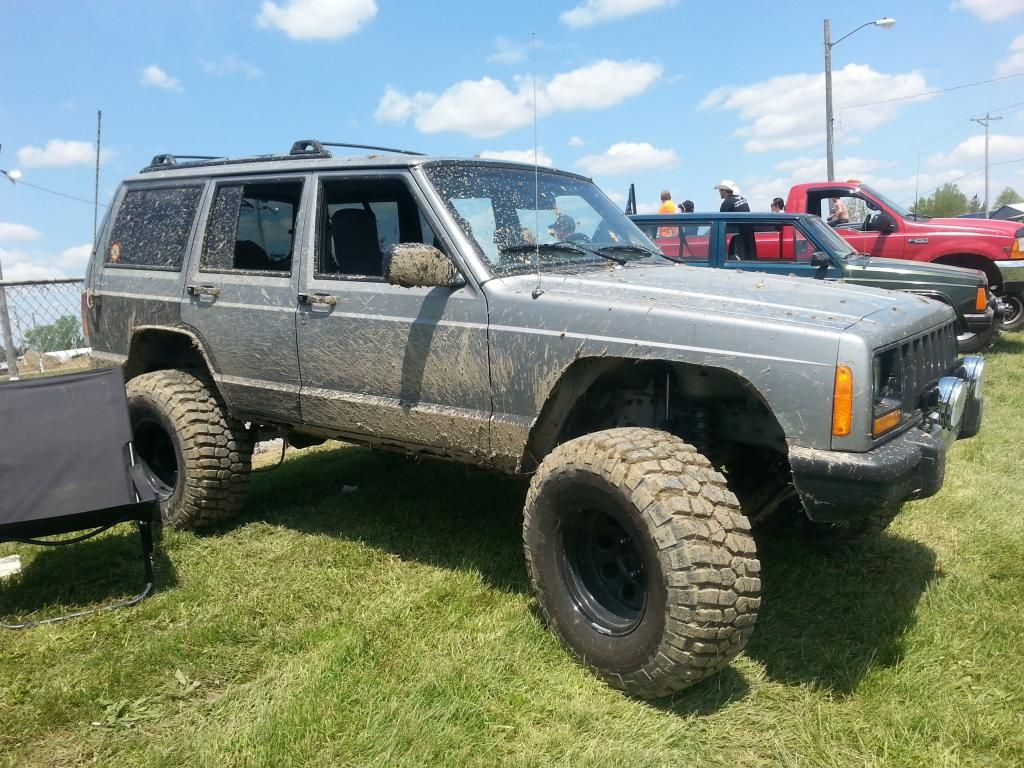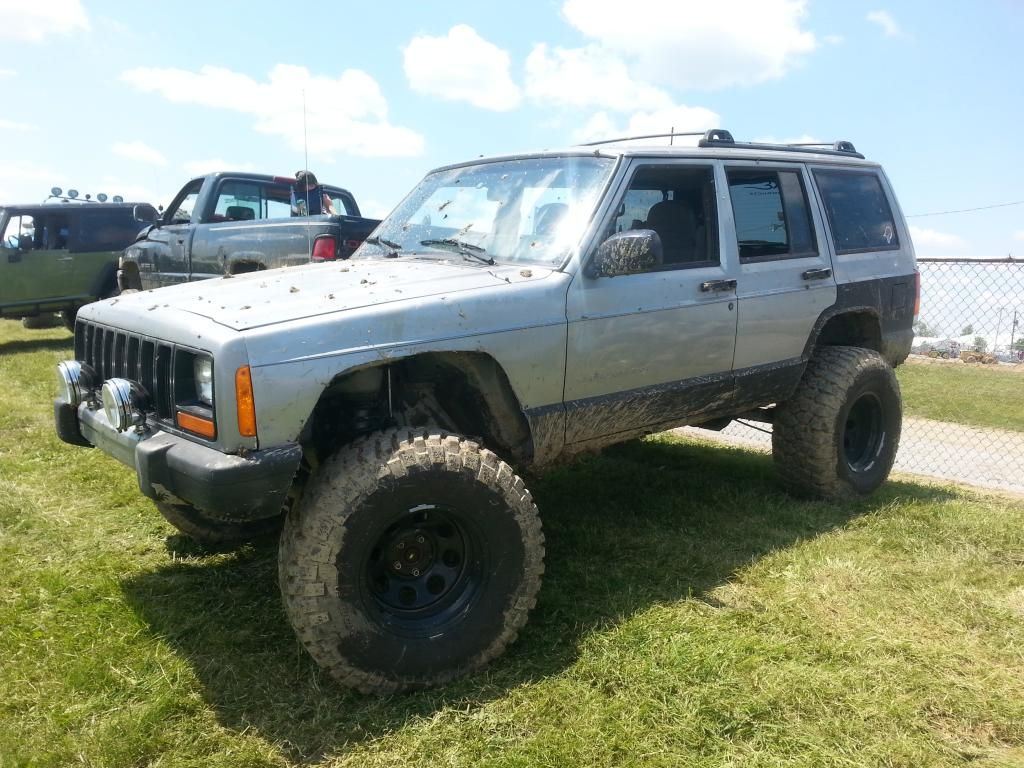 decided to finish the bedliner paint job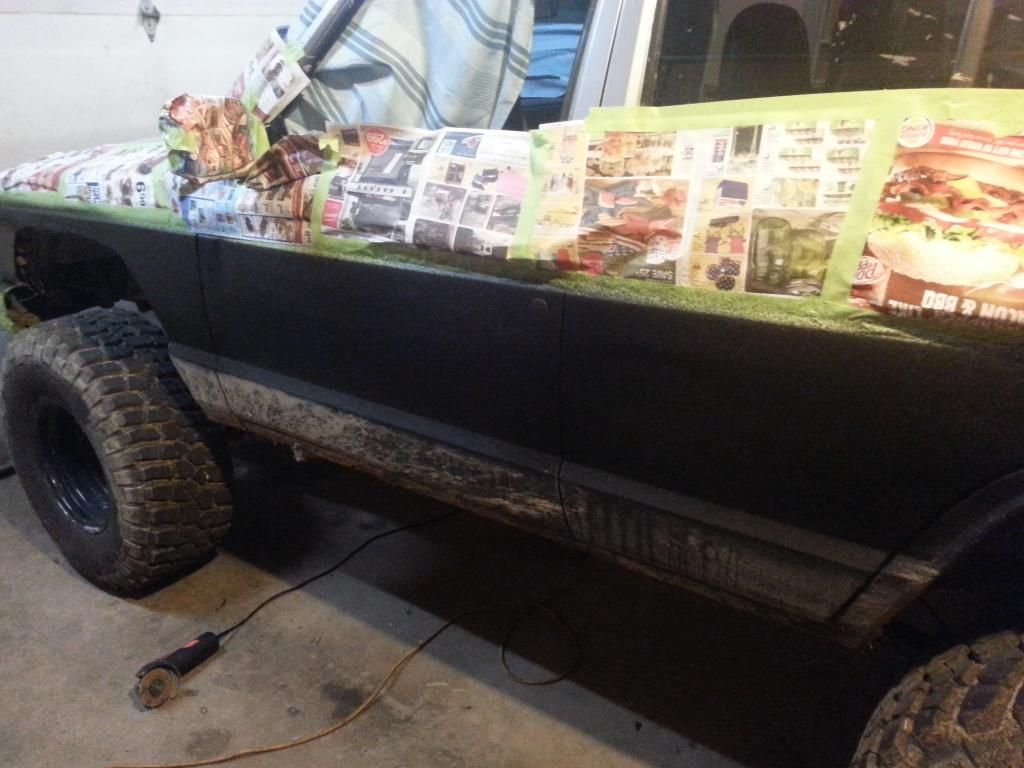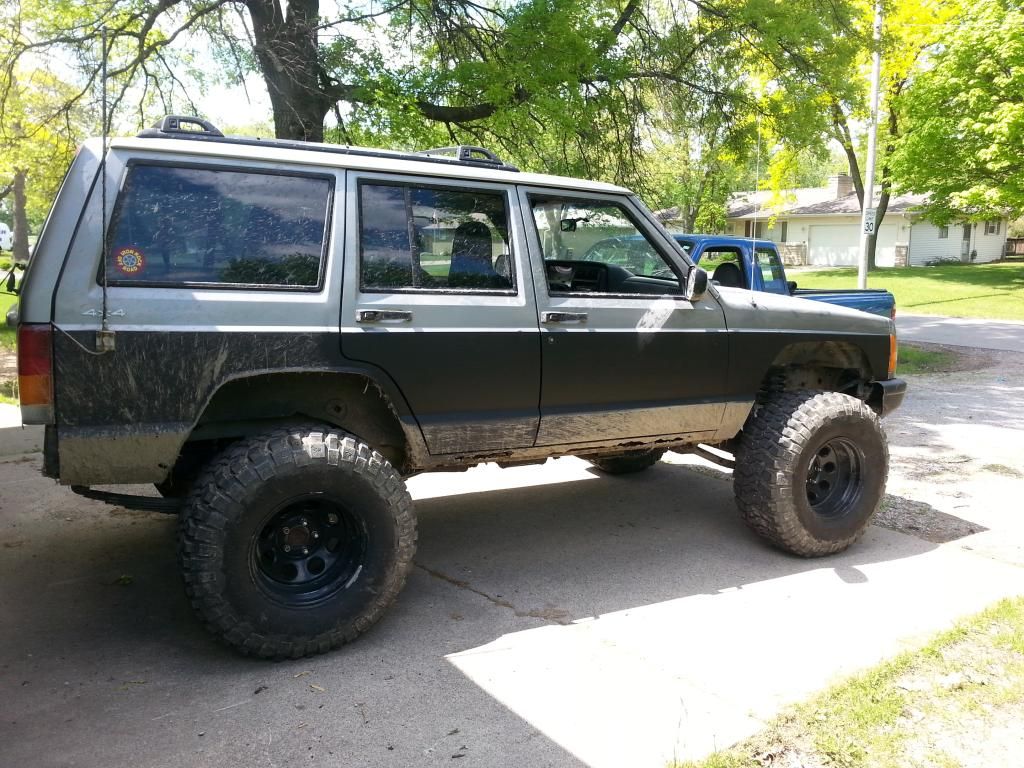 did some wheeling in my hometown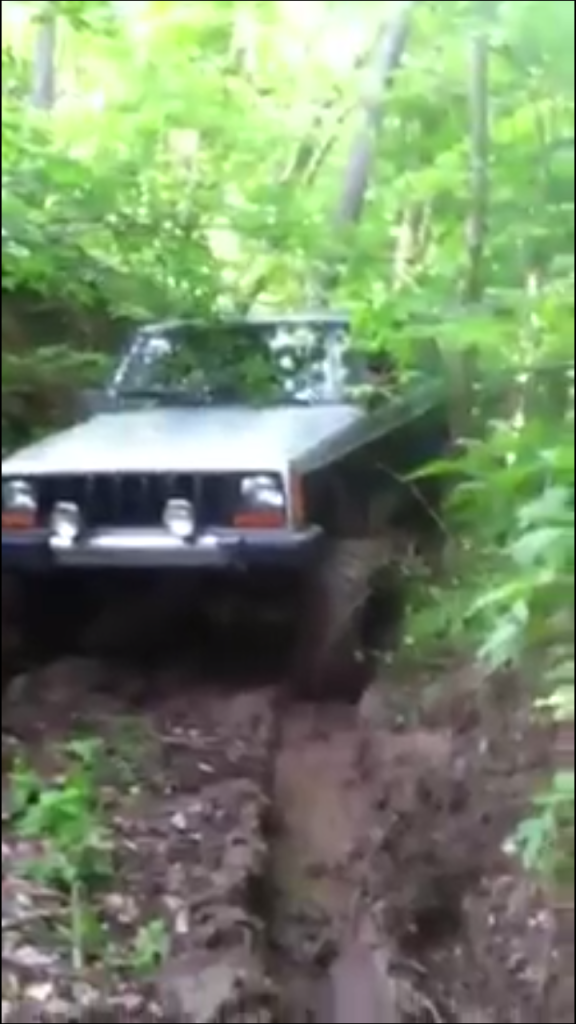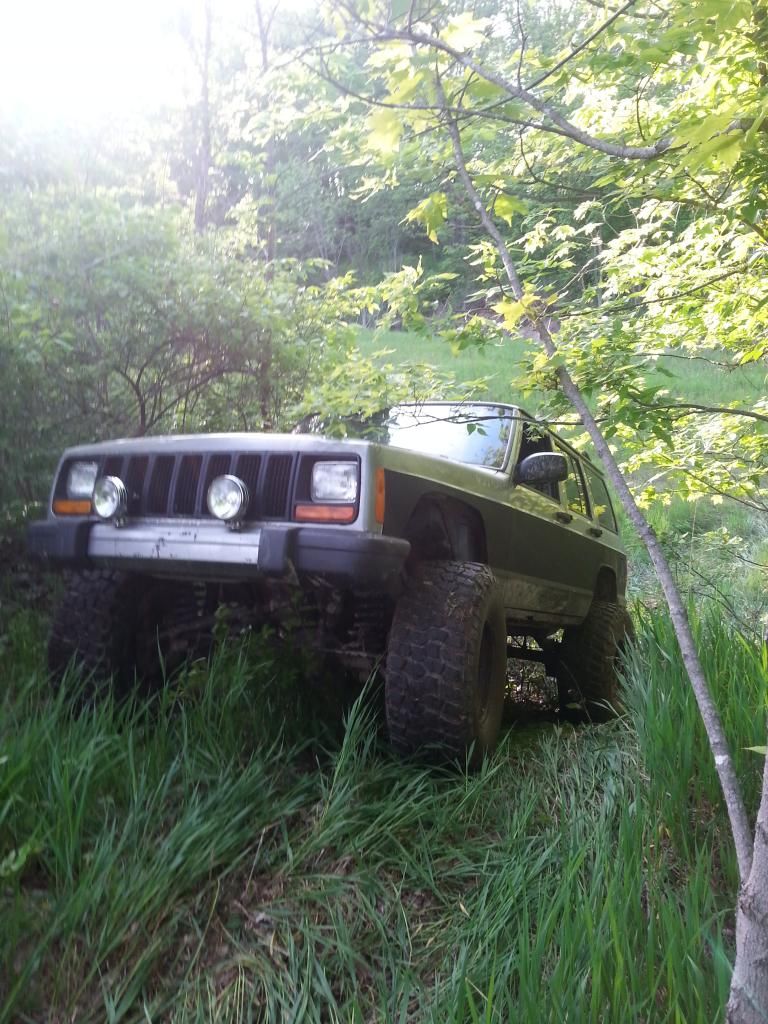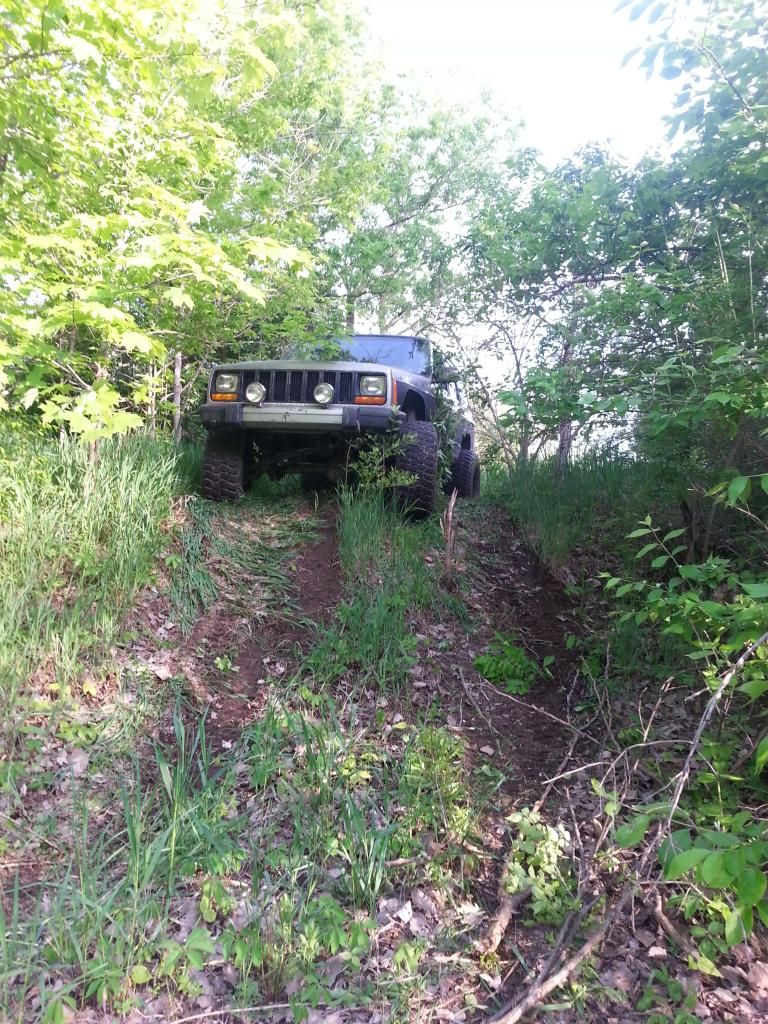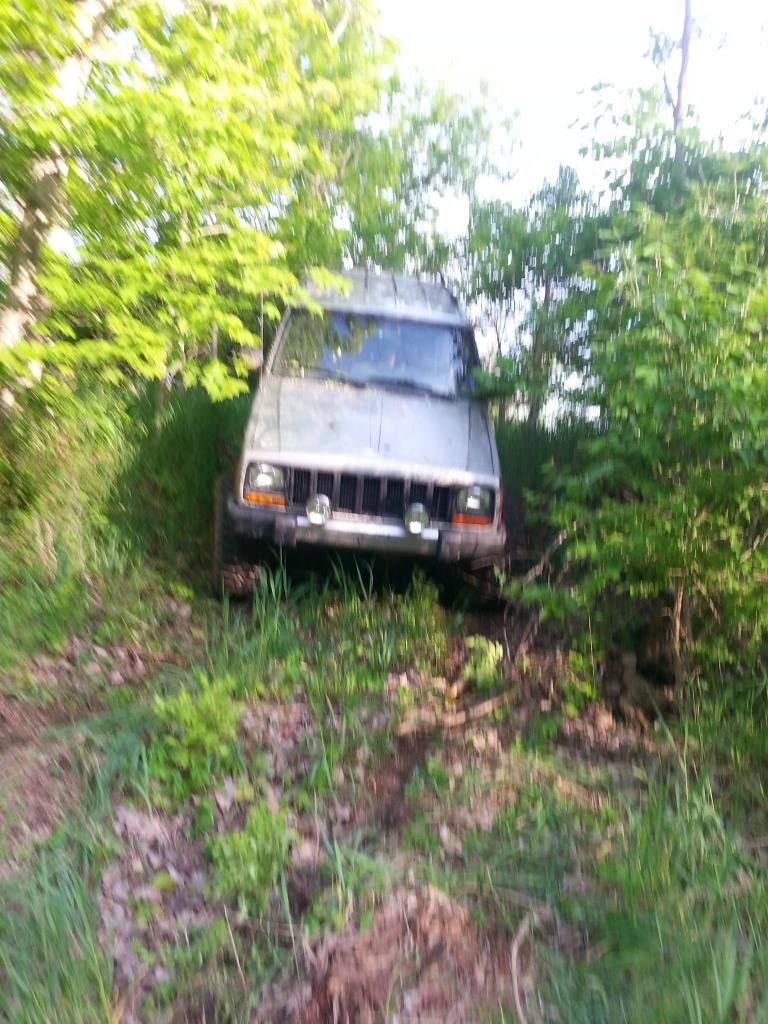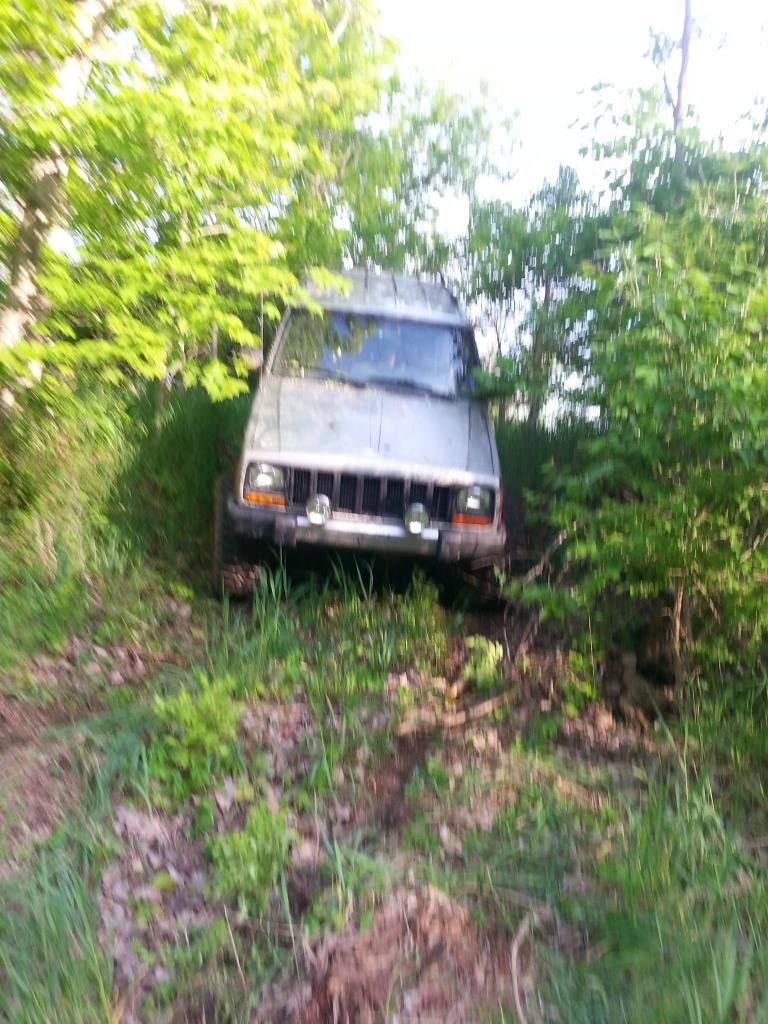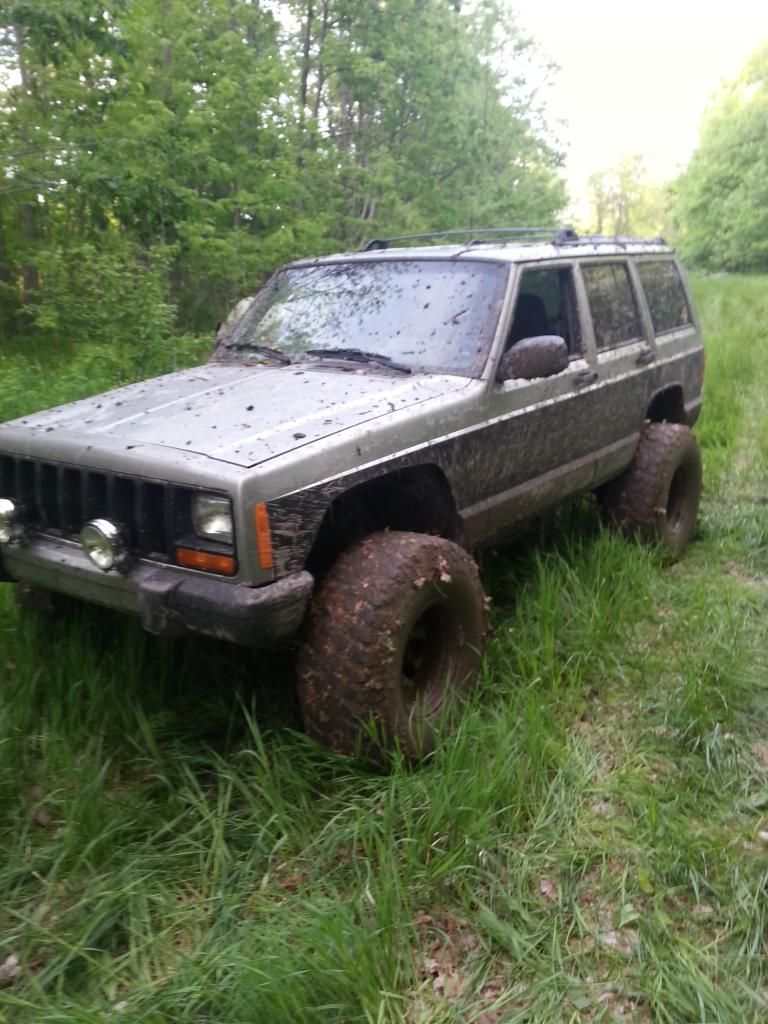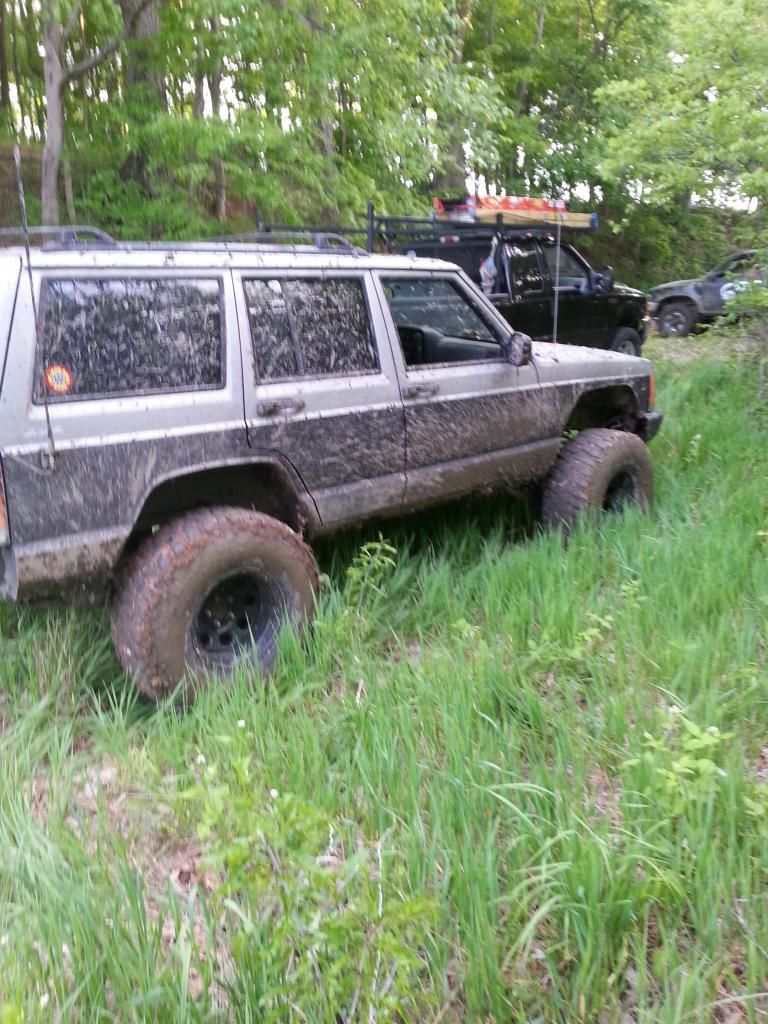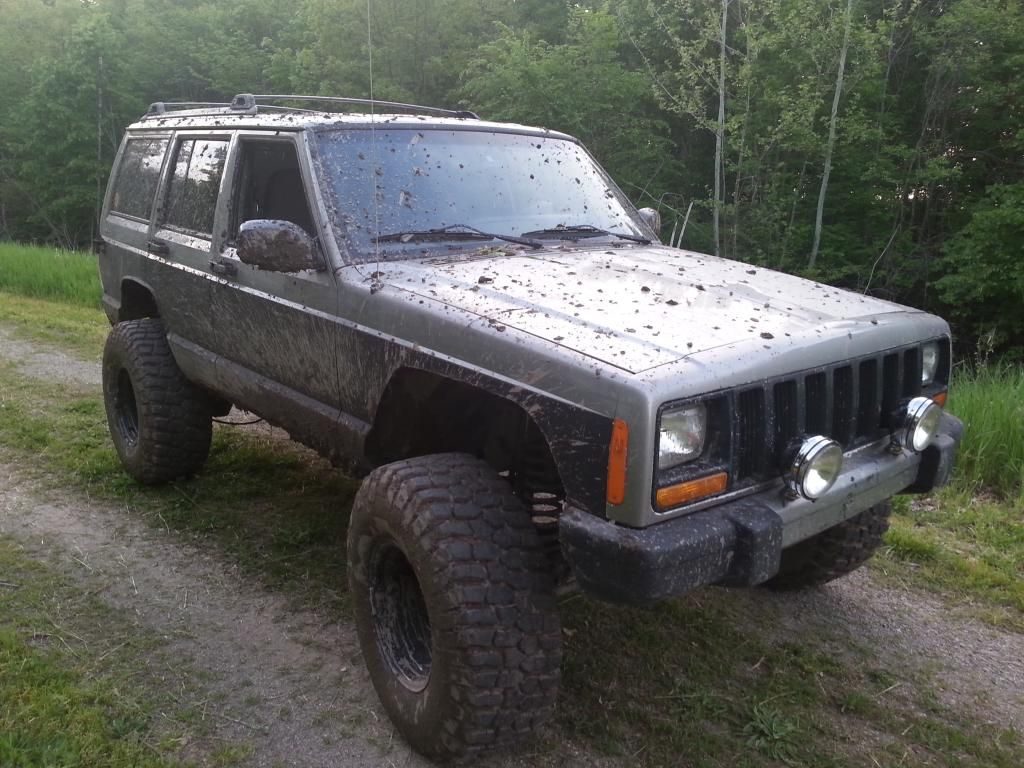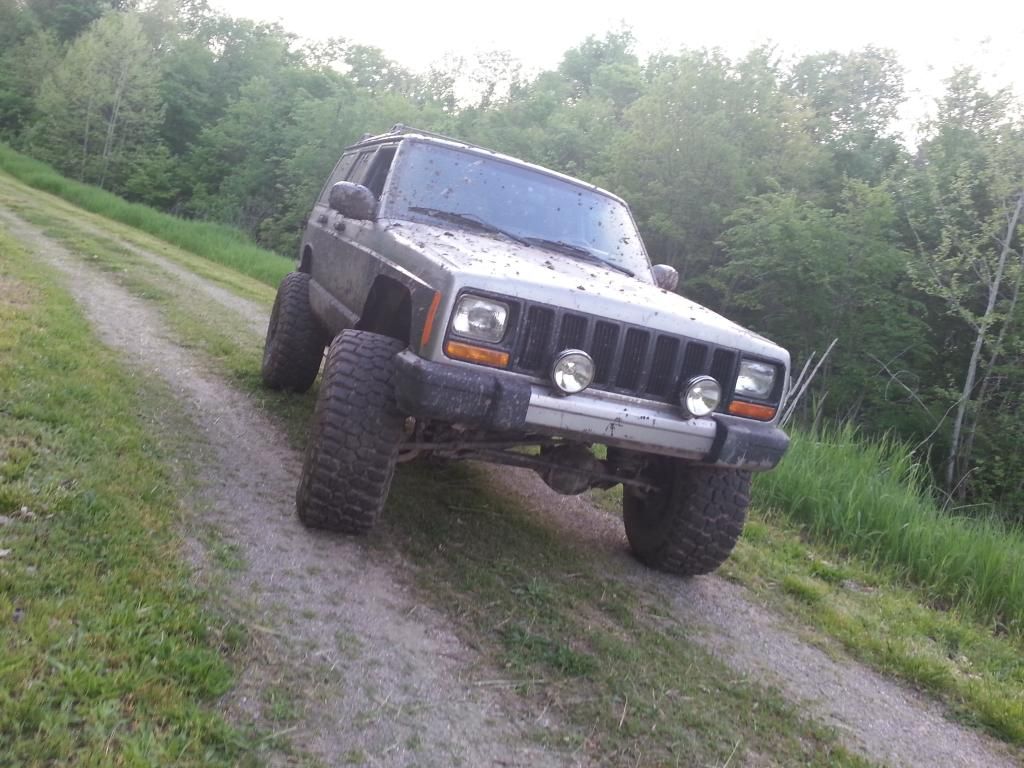 picked this up at the junk yard for 13 bucks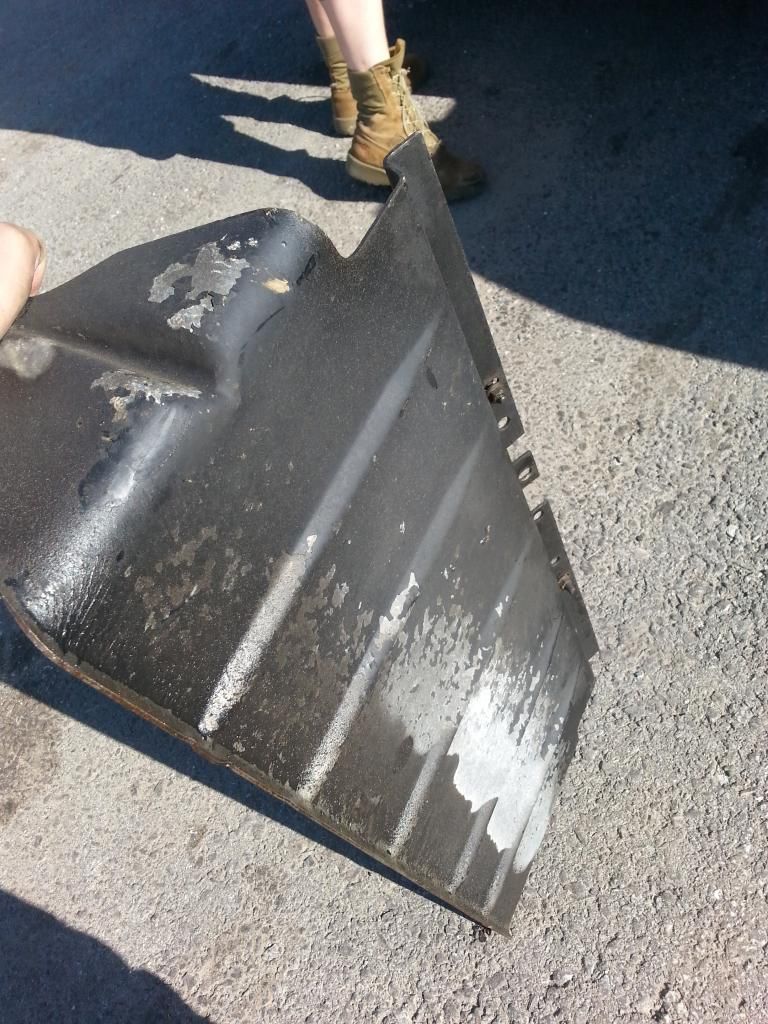 i
when i get jeep parts in the mail!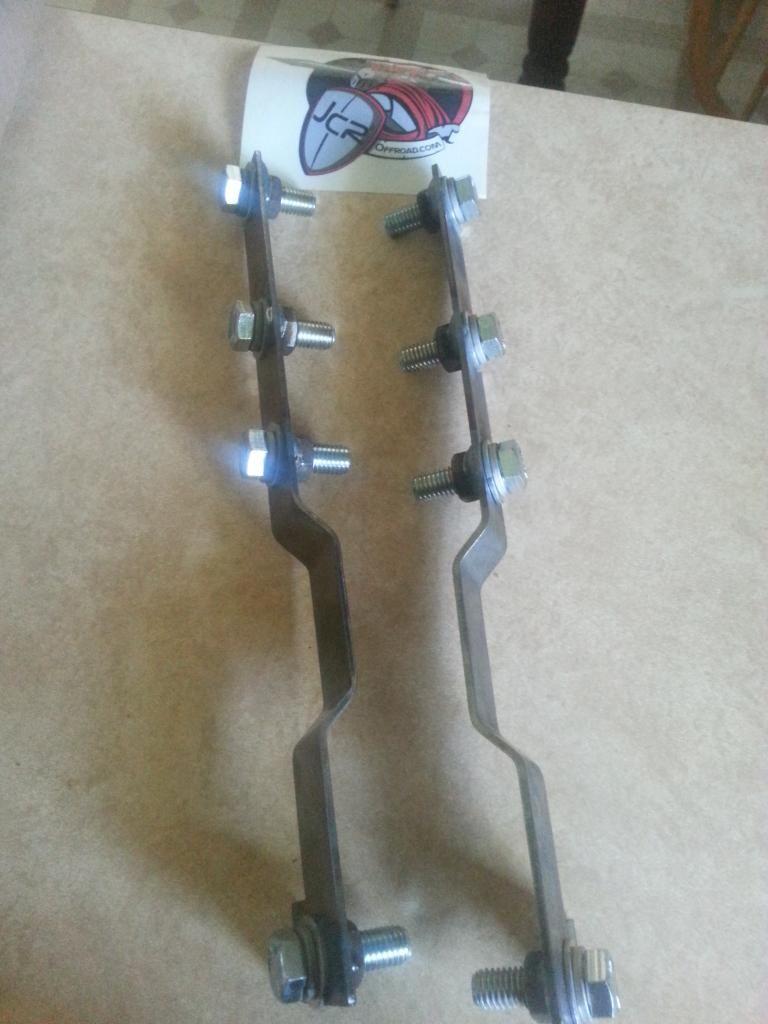 hitch installed!
bumper brackets on and bumper reinstalled for first time since i lifted her so happy!!!!!
let me know what you guys think!
had to show the wrangler who was el conquistador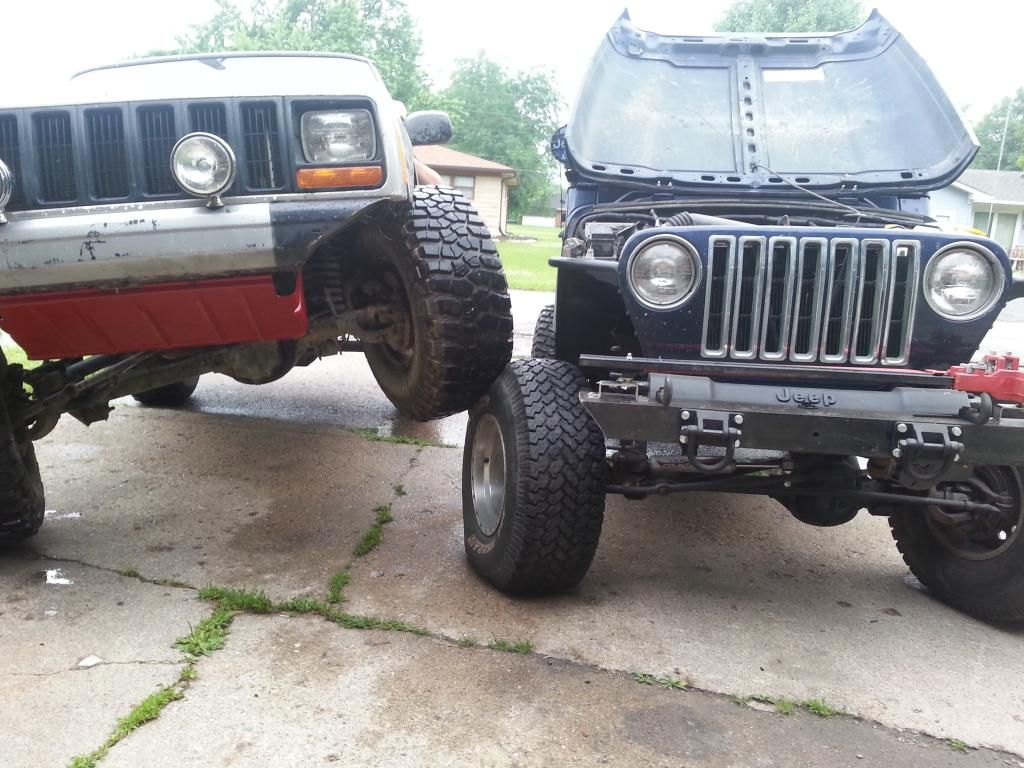 later that same night my buddy with the wrangler needed a tow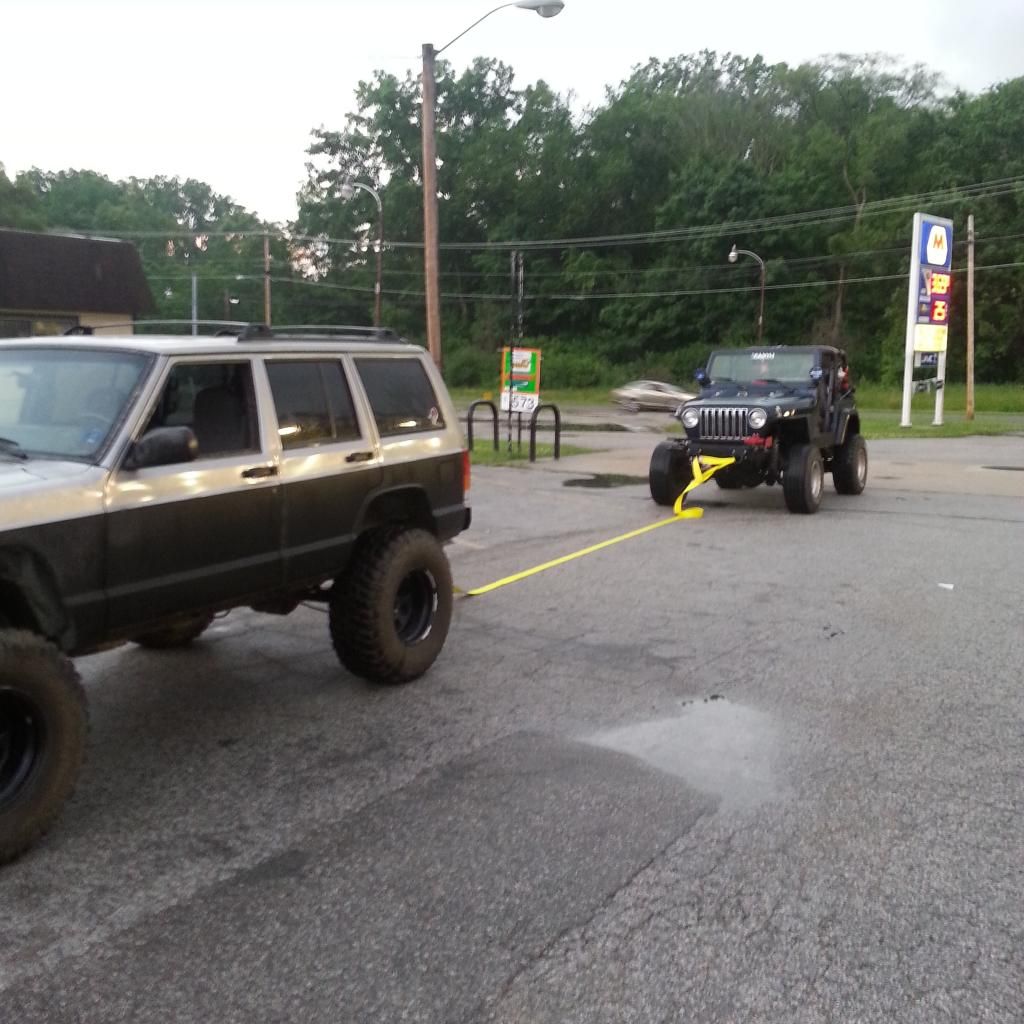 cut my front bumper up
havin some fun at costco
all the xjs parked at work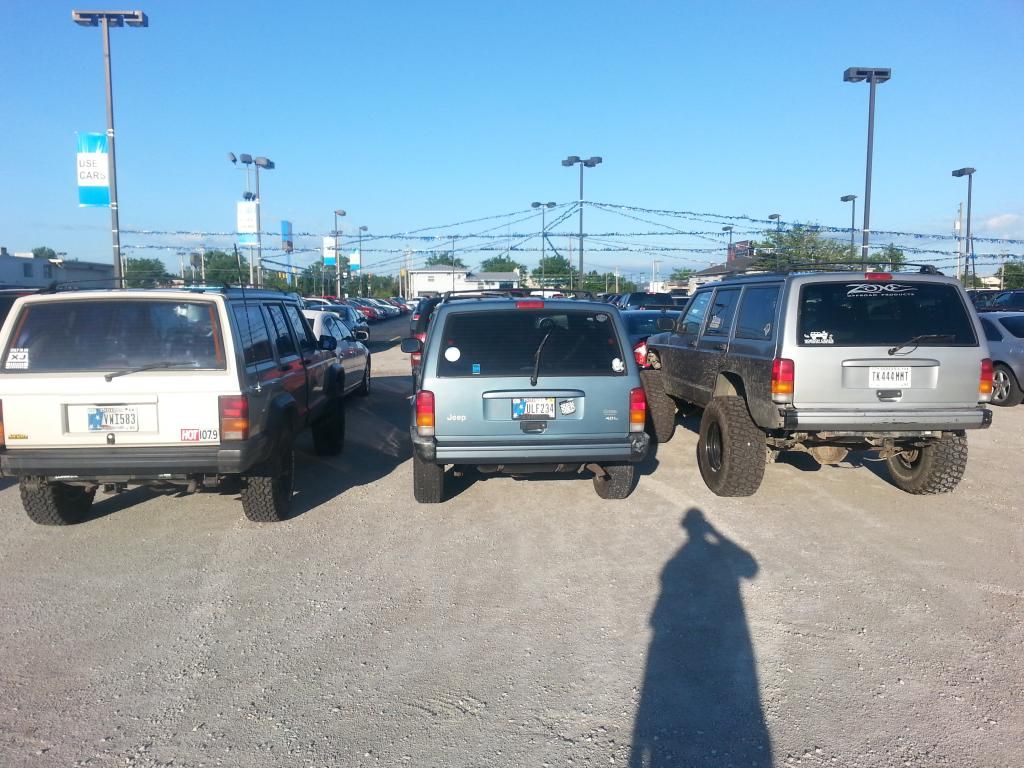 this is my jeepin buddy dixie she
s the jeep as you can tell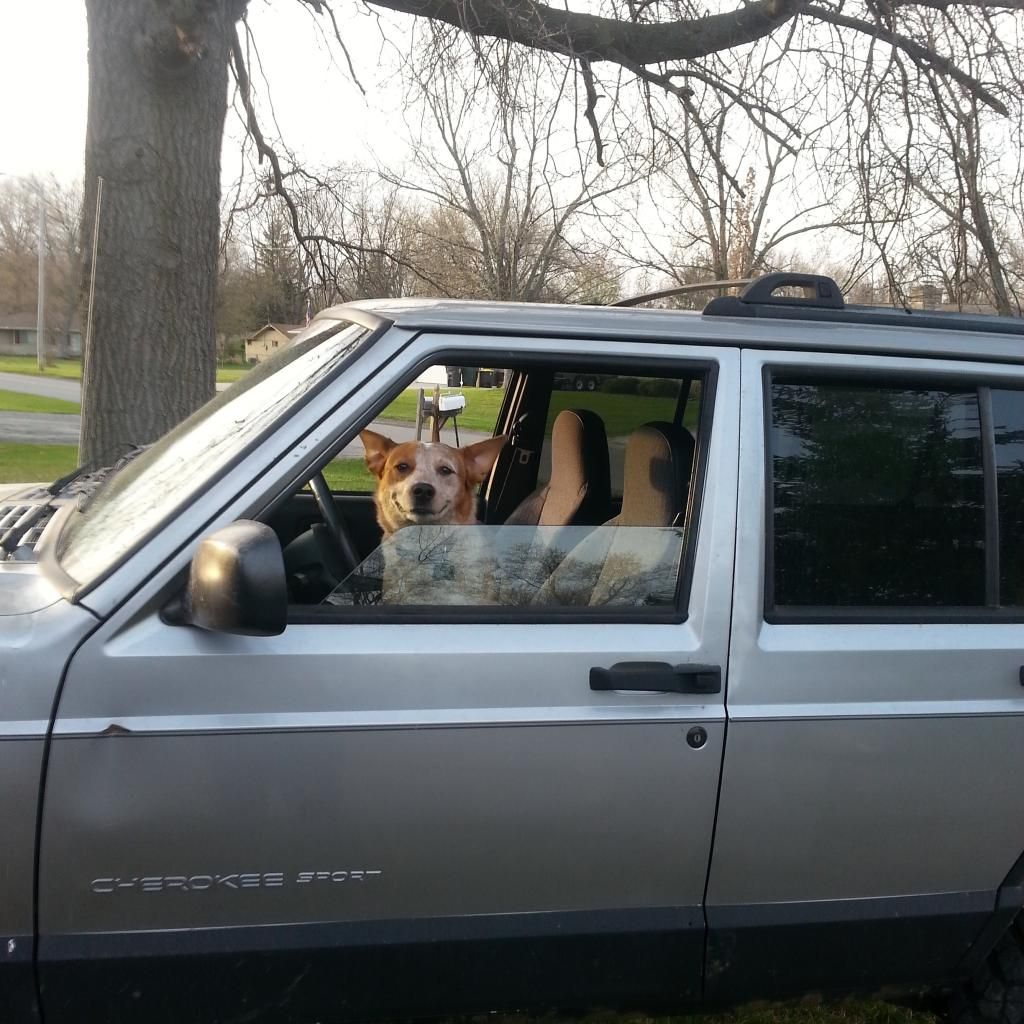 aftermath of a little night wheeling
picked this up to put on the jeep only paid 15 bucks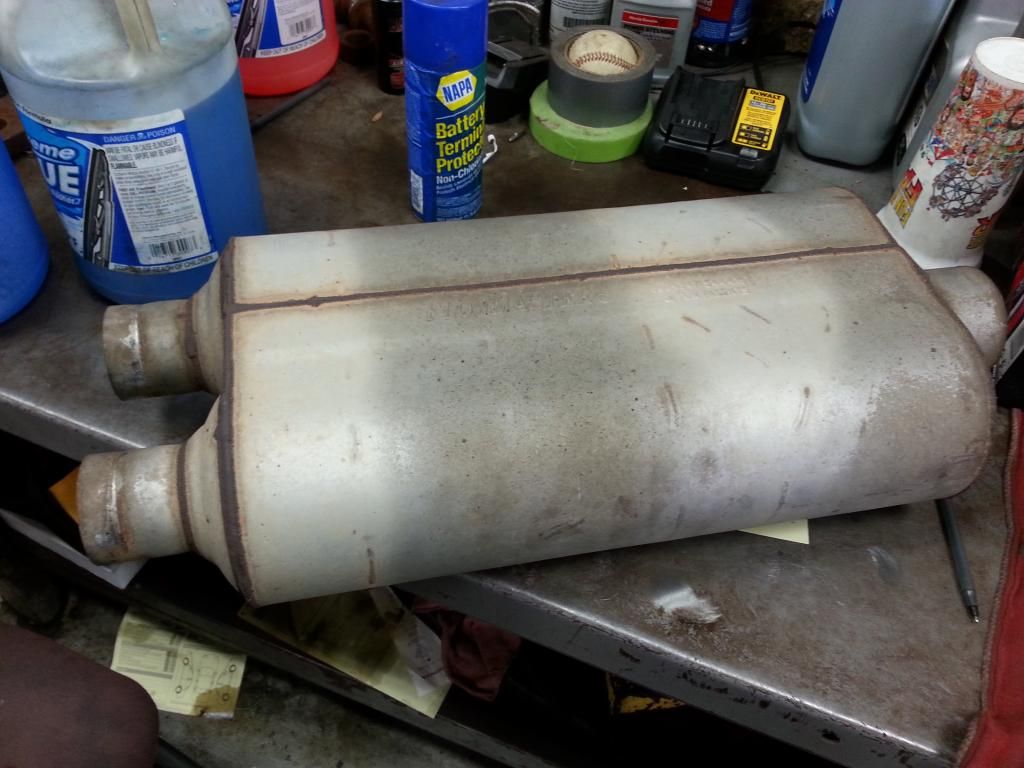 installed
then i picked this up for 43 bucks i cant believe i finally found one been looking for one for ever and this one is even lighted!!!!!!!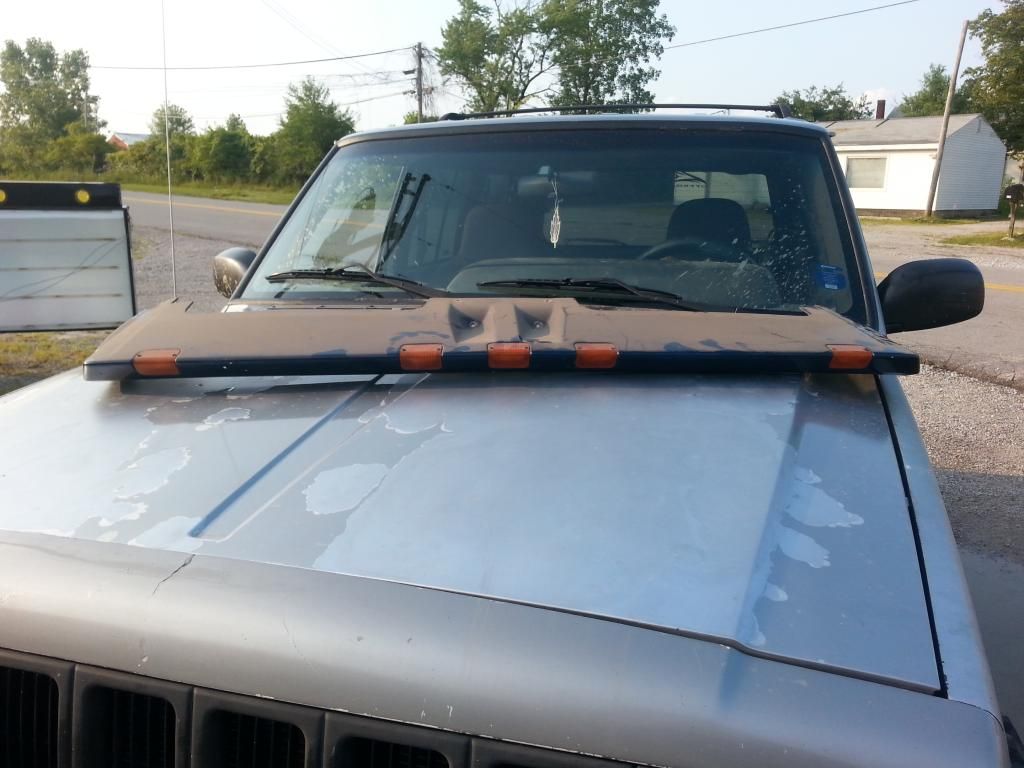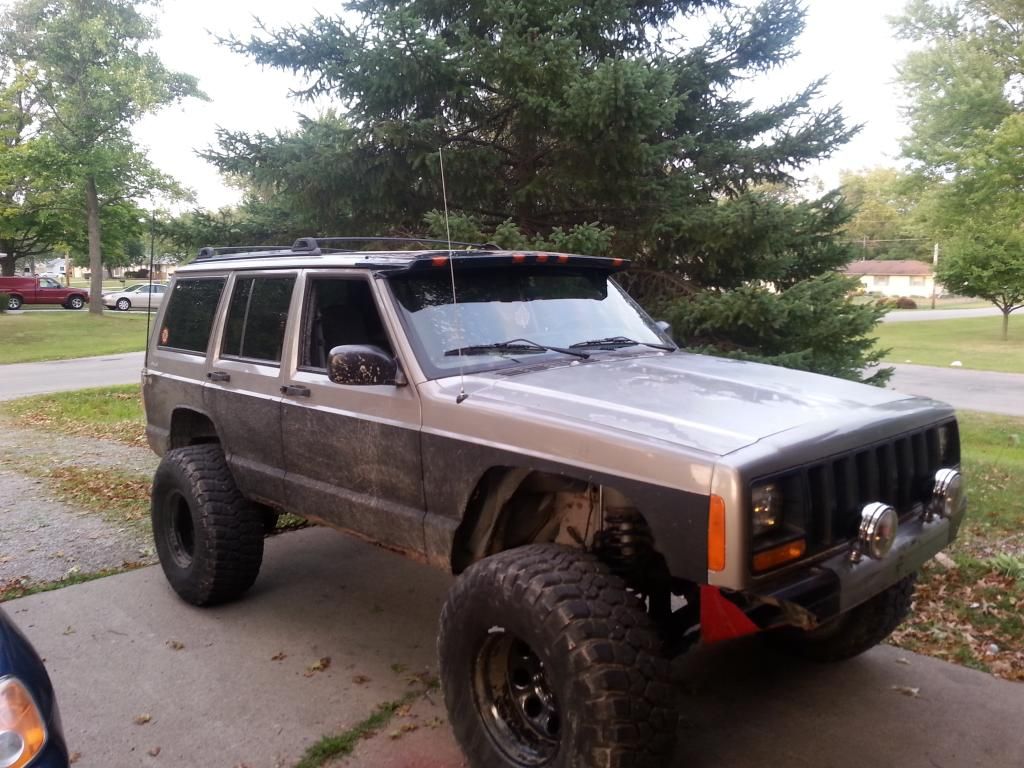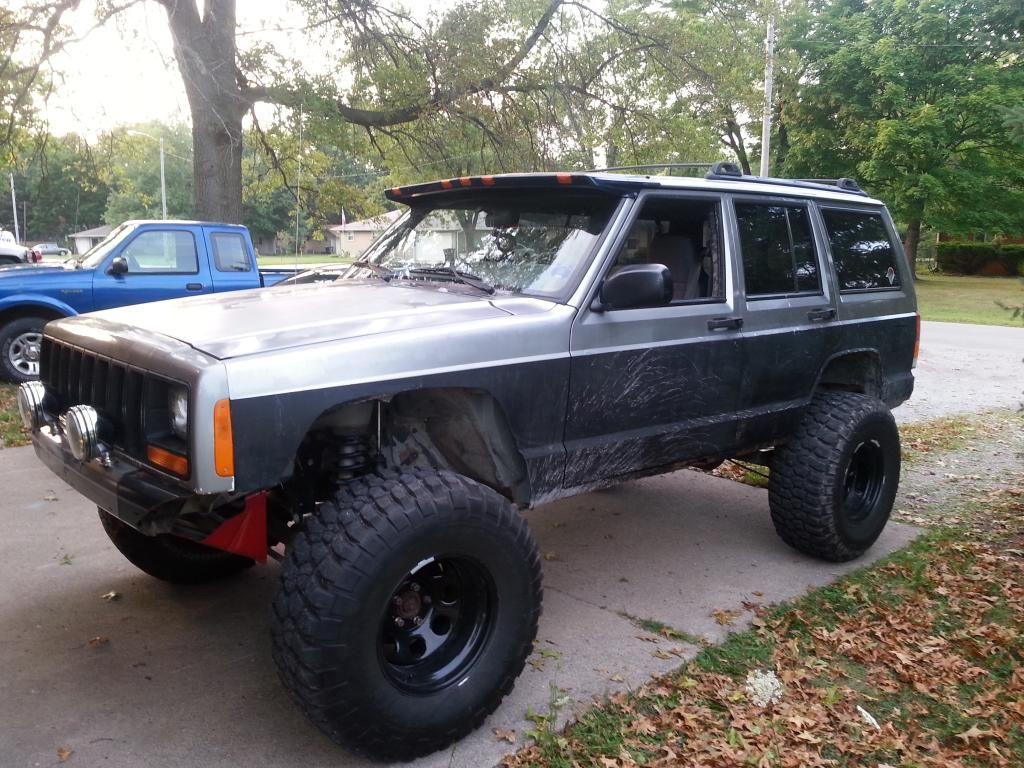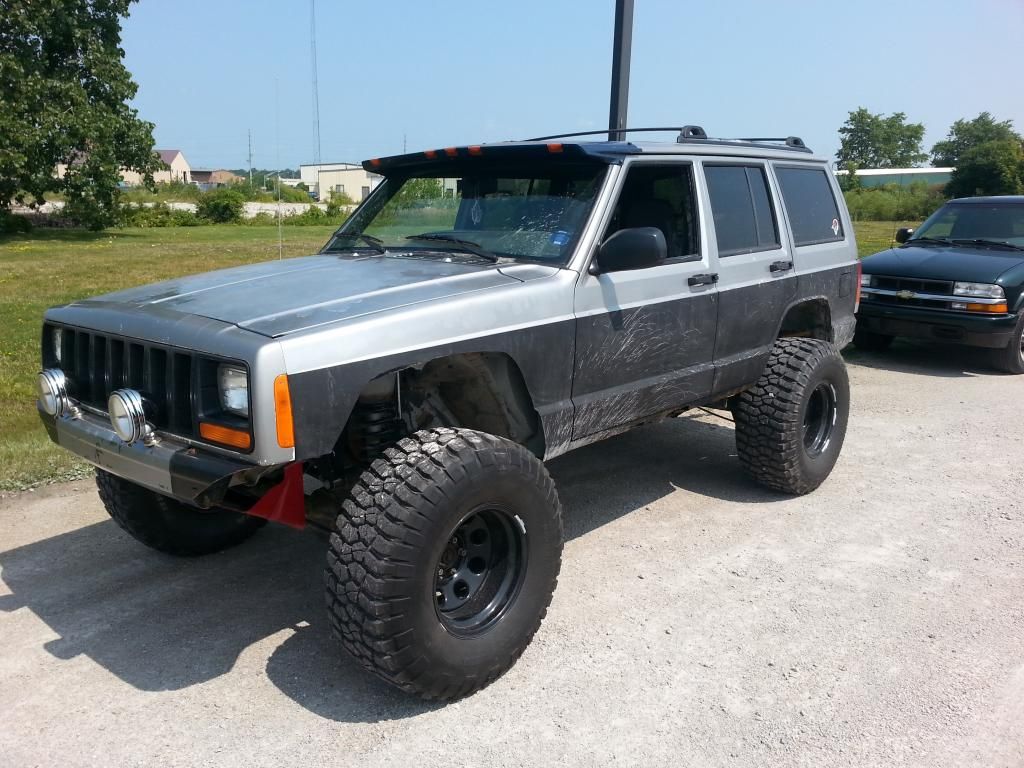 got the cab lights wired up!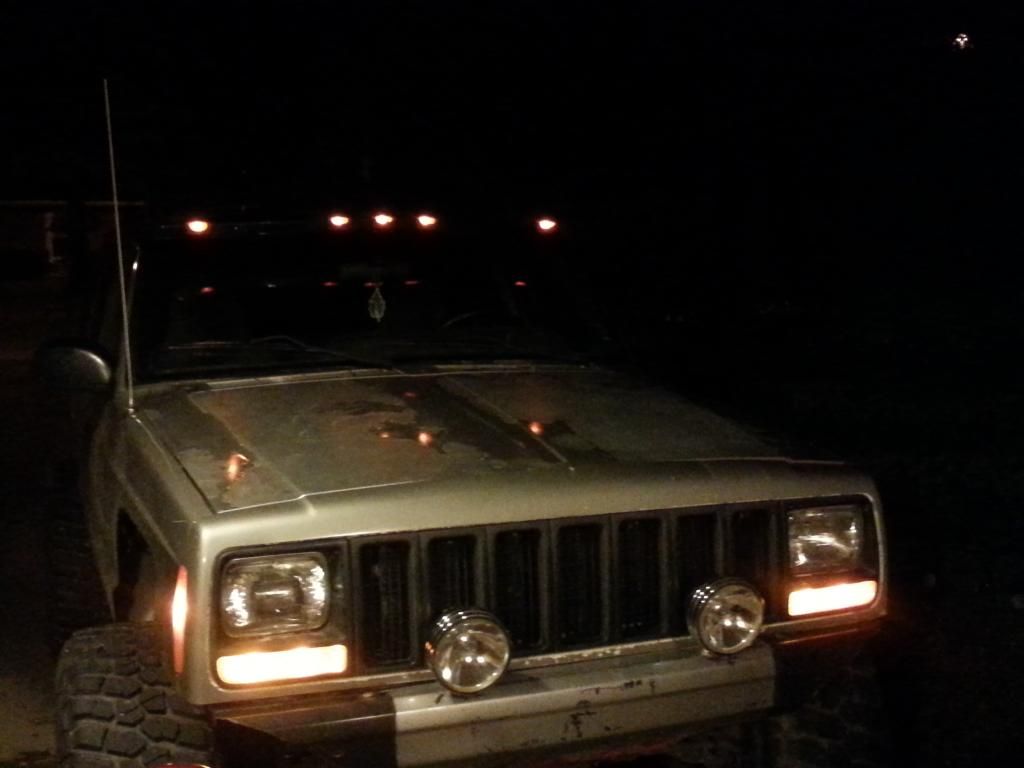 ordered a set of cree pod lights just waiting on those i just got a set of light brackets that mount to my cowl i will be installing those tomorrow so ill have more pics up tomorrow!
added led bulbs to the visor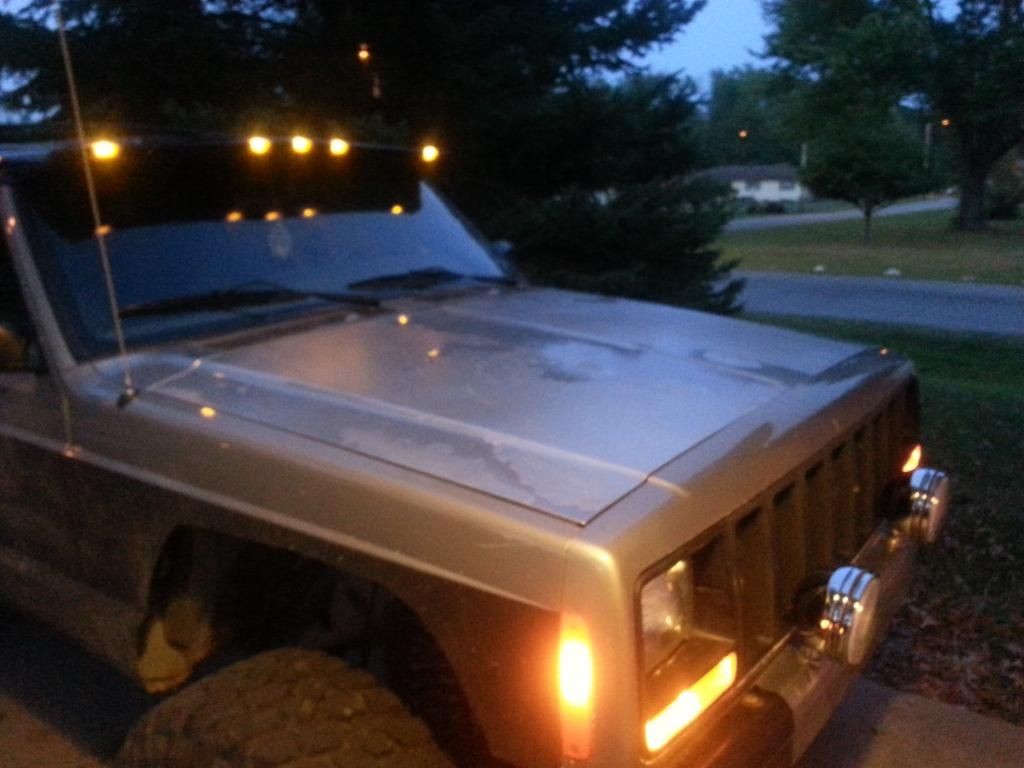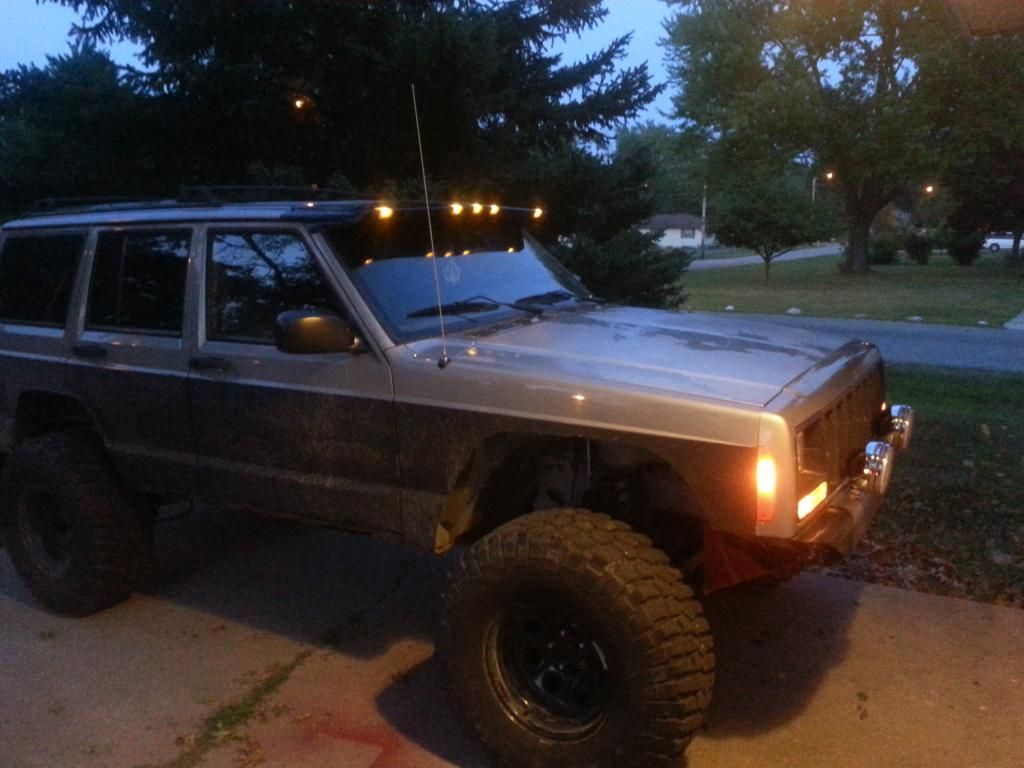 installed my crustys pod light brackets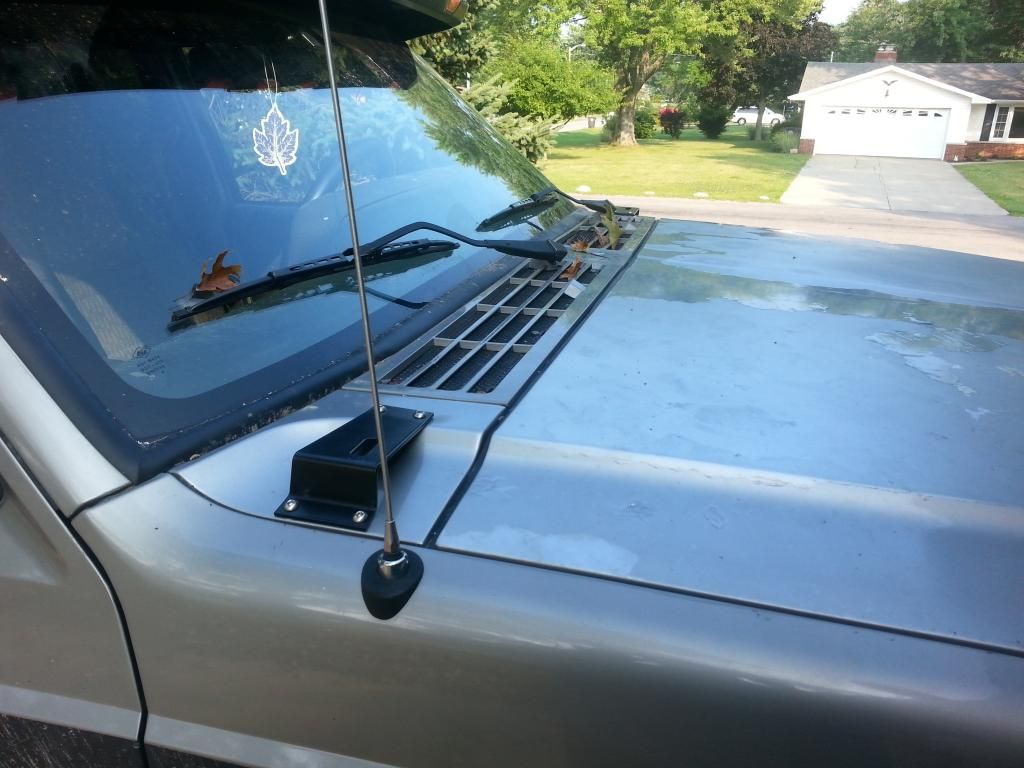 pod lights installed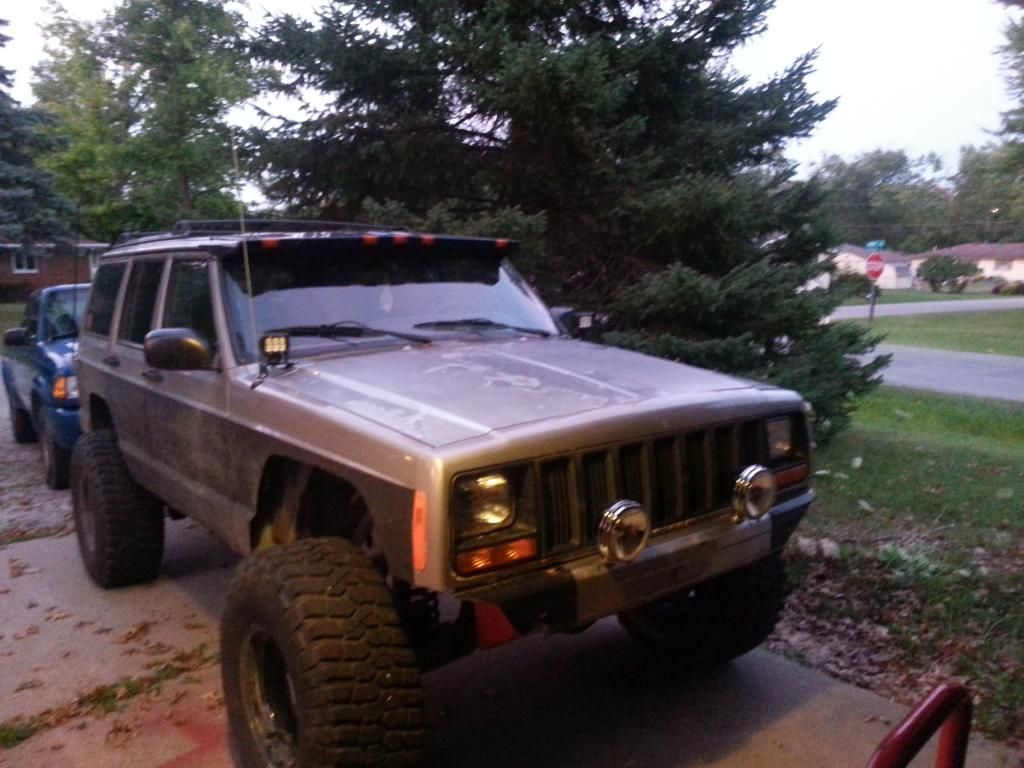 they are bright as hell!!!! here is my regular headlights
and with pod lights on!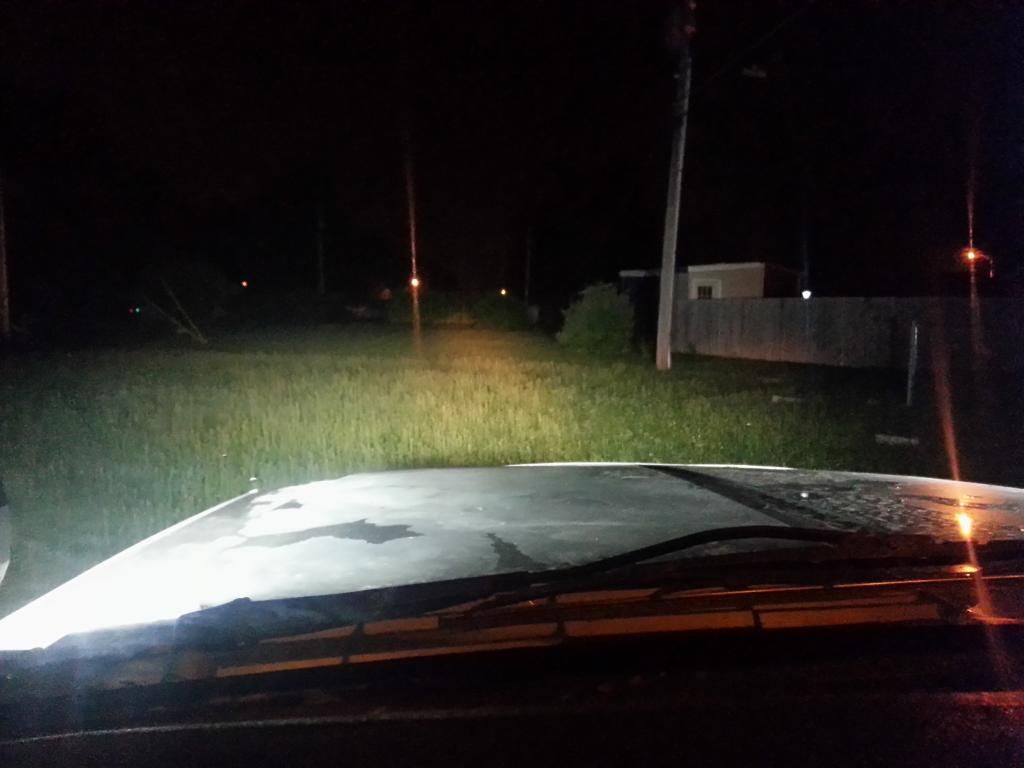 and a shot my buddy took as we were cruisin down the road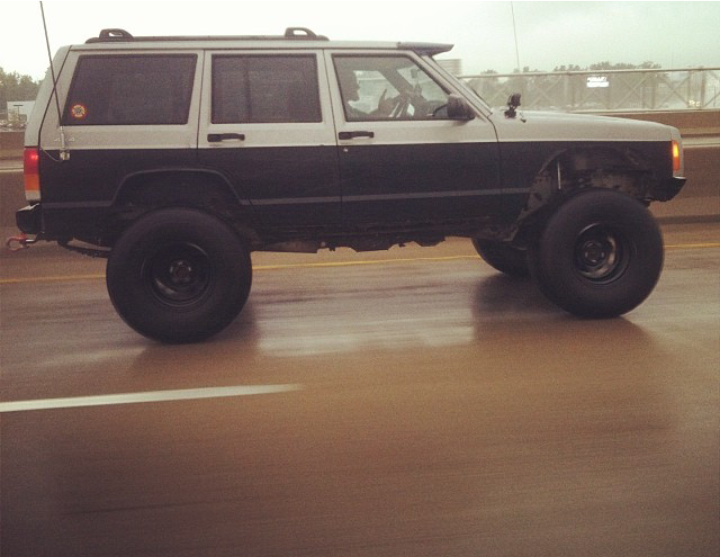 went to my buddys place for a mud bog and they talked me into taking the jeep through needless to say everyone was quite stunned when i blew the pit on the first try...showed that stock h3 up here is the only pic i could find from the bog with my jeep in it lol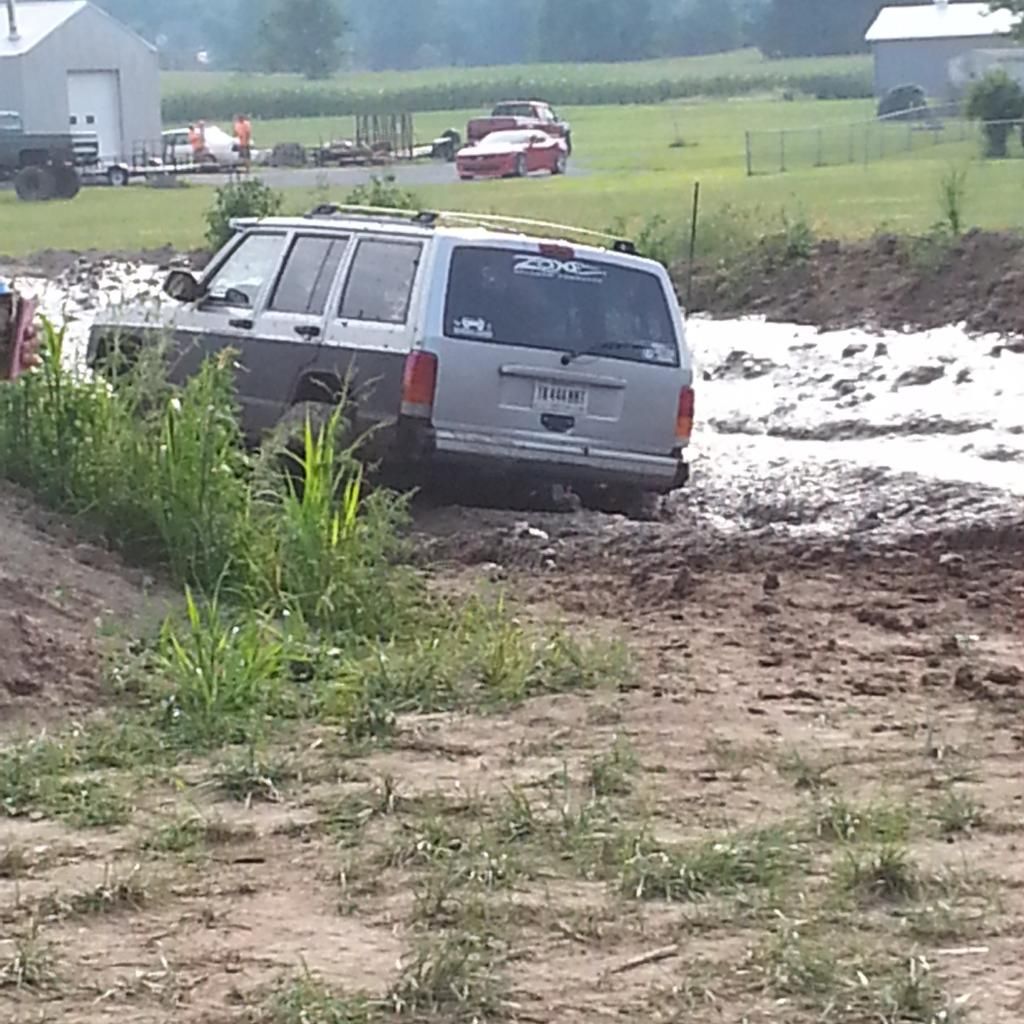 free and easy way to get a underbody wash!!!!!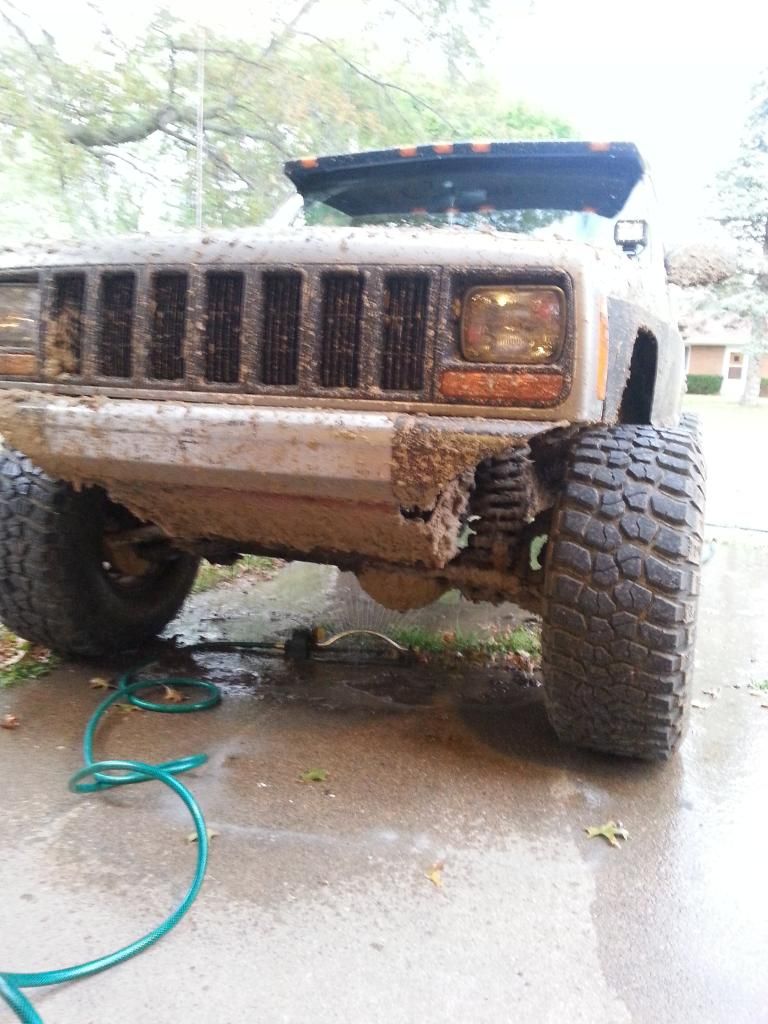 ordered a 20" LED light bar this past
so hopefully ill have that by the end of the week cant wait!!! more updates to come!